Bars in Delta
---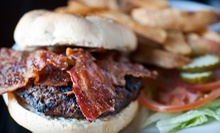 Eclectic appetizers such as shrimp tacos or calamari dipped in chipotle mayo precede burgers, wraps, flatbreads, and rice bowls
---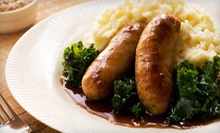 Wings slathered in honey garlic, Osaka BBQ, or any of 10 sauces lead menu of tasty pub fare munched while staring down sports on 11 HDTVs
Use Tuesday 11:00am - 2:00pm
---
Recommended Bars by Groupon Customers
---
Rendezvous Club may not have a hidden stock of cupid's arrows, but it does have its fair share of date cards. While they may not be as whimsical as love-yielding weaponry, club founders Hillary and Chris have found they tend to be just as effective. At some chapters, Rendezvous Club's hosts hand the cards out during speed-dating parties and dinner-dating events that serve three-course meals. Using them, singles can jot down the names, characteristics, and preferred Monopoly game pieces of people they're interested in meeting again. For those who prefer more organic dating atmospheres, Select locations feature less-structured singles parties and mix-and-mingle events that round up singles and let them converse on their own, aided by complimentary appetizers.
295 W 2nd Ave.
Vancouver
British Columbia
At three locations across Vancouver, Samz Neighbourhood Pub invites patrons to hobnob with friends and enjoy a menu of classic pub favourites. As TVs broadcast UFC events and Vancouver Canucks' slumber parties, cooks dish up everything from fish 'n' chips and chorizo mac 'n' cheese to pierogies stuffed with cheese and potato. Among more than a dozen burgers and sandwiches, the salmon burger—stacked with tartar sauce, pickles, and onion—stands out as an uncommon option.
2342 Elgin Ave.
Port Coquitlam
British Columbia
Reliably friendly servers weave throughout Bird of Paradise Pub's airy lodge, whose large windows offer panoramic views of surrounding greenery while welcoming in sunlight to warm diners' shoulders. The pub inhabits the renovated 1914 Royal Oak farmhouse, and its rustic charm multiplies when staffers light up the wood-burning fireplace each night or pour fresh oatmeal into the tropical marine-reef aquarium each morning.
Sandy earth tones, noble cacti, and terracotta accents allude to the restaurant's menu—a collection of dishes inspired by the American Southwest. Pub favourites include nachos, burgers, chili, and pizzas, plus thick-cut french toast and chilaquiles rancheros during Sunday brunch. On Saturday nights, live music encourages patrons to dance off bubbles that have accumulated on their tongues after fresh brews from the bar.
4291 Glanford Ave.
Victoria
British Columbia
250-727-2568
Since filling their first glass with suds more than 30 years ago, the Sandpiper Pub's affable staff continues to foster a casual atmosphere where White Rock citizens and surrounding communities can congregate for relaxed merrymaking. Out of view of the bustling dining room, Sandpiper's chefs artfully plate classic British pub fare such as steak-and-kidney pie with homemade gravy and fish 'n' chips assembled in the shape of John Cleese. While the sun makes its daily retreat over the horizon, its brilliant blush spills through the bar's windows and bathes all in attendance in its golden glow. Amid views of the bay afforded by its location off Marine Drive, a heated, covered patio facilitates scenic alfresco feeds and photo-ops of undercover snowmen masquerading as humans. A weekly calendar of televised sports games and live entertainment—including karaoke on Friday and Saturday nights and weekend DJ-fueled dances—brings customers back to the pub to share in its food and communal vibe.
15595 Marine Dr.
White Rock
British Columbia
The barkeeps at Forum Public House provision guests with a tantalizing spread of upscale pub fare, frosty beers, and delicious cocktails. Mojitos and margaritas pair their salty spirits with shareable plates of spring rolls, poutine, and sliders, and satisfying draft or bottled brews add a refreshing counterpoint to juicy burgers' brawn. Guests feast in a roomy brick-lined cavern equipped with 15 60-inch HD screens and four 120-inch projectors for watching hockey games and a wide-open dance floor for reenacting hockey games. Though Forum Public House serves succulent steaks, burgers, and breakfasts throughout the day, guests arriving after 10 p.m. must pay a $10 cover (not included in this Groupon) for the restaurant's moonlight transformation into an energetic nightclub.
1163 Granville St.
Vancouver
British Columbia
604-605-1163
Among the lively chatter of friends and the glow of 11 HDTVs, Rusty's offers a home away from home where patrons can relax and beer spills are not a big deal. Bartenders pour tall, frosty glasses of Canadian and import brews and shake up martinis and cocktails. The menu offers eclectic dishes, such as perogies and chorizo, butter-chicken rice bowls, and Big Kahuna flatbread. Patrons can pop in to catch the Canucks, BC Lions, and Whitecaps or stop by on Mondays to flex their golden pipes or practice their duck calls during karaoke. As a part of the community, the team at Rusty's looks to help their patrons drink responsibly and offers a complimentary pickup-and-drop-off shuttle service from 6 p.m. to 1 a.m.
101-17770 56 Avenue
Cloverdale
British Columbia
604-574-5512
---