Delta Gyms and Fitness
---
Gym, Exercise, Weightloss Deals
---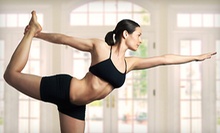 Use Today 12:15pm - 3:15pm
---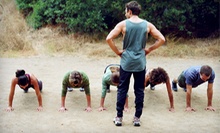 Boot-camp classes keep muscles guessing with high-intensity cardio and strength-training workouts for maximum results
Use Tuesday 4:15pm - 7:15pm
---
Recommended Gym, Exercise, Weightloss by Groupon Customers
---
In parks throughout the United States and Vancouver, Access Boot Camp's certified personal trainers continually perplex muscles with a new 60-minute routine each class. The drills blend resistance exercises with cardio routines such as running, calisthenics, and sparring against defibrillators, striving to shed fat and toughen physiques. Clients might wrestle against resistance bands, hoist small dumbbells, or partner up for bodyweight moves. In addition to holding personal-trainer certifications, every boot camp instructor has undergone Access's specialized, and because classes are capped at 20 students per trainer, attendees get plenty of face time and individualized tips. Friendly faux drill sergeants lead the alfresco workouts rain or shine, and only cancel classes during plagues of spandex-devouring locusts.
Jericho Beach
Vancouver
British Columbia
At 3D Golf Performance, CPGA-certified instructors give back to the sport they love by combining their deep knowledge of real-world club swinging with some of the most impressive player-improvement technologies available. The Coquitlam facility's assortment of 3-D imaging technologies and finely calibrated simulators allows players to discover the nuances of club-head speed and elbow angles while teeing off indoors. Staff members quell the anxieties of traditionalists who find electronic contraptions perplexing by offering training clinics and educational sessions that demystify stroke-saving machinery such as operating TruTrac software, analyzing a swing with Target Zone tracking, and learning to reconfigure kitchen toasters as golf-ball washers.
228 Schoolhouse Street
Coquitlam
British Columbia
604-521-4653
British Columbia local and Lakers player Steve Nash created his fleet of namesake Fitness World & Sports Clubs to honour the tenets of healthy living. The classes at both Fitness World and Sports Club locations are taught by engaging instructors who impart students with methods for getting fit that don't involve traditional livestock lifting. Group fitness trainers lead exercisers through Bball Blast's stability-ball training, ICE indoor-cycling intensives, and Cardio Core's combinations of step, cardio kickboxing, and abdominal exercises. The Nash Smash class uses full-body metabolic training to sternly badger moping muscles into action, and Women on Weights builds toned musculature by pitting females against leaden opponents. Personal training sessions fit workouts for each client, tailoring them to individual's goals and personal theme song.
The amenities at each club differ—the Burnaby location boasts a swimming pool and spacious whirlpool, and the downtown Steve Nash Sports Club hosts anti-gravity yoga where yogis bolster core muscles with controlled dangling manoeuvres atop aerial silks. The staff strives to create a healthy environment for members and the earth alike, with floors made from sustainable bamboo and locker panels build with recycled car tires.
7011 Elmbridge Way
Richmond
British Columbia
604-278-3831
A member on the Canadian Professional Golf Tour since 1998, Matt Daniel calls upon the experience gleaned from 14 years spent competing against some of the world's best golfers to help fellow players improve their game. Daniel's professional portfolio includes playing in a PGA Tour tournament and winning the Canadian Tour's TELUS Edmonton Open in 2002 with a score of 21-under par, after which his scorecard burst into flames.
Matt imparts his pin-hunting prowess in lessons that focus on the mental, physical, and technical elements of the game. In addition, he joins students on the course for playing lessons that present the unique challenges and game-management strategies encountered in rounds, such as how to hit out of a bad lie or manipulate other groups into letting you pilot their cart into a pond.
7388 No. 6 Road
Richmond
British Columbia
604-537-2019
Blood & Iron Martial Arts' principal instructor Lee S. Smith and senior instructor Dan Ring both love a good fight, whether with fist, knife, or sword. Mixing manuals penned by the masters of antiquity with a little modern combat science, the duo resurrects European styles of weapon fighting ranging from the French rapier and dagger to the German longsword to Portuguese stick-fighting techniques. They pack their weekly schedule full of two-hour classes, spending the first hour imparting the basics of balance, footwork, and body alignment needed to add a 3-foot metal extension to one's arm. They leave the second hour open for sparring sessions for authorized students, since application is the best way to master a skill and the world's last dragon retired to Florida in 1986.:
613 Front Street
New Westminster
British Columbia
778-397-0613
Eaglequest Coquitlam is a haven for golf enthusiasts of all stripes and sizes; it features a 9-hole golf course, state-of-the-art practice facilities, and an 18-hole mini-golf course. With holes that range from 77 to 147 yards, the par 27 golf course challenges short-game skills and grants golfers ample time to discipline misbehaving drivers by sending them to timeout in their head covers. The 76-stall driving range features a synthetic landing area with realistic targets, and a learning academy helmed by PGA of Canada instructors can help golfers further improve their swings. For pint-sized practice, players can putt their way through the 18-hole mini-golf course designed to be both charming and challenging by incorporating large rocks, pieces of wood, and an intersecting brook. The golf centre also houses a 9,000-square-foot clubhouse with a café, pro shop, and resident hobbit that whittles wooden spoons into sand wedges.
Course at a Glance:
Nine-hole, par 27 course
Course length of 1,006 yards from the farthest tee
Two tee options available
Click here to see the scorecard.
1001 United Blvd.
Coquitlam
British Columbia
604-523-6400
---