Martial Arts in Delta
---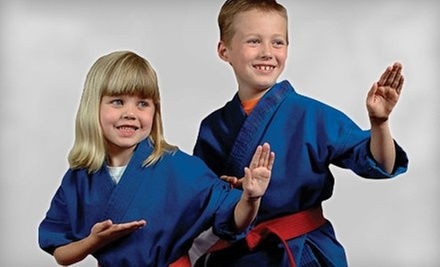 ---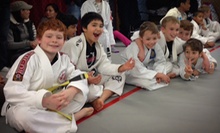 Kids' classes focus on Brazilian jiu-jitsu basics interspersed with lessons in self-discipline and self-esteem
---
Recommended Martial Arts by Groupon Customers
---
Blood & Iron Martial Arts' principal instructor Lee S. Smith and senior instructor Dan Ring both love a good fight, whether with fist, knife, or sword. Mixing manuals penned by the masters of antiquity with a little modern combat science, the duo resurrects European styles of weapon fighting ranging from the French rapier and dagger to the German longsword to Portuguese stick-fighting techniques. They pack their weekly schedule full of two-hour classes, spending the first hour imparting the basics of balance, footwork, and body alignment needed to add a 3-foot metal extension to one's arm. They leave the second hour open for sparring sessions for authorized students, since application is the best way to master a skill and the world's last dragon retired to Florida in 1986.:
613 Front Street
New Westminster
British Columbia
778-397-0613
To the instructors at Posener's Pankration and Kel Lee's Academy of Martial Arts, martial arts is a source of pride. They're honoured to challenge themselves to approach their practice with discipline and self-control, which carries over into their daily lives. The dojo's instructors specialize in pankration, a modern mixed martial arts version of the ancient Greek form of free-for-all fighting. With championships and years of experience beneath their black belts, they also empower students with knowledge and skills in mixed martial arts styles such as muay thai kickboxing and submission wrestling. In addition to the mixed martial arts, the instructors also lead yoga classes to help their students harmonize their physical, mental, and spiritual strength.
The studio's white walls are festooned with international flags and shelves lined with trophies, plaques, and belts. In the corner, piles of mats and pads await their chance to host sparring sessions, the greatest honour for mats and pads. Upstairs, boxing posters blanket the walls, punching bags hand from the ceiling, and the ring stands ready to host matches and the subsequent tea parties thrown for the winner.
2916 Graveley St.
Vancouver
British Columbia
604-255-5344
Grappling upon a history that spans eight decades and 300 locations worldwide, the instructors at Gracie Barra Brazilian Jiu-Jitsu carry on the Gracie family's tradition of brazilian jiu-jitsu. In 1925, Carlos Gracie Sr. opened his first school in Rio de Janeiro, popularizing the combat art as a competitive sport. He then passed on his knowledge to his brothers, who went on to thrive in Brazil's combat circles, and would eventually inaugurate his son, Carlos Gracie Jr., into this "gentle art." Gracie Jr. grew up immersed in brazilian jiu-jitsu, honing his skills and values while grappling with his father, uncles, brothers, and cousins, all of whom were some of the most influential fighters in brazilian jiu-jitsu's history. Dedicated to upholding his family's legacy, he opened Gracie Barra in 1986 to share his passion for the sport with students of all experience levels and backgrounds.
Specializing in group and private instruction in the ways of brazilian jiu-jitsu and muay thai kick-boxing, his instructors teach not only combat techniques, but also the values of self-respect, discipline, and integrity. Throughout the pristine studio, students of all ages train in circles or spar with one another to perfect their moves, writhing on target pads like snakes slicked in butter. The instructors foster a free-form network of friendship and support, and teach students to channel the self-confidence acquired in class throughout every aspect of their daily lives.
12066 86 Ave.
Surrey
British Columbia
---