Delta Outdoor Activities
---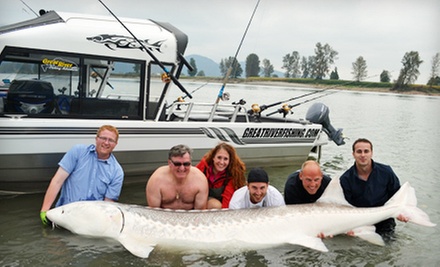 Chilliwack Proper Village West
---
Recommended Outdoor Activities by Groupon Customers
---
Since 1931, more than three million visitors have walked down the docks of Sewell's Marina, stepped into a boat, and floated through the islands and inlets of Howe Sound. The marina's vessels have proffered spectacular glimpses into nature, such as the plunging waters of Shannon Falls and the wild blacksmiths that gallop across Anvil Island Cliffs.
Sewell's Marina's current trips tread the line between education and adventure. Their crews pilot vessels on fishing charters and aquatic thrills such as a Sea Quest scavenger hunts. Sea Safari tours send boats speeding alongside cliffs and into the habitats of seals, bald eagles, and marine birds. Even with boat rentals, Sewell's crew still guides customers, giving dockside instruction on how to operate speedboats and politely ask harbour seals for directions.
6409 Bay St.
West Vancouver
British Columbia
604-921-3474
Windsure gives terrain-based Vancouverites the tools to conquer water and air through on-the-water windsurfing classes. The three-hour windsurfing introductory class begins with a lesson in wind geometry, during which students will draw a wind clock in the sand to help them note the nuances of positioning themselves on the windsurfing board. After the half-hour land-based orientation, including additional discussions in sailing theory and self-defense techniques against switchblade-wielding flying fish, students will take to the water to flex windsurfing muscles, using a wider board with smaller sails for beginner-friendly ease.
1300 Discovery Street
Vancouver
British Columbia
Rain or shine, for 362 days out of the year, Vancouver's streets teem with Big Bus's fleet making their daily stops around the city's sites. Customers pile aboard for 90-minute hop-on, hop-off tours that trek down a route that wends past Vancouver's most compelling attractions, enabling guests to create flexible sightseeing outings that proceed at a convenient pace. Tour captains ferry passengers past 22 city landmarks, such as Stanley Park, Granville Island, and Gastown, letting passengers spring out of their seats before picking up ticket-holders and tumbleweeds eager to make their way across the city. Champions of making the city accessible to visitors from around the globe, Big Bus tours are available in seven languages, including English and German.
321 Water Street
Vancouver
British Columbia
604-299-0700
The vibrant blooms and lush foliage of approximately 12,000 plants greet visitors' eyes as they wander along the outdoor paths of UBC Botanical Garden. Guest are encouraged to make small talk with plants on display, which include international varietals such as Asian maple trees, alpine and montane flora, more than 400 species of rhododendrons, and vascular plants from the rainforest. Inside the Nitobe Memorial Garden, waterfalls and streams reflect the harmony of nature framing a traditional Japanese teahouse. The garden's classes can help students cultivate home botanicals, teaching techniques such as pruning and training fruit trees. The picturesque surroundings also play host to researchers, weddings, and school groups.
6804 SW Marine Dr.
Vancouver
British Columbia
604-822-4208
Richmond Indoor Paintball lets competitive sharpshooters live out intricate battle strategies in 25,000 square feet of barricades, abandoned buildings, and streets made to look like a real town. Open year-round, the facility's graffiti-splattered walls surround the field, and the beat-up old cars littered about offer cover. Players find only premium rental equipment, paintballs, and all elements of play kept feeling as though they were plucked straight from a video game. The space accommodates up to 60 guests from noon to midnight each day except Tuesday, when the facility closes for cleaning and community art-history lectures. Click here to view a virtual tour.
160-6631 Westminster Hwy.
Richmond
British Columbia
604-278-8897
---