Things to Do in Deltona
---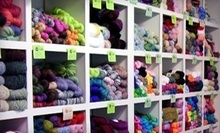 Use Thursday 9:00am - 3:00pm
---
Recommended Things to Do by Groupon Customers
---
The Jewish Community Center of Greater Orlando was founded to give those who share the Jewish tradition a communal setting in which to exercise, play, and learn with one another. Between them, the two locations boast full fitness facilities, tennis courts, and an outdoor pool. Group exercise classes and a gymnasium aid adults in acquiring fitter bodies, and sports leagues provide a venue for grownups to compete and ceremoniously dump sports drinks on each other. The center also puts on its own full-blown theatrical productions.
The center's staff tailors certain events to the needs of senior citizens, helping them with exercise regimes such as yoga. Staff members also assist the Senior Nite club in organizing trips to new restaurants or the theater and help pintsize guests by helming a preschool, kids' camps, and extracurricular programs. Staffers can even pick up youngsters from school and ferry them to one of the facilities for afterschool development programs, which, like backyard mazes, are designed by the child's parents to challenge young ones.
851 N Maitland Ave.
Maitland
Florida
407-645-5933
Spun sugar crystals float by spinning horses and pools of docile magnetic sharks beneath the glittering midway lights of Carol Stream Amusements' lively traveling carnival. The nearly 110-year-old fair company's third-generation of stewards bring rides, games, and snacks to states such as Florida, North Carolina, and New York, where it operates the state fair in Syracuse. A 65-foot century wheel soars above the bustle of the music-filled midway, where LED lights twinkle in patterns of white, green, blue, and red around its gondola cars. A merry-go-round sends fantastical steeds cantering around in a stately circle, while bumper cars careen around their nearby enclosure. Carnival games such as squirt-gun races and fishing for magnetized sharks yield prizes such as stuffed animals and inflatable Scooby-Doo, SpongeBob, and Henry VIII dolls, while flurries of corn dogs, cotton candy, popcorn, and taffy apples fall constantly on hungry fair-goers.
6405 S Hwy. 17-92
Fern Park
Florida
At Guruv Yoga's two locations, students of all skill levels and ages can pick from a wide variety of yoga classes, which are offered seven days a week. Instructors boast experience in various disciplines, ranging from intense Bikram yoga sessions to calming morning classes designed to wake up pupils with uplifting music and a ceremonial pajama burning. A meditation room at the Lake Mary location adds to the studio's calming atmosphere and provides a room for pre-class centering or private yoga sessions.
142 W Lakeview Ave., Suite 1070
Lake Mary
Florida
407-330-3222
Eight potters' wheels whirl next to shelves stacked with bisque pieces, worktables spotted with glaze, and walls hung with abstract art. The eclecticism of the space is one of owner and artist Tracy Wilmes's favorite things about his pottery studio, Cup O' Pottery—that, and the opportunity to inspire his students by leaping on a chair in his typical ebullient, and sometimes downright zany, teaching style. As a former high school art teacher, he loves educating students of any age, leading both family-oriented studio classes and open pottery paint and design sessions. The studio also includes a small retail area, where Tracy sells his own pottery and hands out mock detentions to disobedient clay.:
2867 Stonewall Place #101
Sanford
Florida
407-421-5460
Aloma Bowling Centers promotes friendly competition and pin-scattering fun with three locations that encompass at least 32 lanes apiece. The largest of the three strike-and-spare hotbeds, Boardwalk Bowl Entertainment Center, sports 80 lanes inside a massive facility that hosts more than 100 arcade games, a mini golf course, and a comedy club that features up-and-coming comedians or exiled dolphins practicing ultrasonic witticisms. At all three locations, guests can salute closed frames and lament gutter balls over a dish from the onsite grill or a beverage from the full-service bar.
190 E Airport Blvd.
Sanford
Florida
407-324-2129
My Gym, which currently has more than 200 international locations, began more than 20 years ago as a structured place for children to safely play, acquire new skills, and romp off a sugar buzz. All classes are organized according to age level (starting as young as 6 months) and designed to incorporate the latest physiological and psychological research. Tiny Tykes gets babies moving with help from their parents, Mighty Mites teaches toddlers self-reliance and beginning sports skills, and Champions, a class for kids aged 6–9, emphasizes the importance of using teamwork to master more complex sports skills and achieve group goals such as building a human pyramid to reach the cookie jar. My Gym's energetic instructors are experts at using music, dance, and gymnastics to build youngsters' strength and self-esteem while stimulating their giggle-plexes. The noncompetitive environment fosters creativity and hands-on activities boost children's learning retention and fun quotient.
3581 Lake Emma Rd.
Lake Mary
Florida
US
407-333-8069
---