Denison, TX Outdoor Activities
---
Outdoor Activity Rewards Deals - Use Anytime
---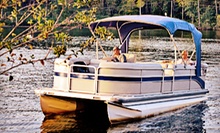 Guests can enjoy the water on water cruisers, houseboats, sailboats, and pontoons or traverse the land on a bike
---
Recommended Outdoor Activities by Groupon Customers
---
Your bulging basic tandem package includes classroom instruction, gear rental, and a shiny first-jump Certificate of Extremeatude, Cum Laude. From the private, closed drop zone in Whitewright, the sky is clear for unbelievable views of impossible flatness. As you plunge from up to 13,500 feet in the air, safely tethered to an expert instructor, you'll experience during the one minute of freefall what Wilber Wright called a "perfect peace mingled with an excitement that strains every nerve to the utmost, bra." People who skydive say the feeling of pure freedom is unparalleled, the adrenaline rush is addictive, and facing one's fears is satisfying. For frequently asked questions, see here.
1039 PR 438
Whitewright
Texas
Whether grounded or airborne, balloons dominate the festivities at Old Celina Park. On the ground, the vibrantly patterned balloons glow and undulate as propane burners pump them with hot air. These bright shapes slowly diminish to colorful specks in the sky as the balloons ascend, leaving the fairgrounds far behind.
With this canopy of colored dots overhead, the festival's entertainment comes alive as musical acts such as the Emerald City Band and Sonny Burgess take the stage. Pristine cars and trucks made as early as the 1930s shine at the classic-car show, a four-story inflatable slide promotes adrenaline rushes, and a beer garden fuels festival-goers with heady pours and margaritas. In the evening, when the balloons that have served as a backdrop all day finally land, each pilot contributes to the balloon glow, punctuating the dusk with jets of flame from their burners to illuminate their vessels in time to music.
12670 FM 428
Celina
Texas
Canyons Climbing Gym, a climbing center plastered in hand-and-foot holds top to bottom, challenges guests with 80 bouldering obstacles and 90 top-rope and lead-climbing routes fit for all skill levels. Once safely strapped into a harness, climbers make their way up one of the various routes, building up bicep strength by resisting gravity's pull more forcefully than a jet-propelled magic carpet. Eighty obstacles bedeck the facility's climbing floor, allowing guests to also try their hand at climbing rounded rock faces without the use of a rope.
7164 Technology Dr.
Frisco
Texas
214-872-2992
It's a quiet afternoon in Rhome when the tranquil plains suddenly erupt with whoops and hollers. A pair of tandem skydivers has just seemingly dropped out of nowhere and is high-fiving and cheering while they fall. One has done this drop countless times and the other is about to check the adrenaline-fueling activity off his bucket list.
The staff behind Thrillzown makes it their goal to see activities such as skydiving get crossed off of lists. In doing this, they offer hot air balloon rides, ziplining, and hang-gliding, along with a host of other activities. They can also advise hesitant customers on the appropriate thrill to partake in, pointing out which jaunts are more serene versus which ones make Superman nervous.
2215 County Road 4421
Rhome
Texas
877-371-4518
---