Restaurants in Denton
---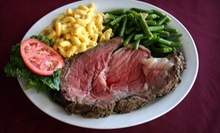 Platters of Texas-style eggs benedict, chicken-fried steaks, and housemade meatloaf vanquish appetites in a building that dates back to 1885
Use Monday 9:30am - 2:00pm
---
Recommended Restaurants by Groupon Customers
---
High-backed leather banquettes break up the smoked-salmon red expanse of Sushi Fugu's walls, which are gently illuminated by slender hanging lamps. Artwork peppers the walls, the abstract crimson swirls serving as a pleasant distraction from a meal, unlike an airplane copilot with uptight ideas about when it is appropriate to make a hoagie. Sleek wooden tables serve as a minimalist stage, where the food shines; platters showcase colorful sushi rolls and thin slices of super-white tuna and eel. Meanwhile, hot pan-Asian dishes emerge from the kitchen, where thai spices mingle with kebabs, thick udon noodles simmer in flavorful broths, and soy sauce dapples dumplings.
1601 Village Pkwy., Suite 130
Highland Village
Texas
972-966-3848
Before commanding the kitchen at Decanter Restaurant and Wine Bar, executive chef Tony Gardizi honed his skills at several award-winning Dallas-area establishments. He revamps his American-Californian menu every Thursday according to the fresh, seasonal ingredients he receives from local farmers or storks sent by the Jolly Green Giant. The slate of constantly evolving entrees includes dishes such as slow-cooked pork belly with english pea waffles, apple-pear grilled tofu on a bed of baby bok choy, and gluten-free options. Every Monday and Tuesday, wine tastings serve up a sample of the eatery's extensive selection, including 20 wines by the glass, 100 by the bottle, and a rotating daily menu of wine by the carafe. Jazz musicians add a live soundtrack to tastings as well as meals on Thursday, Friday, and Saturday evenings. Outside on the patio, the Havana humidor keeps cigars at their optimum temperature, and breezes blowing through wrought-iron fences keep diners at optimum comfort level as well.
420 Parker Sq.
Flower Mound
Texas
972-899-1045
From the fresh fish spun into the decadent sushi rolls to the salt on the table, every element of Sushiism Restaurant + Social Lounge is handpicked by the owners, Tomo and Siri Inoue. Head-chef Tomo crafts delicate bites ranging from chicken katsu and tapas-style plates of soft-shell crab and yakitori to 30 specially designed sushi rolls and 10 types of nigiri. Filet mignon sizzles up mealtime entertainment when cooked on 700-degree volcanic stones taken from a dragon's rock garden and positioned at tables in the black-and-red dining room or on the airy outdoor patio.
1628 W Hebron Parkway, Suite 120
Carrollton
Texas
972-395-7800
Dan Weinberger makes sure his sandwich-smiths are thoroughly trained to make subs, brats, and deli sandwiches the same way his father did when the original shop opened in Chicago in 1952. The italian beef upholds the legacy of sandwich artistry with a recipe that, like the lindy hop and disapproval of the lindy hop, hails from the 1920s. A spit turns beef and lamb meat roasting for gyros, and buns cradle all-beef hot dogs and sausages. The selection of subs is heavy on Italian deli meats such as hot capicola, mortadella, and genoa salami, but there's a special menu section for vegetarians, too.
311 E. Hickory Street, Suite 110
Denton
Texas
940-566-5900
---