Education & Classes in Denver
---
Education & Classes Deals
---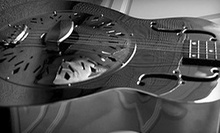 Instructor with 30 years of experience walks all levels of students through chromatic scales, modes & fundamental guitar techniques
Use Thursday 10:00am - 7:00pm
---
Recommended Education & Classes by Groupon Customers
---
With the mix of high-mountain air; private, personal instruction from real musicians; and professional-quality instruments and equipment, your kids will be shaking the walls before long. In addition to weekly 45-minute private lessons, a month's tuition also includes a weekly 90-minute to three-hour supervised rehearsal (depending on the student's skill level and the group he or she decides to join) with other students and all the glittery, sequined clothes you can safely gaze upon.
216 S. Grant St.
Denver
Colorado
"I basically live, eat, and breathe music," says Strum & Sip owner Christopher Bloom. A 27-year veteran guitar player, Bloom already had 15 years of teaching experience and his own production studio when he had the idea to open Strum & Sip with some friends. Setting up shop at local watering holes, the guitar virtuosos cultivate a laid-back ambiance where students can sip wine while teaching their fingers new chord shapes or plucking patterns and learning songs to serenade people at a family gathering or congressional filibusters.
400 E 20th Ave.
Denver
Colorado
303-257-7922
For 25 years, World of Dance has taught ballroom dances including the cha-cha, waltz, salsa, and foxtrot to students whose skill levels range from recreational to competitive. The studio's approach is simple yet effective. Students typically start with one-on-one or group lessons so they can learn techniques and basic body positions. They then apply what they've practiced during the studio's regular dance parties, performing the waltz to demonstrate their graceful new moves or the tango to fulfill their latent desires to chew on roses.
1485 S Colorado Blvd., Suite 130
Denver
Colorado
303-758-5801
Arthur Murray Dance Studios has been a leading name in social dance since 1912, when the entrepreneur began selling mail-order dance lessons. Expanding his reach, he enlisted teachers to spread his signature dance lessons on first-class steamships and skyrocketed to fame in the '30s after introducing the public to such dances as the Lambeth Walk and the Big Apple. By the 1950s, Arthur and his wife, Kathryn, were hosting their own highly popular TV show on ABC, the Arthur Murray Dance Party, which ran for 12 years. Today, Arthur Murray's team prepares students for rug cutting at special events and weekend nightclub jaunts. Clients who arrive to lessons partnerless will be paired up with certified instructors. Throughout lessons, instructors teach the foundations of two to four dances from a long list of styles that range from Latin to country-western, helping students to learn basic step patterns, timing, and the ability to lead or follow.
3355 S. Yarrow St. E-125
Lakewood
Colorado
With 15 instructional DVDs and a slew of international workshops on his resume, Eric "El Cubanito" Freeman is a master of salsa dancing. But what really sets him apart is his passion. He is constantly on the go learning new techniques, whether jetting off to Cuba to master their style of salsa, taking ballet lessons to approach salsa from a different angle, or writing a thesis on why the Macarena is so popular at weddings. Throughout his busy schedule, he always manages to lead his full roster of salsa classes, which range from beginner's steps and learning the rhythm to advanced classes which cover a new style of salsa with every new class. If clients want help with the moves of his New York, Los Angeles, Cuban Casino, or Cumbia style moves, he also leads private lessons that speed up the learning process.
2828 N Speer Blvd., Suite 101
Denver
Colorado
Beginning in Columbus and now painting the town red in various cities throughout the county, Colors & Bottles scratches the creative itch of the public with its themed art classes that leave no blank canvas unvarnished. The mobile painting service, which The Ellen DeGeneres Show tagged as a "hip, new, and fresh" activity, stages its events at local bars, wineries, restaurants, and art galleries, helping boost neighborhood economies while creating a hard-to-follow trail for begrudging pottery wheels. During three-hour classes, an artist plucked from the local art community leads students through the creation of a themed painting, such as a city skyline or something more abstract. For an extra splash of inspiration, some venues allow students to bring their own drinks, while others have refreshments available to purchase.
629 E Colfax Ave.
Denver
Colorado
---