Denver Gyms and Fitness
---
---
Denver Gym, Exercise, And Weightloss Guide
As one of the best cities in the country for singles, Denver is home to a number of fitness centers and gyms that people can use to slim down and get fit. Amongst the Denver gyms and exercise facilities, there are several that have been proven to help members to drop pounds and improve their overall health. One of the city's favorites is Powerhour Kettlebell Fitness. Founded in 2009, instructors at this facility lead members through fast-paced, fat-busting workouts. The workouts center on the use of kettlebells, which are iron cannon balls outfitted with suitcase handles. Coupled with an energetic cardiovascular routine, people of all fitness levels start experiencing weight loss, building muscle and increasing endurance within five to six sessions.
Tease Studios
is Colorado's leading adult fitness and dance studio. It puts a unique spin on exercise by offering members classes in the art of pole dancing. Instructors lead students through a series of challenging body-sculpting dance routines that helps them improve their health, become more limber and express themselves. The studio is outfitted with beautiful wooden floors, generous lighting and plenty of mirrors, so students can check their forms as they work up a sweat. The studio also offers classes for Denver pilates and yoga enthusiasts. BodyLab Fitness adds a layer of motivation and accountability to training programs by offering personal training and nutrition counseling to help everyone, from the couch potato to the professional athlete, achieve their health goals. Personal trainers work with members on all aspects of fitness, including nutrition, muscular endurance and cardiovascular training. While the trainers require their clients to show up at least 3 to 4 times per week, the fitness center uses real-time scheduling software to help members stay committed to their workout goals. Losing weight and getting fit can be a challenge, but Denver gyms offer a variety of classes and services to suit any fitness level, personal preference and budget.
The studio is outfitted with beautiful wooden floors, generous lighting and plenty of mirrors, so students can check their forms as they work up a sweat.
Gym, Exercise, Weightloss Deals
---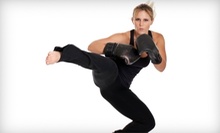 Instructors guide students through 10-minute rotations of cardio & strength training with weights, resistance bands & military exercises
Use Monday 12:00am - 6:00am
---
Recommended Gym, Exercise, Weightloss by Groupon Customers
---
The owners of Qi pool their experience to design innovative, unique exercise classes. Leading a staff of personal trainers and experienced instructors, the club maintains meditative training studios where yoga and cycling fuse in courses such as QiCycle-Yoga, and Qi Ryders, which uses RealRyder bikes.
The resulting roster of classes have earned Qi a second- and third-place spot on 5280's 2011 readers' choice awards for Health Club/Gym and Yoga respectively. Such classes include Qi Yoga, a unique focus on core energy and muscular strength, and QiCycle-KORE, a cycling program blended with a bootcamp workout. The commitment to healthy living extends beyond the gym, with community programs, such as the free running club, a group that meets regularly to jog through City Park, Congress Park, and local Thanksgiving dinners.
7755 E Academy Pkwy.
Denver
Colorado
Prestige Fitness, voted Best Gym in 2010 by Arizona Foothills Magazine, plays host to 11 different types of group workout classes each and every week. For a full-body session, try the new TRX suspension course, a gravity-defying workout incorporating ceiling-pinned suspension bands. Or drop in for a total-body conditioning class, which targets every muscle group using 52 workouts, such as squats and push-ups, to work each of the body's 52 different limbs. Hips shake and bellies shimmy in Latin-dance-inspired Zumba classes, and legs get limber in turbo kick's hip-hop infused cardio-kickboxing lessons. With a schedule as flexible as the limber instructors' favorite rubber bands, members enjoy access to up to 32 different weekly sessions running from 6:30 a.m. to 8:15 p.m. on most weekdays and some weekends.
5150 E. arapahoe Road
Littleton
Colorado
US
Better Life's medical staff members walk clients through a doctor-directed weight-loss program designed to adjust nutritional habits in a way that fits their lifestyle. Supporting the plan with science, they help people to lose up to 5 pounds per week while still enjoying regular, everyday foods. During a one-hour initial visit, they assess the client's medical history and health factors, such as blood pressure, pulse rate, and the number of old treadmills piled under their bed. If deemed necessary, an EKG reveals information about heart health before a consultation yields fitness guidelines and a nutrition plan tailored to individual goals.
Eating plans are comprised of foods that can be easily found at the grocery store, and they place importance on when the patient eats, helping to avoid late-night hunger pains or the awkward consequences of sneaking midnight snacks from the neighbor's pantry. Patients also take home a prescription appetite suppressant to curb cravings between meals.
At subsequent weekly visits, staffers gauge progress via weigh-ins and body-composition analyses, administering injections of vitamin B12 to help to boost energy and lipotropic nutrients that aim to break down fat. They gradually add exercise to the routine to complete the weight-loss program and help clients to keep off the weight they've lost.
10160 W 50th Ave., Suite 3
Wheat Ridge
Colorado
720-239-1300
At La Bella Vita Health & Wellness, owner Nedra Cox partners with a doctor and nurse-practitioner to develop personalized wellness programs that help each client achieve a healthier figure and heightened energy level. The trio complements therapeutic treatments such as acupuncture, massage, and body wraps with nutritional counseling and supplements, crafting well-rounded programs that promote whole-body health. After evaluating each person's lifestyle and body type, consultants may recommend B12 injections—known to boost energy—or proffer slim shots, which suppress hunger and melt stores of excess fat, which may go untouched despite regular exercise or diligent observance of an all-tree diet.
8418 N Federal Blvd., Suite C-5
Westminster
Colorado
303-429-9000
Fitness expert Christina Lucy founded Code Pink Boot Camp and has since expanded her fitness program into numerous locations throughout the western United States. Each of the trainers working for Code Pink claims extensive training and accredited certifications in the industry, and must undergo a strict audition to demonstrate their fitness prowess and knowledge of how many annual budgets each U.S. president could bench-press. With a schedule that includes several sessions throughout the weekday, the classes accommodate clients with varying schedules. During each session, instructors guide participants through high-intensity exercises that aim to incinerate fat, tone torsos, and improve overall well-being. The program caters to women of all ages and fitness levels and stresses safety, fun, and perseverance.
2121 Dad Clark Dr.
Highlands Ranch
Colorado
Navy Special Operators are recognized as some of the world's most feared warriors. Run using the same aquatic training program that tests the mettle of real-life divers and explosives techs, Hellbender's Amphibious Bootcamp sends exercisers plunging in and out of the water as they blast through a blend of calisthenics and aquatic exercises. A diverse collection of former sailors, soldiers, and firefighters lead the classes, shouting encouragement as as students switch from pushups and pull-ups to freestyle, breaststroke, and sprint swims. Movable obstacles including sandbags, weights, and decommissioned bathyspheres also wait beneath the depths, challenging endurance as they bulk up screaming muscles. Classes welcome all fitness levels, but exercisers should be able to tread water, swim at least 25 yards without stopping, and arrive with their own goggles and swimsuit.
7900 Carr Dr.
Arvada
Colorado
---