Denver Cleaning and Home Services
---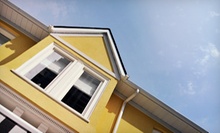 Fully insured gutter & window cleaners wipe down windows, clean screens & cleanse tracks with eco-friendly products
---
Recommended Home Services by Groupon Customers
---
The licensed, insured, and trained movers of First Class Movers LLC arrive on location to assist customers in the moving tasks that not even a 2-liter of soda and a pepperoni pizza could convince their friends to do. The skilled lifters come armed with the supplies they need to transport whole living spaces worth of stuff. The team can disassemble large items such as bed frames or million-piece puzzles, breaking them down for easy moving. The experienced movers can even assist in packing, loading, unloading, and unpacking, ensuring quick and painless possession transportation.
9888 E Vassar Dr.
Denver
Colorado
720-309-6321
Since 1989, the staff of Zephyr Clean Air has helped maintain clean air and efficient venting systems in residential homes and commercial businesses. Through complimentary home evaluations, the technicians identify individual heating and cooling issues before dreaming up solutions to eliminate pollutants and conserve energy. With special equipment such as germicidal UV lights, electrostatic filters, and HEPA-filter negative-airflow machines, Zephyr develops maintenance plans to suit the needs of each system. In addition, the company puts homeowners at ease with a 60-day guarantee on labor, parts, and slow-cooker recipes.
1396 W Davies Pl.
Littleton
Colorado
800-299-3828
Certified by Haag Engineering, the residential inspectors at Stella Construction of Colorado, LLC each bring at least 10 years of experience to tackle repair and construction jobs. The outfit specializes in assessing damage caused by inclement weather and teaming up with insurance companies to help to find a solution. Homeowners can also get free post-storm inspections of the roof, chimney, siding, or deck, and the experts can tell if damage is the work of a bad hailstorm or a bad golfer living nearby.
9971 E Mexico Ave.
Denver
Colorado
720-841-9720
Drawing on 30 years of business experience, the certified Colorado arborist and the crew of licensed and insured technicians from Colorado Tree & Shrubbery Specialists trim trees and treat them with insect- and disease-control sprays. After providing free estimates, the staff takes care of everything from roots to leaves, manicuring shrubs and removing large dead or damaged trees before grinding their stumps. The crew also plows snow in the winter, delivers pre-split firewood, and is available to tell saplings bedtime stories.
4760 Parfet St.
Wheat Ridge
Colorado
303-431-4155
D Finest's insured, HVAC-certified cleaning technicians have been waging war against airborne contaminants for more than 15 years. They run a sizeable fleet of truck- and van-mounted HEPA air-filtration systems—14 for commercial cleaning and 10 for residential services—that keep airways free of dangerous particles, including flammable dryer lint. When they're not ensuring that furnaces run safely, these savvy techs suss out elusive pollutants and allergens with HVAC evaluations, duct cameras, and undercover operatives disguised as mold spores.
2620 S Parker Rd., Suite 164
Aurora
Colorado
303-309-0090
More than 200,000 cleanings inform the work of the Be Green Carpet Cleaning's staffers, who scrub hardworking floor coverings with natural and organic cleaning solutions that leave fibers looking, feeling, and smelling fresher. The organic cleaning solutions make carpets safer for children, pets, and adults with allergies by using active enzymes to gobble up dirt and grime. These live enzymes also erase pet stains instead of just masking them, neutralizing pet odors and lifting stains from fibers without leaving behind mildew or mold. Be Green Carpet Cleaning's technology can also gussy up furniture, ridding love seats of unsightly stains and unearthing tombs of mummified bagel dogs hidden beneath sofa cushions.
4900 Iris St.
Wheat Ridge
Colorado
US
303-424-5888
---