Photography & Portraits in Denver
---
Photography & Portrait Deals
---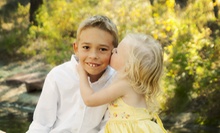 Photographer captures personality in portraits at Chapungu Park in Loveland or downtown Windsor & Windsor Lake
---
Recommended Photography & Portraits by Groupon Customers
---
Blake Dieters stalks his prey like a seasoned hunter, but his target isn't big game. Behind the lens of his trusty camera, he bags the fleeting memories and precious keepsakes that gave his company its name. Citing the portraits of Arnold Newman, Annie Leibovitz, and Robert Mapplethorpe as his inspiration, Blake renders subjects in striking black-and-white tableaus during individual and group sittings. Though he stages most photo shoots inside his studio, his love of Colorado's wilderness draws him outside for on-location photo shoots as well. After the sessions end and the subjects pick their poses, Blake prints the digitally edited photos onto professional-grade, luster-finish paper suitable for framing or use in a very expensive game of paper football.
4212 S College Ave., Suite 106
Denver
Colorado
US
970-266-1702
When it comes to shooting weddings, two photographers are better than one—so say professional photographers Meghan and Justin Hof. Doubling their wedding coverage gives them a "360-degree view of the event," allowing one camera to catch the bride tossing the bouquet while the other camera catches the crowd scattering in terror. The pair has been bringing their photojournalistic style to weddings since 2006, providing creative add-ons such as photo booths and photo thank-you cards. In addition to wedding photography, they also shoot natural and engaging portraits of newborns, couples, and families.
On Location
Golden
Colorado
Sheba Wheeler thrives even when faced with the unexpected. It was a tragic death in 2005 that sparked her passion for photography; today, it's her photography that captures the spontaneous smiles and silly faces of the customers she shoots. As the lead shutterbug at Picture Your World Photography, Sheba has published work for the Denver Post and the Wall Street Journal. She blends 15 years of journalistic experience as a Lifestyles reporter with contemporary portraiture, enabling her to fetch unique shots and—as she shares on her website—preserve the "magic of the moment."
303 Airport Blvd., Suite 110
Aurora
Colorado
303-548-6112
Forever Photos and Files proprietor Brianne Tobin knows the hard truth: like all good things, memories fade. With this in mind, she's devoted the past 15 years of her professional life to saving nostalgic keepsakes from getting trampled by the march of time. After clients deliver fading photographs, yellowing love letters, and Eisenhower-era grocery lists, Tobin gently handles each article, converting them into PDF files searchable by keyword, or photos tagged with names of locations and loved ones. Her video digitization services also help customers swap their bulky, grainy VHS tapes for compact, crisp DVDs.
8790 W 80th Dr.
Arvada
Colorado
US
303-359-2082
---