Depew, NY Health and Fitness
---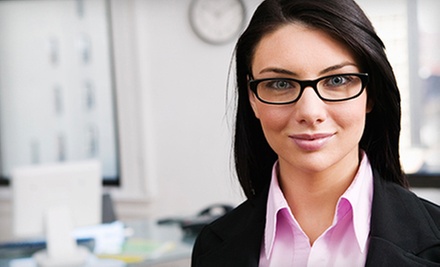 ---
Recommended Health & Fitness by Groupon Customers
---
Dr. Maxim V. Skormin and his staff specialize in general and cosmetic dentistry services. Everything they do is guided by a desire to help you feel comfortable from start to finish. A few of their day-to-day duties include providing periodontal care, covering up cavities with enamel-colored fillings, molding Invisalign aligners, and breaking up tooth discoloration with Zoom! whitening gels and lamps.
198 Main St.
Hamburg
New York
716-649-5280
CrossFit 716's owners and coaches, Drs. Dennis and Jennifer Lesniak, use their chiropractic and exercise-science training to tailor intense, boot-camp-style workouts to clients of all ages and fitness levels. A constantly rotating menu of exercises such as hero squats, pull-ups, dead lifts, and pushups aim to get bodies in well-rounded physical shape, often incorporating strength-supplementing props such as kettlebells, jump ropes, and wigs made of Samson hair. Dennis and Jennifer also work to build a welcoming community atmosphere by memorizing each client's name over the course of multiple sessions.
84 Sweeney St.
North Tonawanda
New York
716-694-2225
Dr. Nicole Bishop's signature Mommy and Me Pilates classes were born the same time as her son, Reza, as a way to connect with him while helping women balance their fitness regimens with their brand new bundles. During the 90-minute Mamilates classes, two instructors—one for mom and one for baby—guide participants through short bursts of challenging Pilates exercises. During these drills, fun activities such as singing, massage, and dance keep growing minds entertained while women bolster their muscles. With regular practice, women may notice a reduction in physical tension around the neck and shoulders, stronger abdominals, sturdy backs, and weightlessness despite carrying 15 sacks of lead. The team strives to achieve these results specifically to aid in the recovery from the strain of carrying a baby or to make common postnatal lifting easier. The staff makes careful modifications for women still recovering from Cesarean sections.
Dr. Bishop earned her PhD in comparative literature at the University of Michigan, an academic track that involved a focus on mindfulness, meditation, and reading methodology. She incorporates these disciplines in her budding practice, along with her specialty in African and Caribbean dance, the spark for which ignited at the ripe old age of 5 years. As a kicker, Dr. Bishop also boasts certification in mat Pilates instruction and the ability to fashion a yoga mat out of a napkin.
777 Maple Rd.
Williamsville
New York
917-569-0585
Maria McKendry, Burn at the Barre's certified instructor, conducts the studio's barre-fitness classes. During these sessions, she fuses the muscle toning and core strengthening of Pilates with the grace and strength inherent in ballet. Stealing from her experience as a personal trainer and her education in physical therapy, Maria infuses her classes with long, flexible moves and more rigorous cardio. The classes incorporate sequences of controlled, isometric exercises, which require unwavering mental focus as well as precise physical technique while they methodically work muscle groups throughout the arms, hips, and abdominals. Students animate their body by way of thumping tunes while using the ballet barre to balance. Maria's experience as a triathlete informs her ability to incorporate different disciplines into one entertaining, high-energy class.
9142 Main St.
Clarence
New York
716-880-7049
Based inside a private studio, Consistent Personal Training eschews the intimidation of gigantic gyms for an intimate environment. Its experts draft customized programs for clients, targeting specific goals with a 30- to 45-minute mix of strength and cardio exercises. Sessions geared toward weight loss, competition prep, and outpacing thrown spears during Warrior Dash races emphasize judgment-free teachings that correspond to each patron's experience. Having made the transition from customer to trainer, fitness buff Ron Griffin can testify to the empathy and efficacy of the studio's workouts, which encompass boot-camps as well as one-on-one and group lessons.
5427 S. Abbott Rd
Orchard Park
New York
716-997-5711
In addition to outfitting aquatic adventurers with necessary equipment, Buffalo River Canoe and Kayak Outfitters sends groups of paddlers splashing downstream during guided explorations seven days a week. Headlining an assortment of trips, the Buffalo River Urban Trails tour unveils some of the city's historic waterfront sights, highlighted by industrial-area businesses and grain elevators that stand as towering links to an agrarian past or prophesies to an apocalyptic future where morsels of homogenized chicken byproduct no longer exist. The Outfitters' other point-to-point adventures—ranging from 2.5 to 6 miles apiece—also provide varying launch points, such as Red Jacket River Front Park and Seneca Bluffs.
800 Harlem Road
West Seneca
New York
716-771-2995
---