Restaurants in Derby
---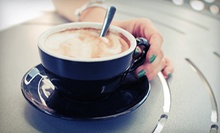 Latin American coffee drinks, yerba mate served hot or cold, and baked goods
---
Recommended Restaurants by Groupon Customers
---
The cozy café's sweet aromas of freshly baked breads and pastries satisfy sniffers without even making them scratch the menu of morning and midday delights. Quiche Lorraine and quiche Florentine ($4), which are new additions to The Palette's bill of breakfast fare, whisper savory complements to sweet stacks of waffles ($4). For lunch, nosh a handheld pineapple-, grape-, and cashew-clad chicken-salad sandwich or a grilled meatloaf sandwich, both served on homemade bread ($6). Cleanse your esophagus with barista beverages such as chocolate café au lait ($3), tropical paradise iced tea ($1.50), citrus smoothies ($4), or raspberry or apple Hot Lips sodas ($3), and complete the sweet with a warm slice of apple pie with ice cream ($4) or carrot cake with cream-cheese frosting ($4).
613A W Douglas Ave.
Wichita
Kansas
Master chef David Wirebaugh collaborated with his cooking crew and local farmers to create refreshingly simple lunch, breakfast, and dinner dishes that showcase the diverse agricultural products of Kansas. Infuse a weary workday with elegance by stopping by for a bowl of blistered onion soup ($7), a cider slow-roasted BBQ-pork sandwich ($10), or a mesquite-smoked prairie-chicken salad ($13), dressed in a lovely little strawberry-basil vinaigrette. Carve into your evening with the charcuterie platter ($9), or gobble garden goodies by trying a tomato salad, assembled with pan flashed heriloom tomatoes, calypso beans, and rocket greens, all doused with balsamic vinaigrette ($6). The natural-fed, 12-ounce KC strip steak ($26) can fill any appetite bucket to the brim, while the fire-roasted half chicken with baby potatoes, herb carrots, and natural au jus ($15) provides the perfect portion for a half picnic.
400 W Waterman
Wichita
Kansas
Inside Wichita's 1870s-themed cattle-town museum, guests can mosey over to the Diamond W Chuckwagon and enjoy three hours of food, music, and family-friendly fun served up by the award-winning cowboy Western quartet known as the Diamond W Wranglers (formerly the Prairie Rose Wranglers). Fans of food, music, music about food, and musical foods will relish the tastes of an all-you-can-eat brisket dinner that includes smoked beef brisket and sausage, roasted rosemary potatoes, cowboy beans, honey cornbread, and chocolate-chunk brownies with vanilla ice cream for dessert. The meal—which may be served by the Diamond W Wranglers members themselves, three of whom own the restaurant together—then merges into an after-dinner show of good-old-fangled cowboy Western tunes interspersed with jokes, tall tales, and coyote brandings. Doors open at 5:30 p.m., and the meal is served at 6:30 p.m. Check the upcoming schedule before making a reservation.
1865 W Museum Blvd.
Wichita
Kansas
For more than three decades, the friendly servers and talented chefs at El Mexico Cafe have dished out helpings of Mexican and Southwestern food, from bean-stuffed burritos smothered in chili to ultimate fajitas with four types of meat. Served amid smoked mirrors and intricate wrought-iron accents, the café's cuisine won it several runner-up distinctions within the 2011 and 2012 Wichita Eagle's Readers' Choice awards. A mariachi band serenades tables each weekend, strumming guitars and squeezing accordions while wearing the traditional outfits of sombreros, charro suits, and astronaut helmets.
2544 S Seneca
Wichita
Kansas
Every day, Kababs owner and chef Syed Jillani fills the dining room with the aroma of fresh herbs and spices. Ginger, garlic, turmeric, and curry swirl in the air like an all-scent production of Cirque du Soleil while Syed applies more than 25 years of experience to preparing classic Indian and Pakistani dishes such as tandoori chicken, samosas, and, of course, kababs. These specialties arrive individually with à la carte service or sit in buffet displays during lunch.
756 N Tyler St.
Wichita
Kansas
A chef stands over a flaming tableside teppanyaki grill, twirling his cooking instruments in the air and catching them in each hand. As his audience whistles and cheers, he sears juicy morsels of filet mignon, chicken, and seafood alongside colorful slices of mixed vegetables. Chefs are equally busy behind the sushi counter, artfully arranging more than 100 different types of rolls with fresh tuna, spicy salmon, and crispy shrimp tempura. At the bar, expert mixologists shake premium liquors and juices into cocktails, garnishing them with duos of plump olives and curls of lemon rind. At nightfall as the moon filters in through the skylight windows, the contemporary dining room comes alive with glimmering televisions, lively music, and friends debating the existence of wood nymphs over drinks.
11233 E 13th St. N
Wichita
Kansas
---