Derry Village, NH Outdoor Activities
---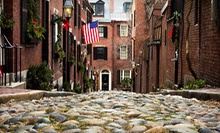 Tours follow in the footsteps of abolitionists and soldiers who fought for a more perfect union, visiting landmarks from their lifetimes
Use Thursday 11:30am - 2:30pm
---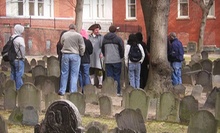 Follow a guide in a tricorn hat on a 90-minute exploration of colonial Boston through the uprisings that led to American independence.
Use Monday 8:30am - 11:30am
---
Recommended Outdoor Activities by Groupon Customers
---
Click above to buy tickets for Jonny Lang, August 9, 7:30 p.m. Click on the links below for tickets to other performances.
130 Sohier St.
Cohasset
Massachusetts
US
Tires squeal and a 15-horsepower engine hums as its driver cuts through a narrow turn, shaving fractions of a second off the lap. Below the track, a colorful golf ball winds through faux island trees, avoiding walls and stops on its way to an awaiting hole. It's another day at Tri-State Speedway, a multileveled family entertainment center littered with motorized fun for patrons of any age. The upstairs, 22,000-square-foot go-kart track hosts competitive races with karts calibrated for speeds of up to 25 miles per hour. A walk downstairs leads to the island-themed, 18-hole mini-golf course nestled among a large video-game arcade, bowling lanes, bumper cars, and billiard tables. When fun gives way to hunger, Drafters Sports Cafe's servers and cooks serve finger-friendly pub bites, ice-cold beer, and paper napkins fashioned from losing basketball brackets.
35 Chase Ave.
Dudley
Massachusetts
508-671-9053
Click above to buy tickets for the Boston Derby Dames August 15 games. Click here to buy tickets for the Boston Derby Dames July 18 games.
99 Fordham Rd.
Wilmington
Massachusetts
US
At the center of The Water Hazard Mini Golf's three-acre course, a 35-foot geyser erupts, knocking away incoming golf balls and sprinkling sun-baked putters with a refreshing mist. The expansive course owes many of its obstacles to the natural layout of the Holliston landscape. Flourishing bushes sit between holes and three large ponds break up the terrain while giving golfers glimpses of the sunbathing turtles and soft-shoeing frogs dotting its banks. A waterfall system nearly 500 feet in length also meanders throughout the property. Rolling hills, ridges, and a grand 120-foot slope also challenge golfers. The Water Hazard Mini Golf also features a full-service concession stand, which serves hot dogs, hamburgers, and homemade ice cream from Bliss Dairy.
750 Concord St.
Holiston
Massachusetts
508-740-0014
Helmed by stalwart captain Zdeno Chara, the 2011 Bruins exercise athletic domination over friction and work out cylindrically based angst on the ice. Premium club seating (located on levels 5 and 6) grants you early access to the arena and the first pick of the freshest foam fingers. Once the puck is dropped, you can see each snapping slap shot and delicate toe pick in vivid detail as you relax in cushy comfort, complete with extra leg room and in-seat wait service. Stretch your legs midgame with a jaunt to the Insight Club Lounge or The Patrón Platinum Lounge, or restock trivia arsenals with your ticket's included access to the sports museum.
100 Legends Way
Boston
Massachusetts
The phosphorescent, indoor landscape at Monster Mini Golf immerses putters in an eerie universe that inverts the sun-soaked cheer of conventional courses. Rimmed in glowing green barriers, 18 holes lure swingers of all sizes to challenge their coordination and resolve in the face of winged monsters, scowling animated trees, a creepy clown, and their opponents' shockingly dazzling smiles. Sheltered from searing rain and howling wind, the indoor course enables play around hazards such as a spell well and luminous, ghostly windmill at any time of the year. An in-house radio station and DJ mask the sound of pounding hearts with lively beats and course commentary, and golfers looking for additional glory can win prizes by participating in regular contests or at the onsite arcade (arcade games not covered by this Groupon).
1560 Boston Providence Hwy
Norwood
Massachusetts
US
781-762-3100
---