Restaurants in Derry Village
---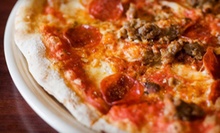 Neapolitan pizzas crisp in a brick oven, boasting housemade, locally sourced dough and sauce born from hand-milled tomatoes
Use Monday 12:00pm - 4:00pm
---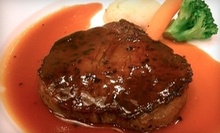 Grill piques palates with fusion fare such as lobster egg rolls, lamb, fish 'n' chips & layered burgers paired with global wines
Use Tuesday 5:00pm - 9:00pm
---
Recommended Restaurants by Groupon Customers
---
Union Station proves to be a fitting location for Byblos Lounge, a Lebanese restaurant that ferries guests away to the eastern borders of the Mediterranean Sea with shareable mezzas, marinated meats, and toasty loaves of pita bread. Waves of Mediterranean spice crest on dishes of Levantine cuisine as sizzling kafta and kebabs fill the air with the savory aromas of beef, lamb, fish, and chicken. The architecture of classical antiquity meets the hip atmosphere of modern nightlife in the restaurant's interior, where Corinthian colonnettes frame tables clad in royal purple and diners hold Platonic dialogues beneath the glow of neon lights. After cleaning off plates of grilled meats and veggies, groups can head to the dance floor and sway to the sounds of live DJs, singers, and bands that take the stage on weekends.
2 Washington Sq.
Worcester
Massachusetts
508-756-2232
Settled on the pastoral landscape of the Mohawk Trail, The Harley House Restaurant welcomes travelers with servings of familiar home-cooked fare, catered celebrations and weddings, or weekend getaways spent in lodgings styled after a country home. Guests dine on dishes culled from seasonal menus in the rustic confines of the intimate, 20-seat tavern, or sup among the rough-hewn wood-plank walls of the charming, folksy barn. Boarders laze in the shade of the gazebo, or amble through the private, wood-fenced garden lined with perennials like every American president's Mardi Gras tuxedo. Winter finds lodgers enjoying a library of CDs and movies, card games, or a drink before a roaring fireplace, while spring and summer see visitors strolling through the bordering parklands or sweeping trails of bread crumbs in nearby forests.
909 Massachusetts Ave.
Lunenburg
Massachusetts
978-582-9421
Shangri-La's chefs craft traditional and contemporary Chinese dishes such as sizzling scallops sautéed with a black-pepper sauce and tangy tangerine beef. Special sushi rolls include their crazy roll, which combines shrimp tempura, avocado, scallions, and pamphlets from local cults, as well as the boston roll, a medley of lobster, salmon, and tobiko. Stone walls, a cherry-red sushi bar, and dark-wood tables dressed in white linens create an elegant ambiance that suits anniversary dinners or birthday feasts.
60 Madison St.
Worcester
Massachusetts
508-798-0888
Originally built in 1879, the building at 25 Union Street stood for nearly a century as an industrial bastion in downtown Worcester. When the last manufactures moved out in the 1970s, Robert "Gus" Giordano had an idea: convert the ruggedly beautiful interior into an upscale restaurant, preserving the historical building and ensuring that he would not be eating in there by himself everyday. Inhabiting the former screw-machine department, Maxwell-Silverman's Toolhouse ensconces diners in industrial elegance, with a ceiling crisscrossed with heating pipes, a floor dotted with oblong railroad ties, and cozy illumination courtesy of more than 40 vintage pool-hall lights.
Occupying the fourth and fifth floors of the factory, Club Maxine's retro stylings complement weekend dance nights and Sunday brunches. The two-story space allows raucous patrons to cut rugs on the first floor while quieter tête-à-têtes take place at the cocktail bar on the second floor.
Nestled in Union Station, Luciano's Restaurant transports diners back to the 1920s and '30s with walls covered in vintage photos and framed newsprints detailing the escapes of legendary gangsters. The refined indoor dining room features plush white seating and lush, flowery carpeting, while outdoor tables allow patrons to enjoy the sun or taunt slugs with salt shakers.
25 Union St., Floor 5
Worcester
Massachusetts
508-755-1200
Chefs at Hi Bombay have honed recipes for curry, vindaloo, and spicy masala over the course of 23 years, yielding a carefully spiced menu of Northern Indian classics and regional seafood specialties. Fresh-baked naan bread and whole-wheat roti sop up sauce from lamb and chicken dishes cooked in a clay-oven tandoor, and fish labadar from the Bay of Bengal simmers in a creamy tomato sauce. Hi Bombay also rents a 75-person banquet room for catered gatherings, and welcomes diners on major holidays such as Christmas, Thanksgiving, and the anniversary of Caddyshack II's DVD release.
31 Washington Ave.
Old Orchard Beach
Maine
Using a wealth of fresh ingredients that includes choice cuts of beef, poultry, and seafood, The Villa Rose's culinary team whips up a menu of authentic, made-to-order Italian specialties. Items range from homemade new england clam chowder and Maine lobster doused with the house pomadoro sauce to a pan-roasted new york strip steak topped with a fried egg. Diners can choose from a hearty selection of of wines to wash down meals, which unfold in The Villa Rose's intimate dining room or a private room that accommodates receptions, weddings, and banquets of up to 175 guests.
The restaurant hosts events from live music to manicures courtesy of Accent Salon personnel. The lounge entices guests nightly with sports on high-definition flat-screen plasma televisions and lottery games such as the classic Buy This Numbered Card.
1428 Center St.
Ludlow
Massachusetts
US
413-547-6667
---