Things to Do in Derry Village
---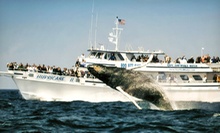 View humpback and fin whales as they feed and play within close range of the 115 ft. boat, Hurricane Two
---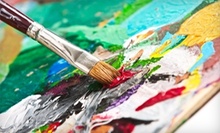 Experienced instructor primes canvases and students to create one of five scenes in styles such as Impressionism and Pointilism
Use Wednesday 11:00am - 2:00pm
---
Recommended Things to Do by Groupon Customers
---
Chunky's Cinema Pub has been mixing the polished glimmer of modern technology with the gauzy glow of yesteryear for almost two decades. Eight screens mingle first-run blockbusters with themed throwback classics catering to children of the '50s or '80s. There, in the glow of the previews, is another testament to the melding of time—a contemporary dinner-and-a-movie setup brings with it the nostalgia of old-school drive-ins. Instead of traditional cinema chairs, individual cushy Lincoln Continental surround communal dinner tables, and the seats roll and recline to let guests maximize their comfort and customize their sightlines as they catch the onscreen action and pretend to be backseat drivers. At their tables, American pub snacks and entrées from the extensive menu spread out, combining movies with burgers, quesadillas, and steak tips.
While the theater blends old with new, Chunky's Bio Truck zooms into the future with a gas tank full of the 100% trans-fat-free canola oil used for cooking in the kitchen. The bio-fuel reduces the truck's greenhouse emissions and helps to decrease its carbon footprint, spreading an eco-conscious message to the community.
371 Lowell Ave.
Haverhill
Massachusetts
When festival founder Anne-Marie Aigner first noticed the burgeoning food-truck scenes on the West Coast and the Midwest, her prescient mind foresaw that the tide would make its way to New England. In order to cultivate the nascent movement, she founded her food-truck-festival tour to bring dozens of trucks' eclectic wares to locales outside of Boston. Already scoring mentions in Boston and Worcester Mag in its first year, the festival has featured such four-wheeled kitchens as Redbones BBQ and Roxy's Grilled Cheese. Aigner hopes to sustain the food-truck industry beyond the festival's inaugural year by attracting interest throughout the region and motivating grassroots support for the mobile culinary spots and their future descendants, sandwich-slinging helicopters.
Rockingham Park Blvd.
Salem
New Hampshire
Film buffs across six states stare wide-eyed at large cinema screens, losing themselves in first-run Hollywood movies and the smell of fresh, buttery kernels within Your Neighborhood Theatre's 17 locations. Though all theaters prioritize comfortable seating, old-fashioned friendly service, and high-stakes preshow trivia slideshows, each location encompasses its own distinct charm, be it through arthouse décor, 3-D screens, or Rhode Island's vintage 1950's drive-in setting.
10 Ashleigh Dr.
Derry
New Hampshire
603-437-8800
Divided between two locations in Manchester and Nashua, Vertical Dreams' 15,000 square feet of simulated mountainside are packed with obstacles and tough sections to challenge climbers of all skill levels. At the Manchester gym, gutted elevator shafts lined with hand grips extend four stories upward, creating 70-foot vertical surfaces. The Nashua location boasts 10,000 square feet of wall space, with textured surfaces that respond realistically to climber's hands and feet and fill their nostrils with simulated rock smells.
Vertical Dreams' staff of veteran climbers teaches students one-on-one or in groups. In beginner lesson packages, instructors show aspiring climbers the figurative and literal ropes involved in belaying, climbing, and knot tying, and the teachers in advanced top-roping and sport-climbing classes push their students' abilities to climb solo or in a lead position.
250 Commercial St.
Manchester
New Hampshire
603-625-6919
After the surgeries and treatments that helped her overcome breast cancer, Kathy Jannino-Faino lost some of the range of motion she had cultivated as a part-time fitness instructor. Rehabilitating on the Reformer—Pilates's signature resistance apparatus—she discovered a workout that she loved enough to turn into a full-time career. She now helms her own intimate fitness studio, Passport Pilates, where she and her team teach Reformer and mat classes that strengthen core muscles and tone physiques.
Beyond Pilates, the studio's staff members also teach interval-format Fit Barre classes that fuse Pilates with yoga and sports conditioning to firm specific problem areas, such as abs and thighs. For a class that incorporates more intensive cardio, students can participate in fast-paced Booty Camp workouts that jet from Reformer work to barre exercise to TRX suspension training inspired by Hitchcock films.
1820 Turnpike St. Rte. 114
North Andover
Massachusetts
A stream of yellow and black buzzes by. It's not a swarm of bumblebees, but friends and family racing each other in yellow and black go-karts around Checkered Flag Indoor Karting's 23,000-square-foot speedway. Strapping on helmets and sliding in behind the wheel of 15HP electric karts, up to 10 drivers jockey for position while whipping around eight snaky turns and sling-shooting past opponents on the wide lanes along the 100-foot front stretch. The facility's electronic timing system lets speedsters check out their best lap times from each 20-lap race. Racers must be at least 54" tall or born with tires instead of feet to traverse that track, but during birthday parties kids aged 4–9 and at least 36" tall zip across the 100-foot Mini Cup track. With a snack bar slicing pizza and pouring soda and an arcade, the facility can play host to parties for older kids and adults, as well as corporate team-building events. And for kids and adults seeking serious competition, Checkered Flag organizes leagues lead by indoor karting champion, Tom Prioli.
239 Neck Rd.
Haverhill
Massachusetts
US
978-374-7223
---