Des Moines Automotive
---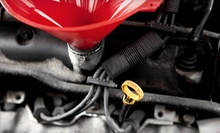 ASE-certified technicians supply vehicles with up to 5 qts. of 5W-30 bulk oil and perform safety inspections
---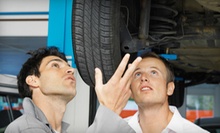 ASE-certified techs replace fluids with clean oil, perform a 41-point safety check, and rotate tires; AC recharge preps cars for summer
---
Recommended Automotive by Groupon Customers
---
A & A Auto Detailing founder Almir Smailbegovic welcomes vehicles into his own home by appointment. After familiarizing himself with each smudge and dusty nook, he sets about recreating the scent, look, and chrome-plated umbilical cord of a brand-new car. For interiors, he and his team employ shampoos, power washers, and a specialized vacuum for removing debris from crevices. They dress tires and wax exteriors to a sleek shine. Clients can remain in their own homes thanks to a pickup and drop-off service for nearby automobiles.
1018 SW Ankeny Rd.
Ankeny
Iowa
Park Avenue Car Wash restores rides to their squeaky-clean shine in as little as 15 minutes. The wash spritzes cars with a double-dose of lemon-scented pre-soak, which preps exteriors for a sudsy romp, all while keeping the engine from catching scurvy. A high-impact and specially designed spot-free rinse thwarts unsightly water spots before a helping of triple-shine turtle wax locks in paint's luster. Once cars are clean, Park Avenue swiftly dries exteriors with its contouring dry system.
5301 Park Ave.
Des Moines
Iowa
515-282-3660
Bill Graham founded the first Graham Tire location in Sioux Falls, South Dakota, in 1951, a time before dashboards blinked with digital readouts or engines buzzed with microchip brains. As cars have progressed, Graham Tire has kept pace. Still overseen by the Graham family, the current 22 locations employ ASE-certified mechanics who mend and maintain cars, trucks, SUVs, and farm equipment. Computerized engine analysis reveals rides' performance levels and any problems, allowing the technicians to efficiently diagnose trouble without resorting to good mechanic, bad mechanic interrogations.
801 E 1st St.
Ankeny
Iowa
515-964-5985
---