Des Moines Health and Fitness
---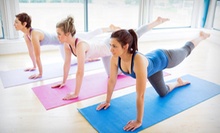 Instructors encourage full-body results in a variety of fitness classes that are supplemented by a success guide and nutritional coaching
---
Recommended Health & Fitness by Groupon Customers
---
Owner Kimberly Lowman ensures that the Body Detox Center lives up to its name by offering natural, detoxifying treatments that promote optimal well-being. To purge toxins from the skin, clients dip their feet into an electrically stimulated salt-infused footbath. During three cycles of vibrations, Kimberly watches as the water transforms colors and textures, "reading [the] water, like one reads tea leaves…" wrote Jen Mulson for The Gazette. Kimberly's also helps clients detox on the go with a personal line of North Pole Magnets that come in a variety of easy-to-wear accessories including bracelets, ankle wraps, and alloy-woven footie pajamas. The center also carries Phoenix Nutritional supplements available for purchase.
6429 University Ave.
Windsor Heights
Iowa
After an eye exam, knowledgeable sales staffers guide patients through the boutique's collection of frames from Coach, Ray-Ban, Prada, and Gucci, searching for lens pairings that make driving, computer work, and games of Operation easier. Technicians can then have prescriptions ready in as little as one hour.
4100 University Ave., Suite 106
West Des Moines
Iowa
515-224-1317
Goals in Motion Fitness Studios challenges students of any fitness level to push the boundaries of their exercise comfort zones via supportive group classes and nutritional education. The 5,500-square-foot studio accommodates up to 70–80 students per class. The studio offers a variety of classes including strength-training, kickboxing, yoga, Zumba, circuit-training, and power 45 high-intensity workouts and the trainers include modification in each class to ensure each participant is always hot on the heels of their physical-possibilities frontier. For a longer-term challenge, students can enroll in a nine-week challenge program.
The Goals in Motion program imparts the value of a positive attitude while emphasizing a lifestyle of balanced eating with regulated carbs, lean protein, and healthy fats over short-term diet fads, and supplements. The founders of Goals In Motion, Mardi Pfannebecker and Sandy Hafner, strive to maintain the studio's family-like atmosphere and even work out among members. Both owners graduated from Iowa State University, Mardi with a degree in exercise science and Sandy with a degree in business.
5500 NW Johnston Dr.
Johnston
Iowa
A bodybuilder and former firefighter, a competitive runner, and a martial arts champion lead the workouts for Elite Body Boot Camp at Elite Edge Gym. Having handpicked his team of certified personal trainers, UFC fighter Joe Brammer utilizes their backgrounds to plan brief but intensive routines. He combines kickboxing drills with weightlifting, yoga, and kettlebell maneuvers, staving off boredom with an ever-diverse exercise lineup. He has also structured the program for optimum results—ideally, his campers report to two days of kickboxing and two days of weight training per week, or one day of kickboxing in iron boots.
Joe and his staff don't believe in sitting by and bellowing orders at their students. They prefer to be involved both inside and out of each 45-minute class, dispensing tips for technique, nutrition, and goal setting.
495 SE Alices Rd., Suite E
Waukee
Iowa
515-987-8100
Glaza Studio courses with movement. Live percussionists strike drums during Afro-Brazilian dance classes, hastening the tempo as students transition from warm-ups to folkloric dances. In capoeira sessions, teachers blend acrobatic and fight movements into a workout that makes the heart pound like Thumper's left hind foot. Some classes have a quieter personality. Vinyasa yoga, for instance, strings together a fluid sequence of movements. As participants transition from one pose to the next, they bridge the transition with calm, purposeful inhalations or exhalations. All classes take place in an expansive room that resembles a warehouse. Narrow planks of wood stretch across the floor, and rectangular beams brace the ceiling. Coating the walls, naturally distressed paint gives the space a historical vibe.
502 E Locust St.
Des Moines
Iowa
515-720-0984
Fitness World West has been trimming Iowa's waistlines since 1986. Its two modern, fully equipped facilities hold more than 75 weekly fitness classes, an aquatic program accredited by the Arthritis Foundation, and advanced strength equipment from Hammer, Cybex, and Paramount. During the diverse lineup of fitness classes, the gym's trainers pump up their students' motivation with rigorous, varying workouts that include Zumba, yoga, cross training, and Greco-Roman spelling bees. For one-on-one instruction, personal trainers work with clients to design fitness plans that optimize results, taking advantage of the center's cushioned track and the cardio theater's elliptical machines, cross trainers, bikes, and treadmills. When working out solo, clients can set brainwaves to one of 80 channels broadcasting from the cardio machines' personal flat-screen TVs, jogging or biking along to motivational music videos, athletic competitions, or home-shopping auctions. The gym's selection of Olympic free weights stands ready to fatigue muscles before the whirlpool, sauna, or steam room relieves and relaxes deep-rooted aches.
In addition to increasing clients' physical prowess, Fitness World West's knowledgeable staff help overhaul the unhealthy habits of their clients through computerized fitness assessments and personalized nutrition consultations. And, during workouts, they welcome parents to entrust their children to the kids' gym and nursery, where an eagle-eyed staff member watches over little ones as they romp around or lead troops of G.I. Joe figurines in taxing pushup regimens.
3200 Westown Pkwy.
West Des Moines
Iowa
515-223-5111
---