Des Moines Health and Fitness
---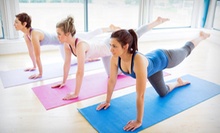 Instructors encourage full-body results in a variety of fitness classes that are supplemented by a success guide and nutritional coaching
---
Recommended Health & Fitness by Groupon Customers
---
Owner Kimberly Lowman ensures that the Body Detox Center lives up to its name by offering natural, detoxifying treatments that promote optimal well-being. To purge toxins from the skin, clients dip their feet into an electrically stimulated salt-infused footbath. During three cycles of vibrations, Kimberly watches as the water transforms colors and textures, "reading [the] water, like one reads tea leaves…" wrote Jen Mulson for The Gazette. Kimberly's also helps clients detox on the go with a personal line of North Pole Magnets that come in a variety of easy-to-wear accessories including bracelets, ankle wraps, and alloy-woven footie pajamas. The center also carries Phoenix Nutritional supplements available for purchase.
6429 University Ave.
Windsor Heights
Iowa
Goals in Motion Fitness Studios challenges students of any fitness level to push the boundaries of their exercise comfort zones via supportive group classes and nutritional education. The 5,500-square-foot studio accommodates up to 70–80 students per class. The studio offers a variety of classes including strength-training, kickboxing, yoga, Zumba, circuit-training, and power 45 high-intensity workouts and the trainers include modification in each class to ensure each participant is always hot on the heels of their physical-possibilities frontier. For a longer-term challenge, students can enroll in a nine-week challenge program.
The Goals in Motion program imparts the value of a positive attitude while emphasizing a lifestyle of balanced eating with regulated carbs, lean protein, and healthy fats over short-term diet fads, and supplements. The founders of Goals In Motion, Mardi Pfannebecker and Sandy Hafner, strive to maintain the studio's family-like atmosphere and even work out among members. Both owners graduated from Iowa State University, Mardi with a degree in exercise science and Sandy with a degree in business.
5500 NW Johnston Dr.
Johnston
Iowa
Glaza Studio courses with movement. Live percussionists strike drums during Afro-Brazilian dance classes, hastening the tempo as students transition from warm-ups to folkloric dances. In capoeira sessions, teachers blend acrobatic and fight movements into a workout that makes the heart pound like Thumper's left hind foot. Some classes have a quieter personality. Vinyasa yoga, for instance, strings together a fluid sequence of movements. As participants transition from one pose to the next, they bridge the transition with calm, purposeful inhalations or exhalations. All classes take place in an expansive room that resembles a warehouse. Narrow planks of wood stretch across the floor, and rectangular beams brace the ceiling. Coating the walls, naturally distressed paint gives the space a historical vibe.
502 E Locust St.
Des Moines
Iowa
515-720-0984
The friendly and experienced team of doctors at Hassel Family Chiropractic has been straightening spines with natural methods for more than 15 years. Instead of merely treating symptoms, they root out underlying causes through computerized subluxation scans, tests, and x-rays before tailoring their spinal adjustments to each patient's unique needs. They also offer educational opportunities to help foster healthy lifestyles, emphasizing the importance of proper nutrition, exercise, massage, and not yelling at your vertebrae.
1349 Northwest 121st St., Suite 100
Clive
Iowa
515-270-2111
---
---
Health & Fitness Deals - Recently Expired
---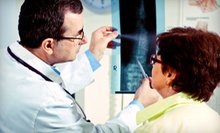 In a casual, open setting, the chiropractic staff evaluates postural problems with x-rays and an exam before a massage and spinal adjustment
---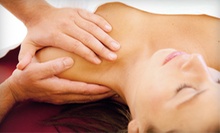 Therapist kneads out deep-seated tension with deep-tissue techniques; slow Swedish massage strokes relax muscles
---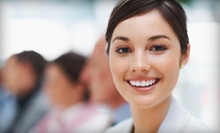 Known for his relaxation dentistry, Dr. Joe Solinger assesses patients' oral health with x-rays and an exam
---
---