Desert Hot Springs, CA Health and Fitness
---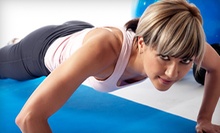 Muscles lunge, squat & swing kettlebells, dumbbells or ropes in energetic outdoor workouts that build strength & burn calories
Use Today 2:30pm - 5:30pm
---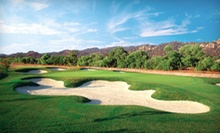 Fairways meander through natural valley whose rugged hills frame greens on par-54 course that purists tread some 2,582 yards from back tees
Use Today 8:00am - 3:00pm
---
Recommended Health & Fitness by Groupon Customers
---
Golf can be a bonding experience with friends or a make-or-break business meeting that masquerades as a leisure sport. Make the most of your time with friends and colleagues by knocking their argyle socks off with effortless dominance on the green. Today's Groupon to Carlsbad Golf Center gets you a one-hour private golf lesson with your choice of Carlsbad's experienced PGA and LPGA instructors (a $75–$125 value, depending on participating instructor), plus a large bucket of balls with which to practice during and after your lesson (a $10 value). Because the object of golf is to hole the ball in the fewest number of strokes, a better game will help you conserve energy for other activities such as off-track betting or braising Cornish hen.
2711 Haymar Dr
Carlsbad
California
US
If your eyes are the windows to your soul, your teeth are the white picket fence that protects the soul from oversized bites of flaffy taffy. Strengthen your defenses against attacks on the soul with today's Groupon to clean and healthify teeth at Dreamscape Dental, where $59 gets you an oral exam, teeth cleaning, and dental x-rays, a $401 value. March your chompers a half hour outside San Diego to tooth-loving San Marcos, where a crisp smile is as good as European currency.
467 N Twin Oaks Valley Rd.
San Marcos
California
At Active Life Chiropractic & The Wellness Loft, visitors receive top-notch chiropractic care that not only treats back and neck ailments, but also cultivates general health and well-being without sweeping symptoms underneath a skin carpet. By focusing on removing nervous-system interference, Doctor of Chiropractic Dale Andelkovic can address the physical, biochemical, and emotional distress that affects wellness and ails negative nancies. Trained in the treatment of pregnant mothers, babies, and children, Dr. Andelkovic also performs nervous-system and backbone maintenance on adults with deft dexterity. An initial exam and consultation (a $125 value) thoroughly analyzes each individual's muscle mold and provides an informative health assessment and treatment plan. X-rays help uncover problematic ailments and trouble spots that can't be seen by a naked eye, as a naked eye is too busy trying to cover its exposed iris to properly focus. Additionally, a bone-mast-straightening adjustment ensures nerves are unclogged and the body can traverse sidewalk seas unhindered (a $40 value). The 30-minute therapeutic massage capper shapes weathered muscles into a sturdy crowd-surfing hull (a $40 value).
112 E Olive Ave., Suite B & E
Redlands
California
Pole Kraze helps women of all skill levels turn up the heat through a variety of flirtatious fitness classes. Pole-dancing incorporates core-strengthening, muscle-toning, and balance and coordination exercises to create an intense cardio workout, all on a pole that handily pulls double-duty at limbo after-parties. Firm your curves as you curve your body around the pole with the choreography class, or sign up for Pole Tricks to get a lesson in head-turning spirals and strength-building climbs. For those seeking additional athletic offerings, selections such as Pole-ga combine Ashtanga yoga and pole-dancing to create tighter outsides while striving toward more peaceful innards.
39400 Murrieta Hot Springs Rd., Suite 116
Murrieta
California
Unlike Rube Pilates-Goldberg classes—which use comically complicated contraptions to help tone, stretch, and flex muscles—Articulations' mat classes teach the fundamentals of Pilates using only an exercise mat, Pilates positions, and the freedom of the open road. Pilates's focus on constant motion and smooth, graceful transitions between exercises produces a lot of benefits—increasing overall strength and endurance (especially in the core muscles), improving posture, and keeping the body aligned.
6180 Brockton Ave.
Riverside
California
Spiritus Yoga & Spa offers relaxing spa treatments alongside challenging yet fun and accessible dance classes giving participants engaging options to nurture whole-body fitness and stress-shedding. The spa and fitness package includes ten fitness classes (a $140 value) letting you choose from muscle-leaning yoga, tummy-trimming belly dancing, attention-grabbing burlesque, and Latin-dance-infused Zumba. After some aerobic rug-cutting muscles melt during a 30-minute neck, back, and shoulder massage (a $55 value). Today's package also affords you a 30-minute facial (a $40 value), a 30-minute chemical peel (a $70 value), and your choice of one spray tan (a $45 value) or a 30-minute foot soak (a $25 value).
3579 University Ave.
Riverside
California
---