Tours in Destrehan
---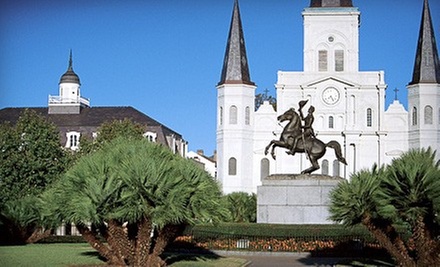 Central Business District
---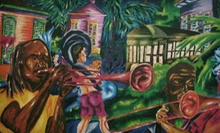 In a neighborhood rich with African-American and jazz history, guides explore the sites of civil-rights events and musical inspiration
---
Recommended Tours by Groupon Customers
---
Whether your tire-turning extremities are located at home, at a hotel, or in a docked zeppelin cabin over the river, Big Easy Bike Tours will deliver the bicycle(s) to you and up to four of your cycling teammates almost anywhere in the city. All tours begin back in 1718 with sightseeing and narrated soundseeing throughout the French Quarter. From there, there is a spork in the road where you can choose between three touring fates. The first, Neighborhoods and Lower 9th Ward, takes a path past green homes built by Global Green after Hurricane Katrina, visits the levee and explains what led to its failure, and passes through St. Roch and Treme. The second journey lands you on the Esplanade Avenue of the Creoles, exploring Bayou St. John and the history of New Orleans cemeteries, European settlers, and early New Orleanians' struggles to colonize the undomesticated flavors of crawfish étouffée within its wild habitat. After pedaling through City Park and observing the Museum of Art and Botanical Gardens, you finish cruising through Mid-City. The final option, a tour of the American Sector and the Garden District, details some of the architecture, universities, and finest fine arts found in New Orleans.
3017 Chartres St.
New Orleans
Louisiana
After Frankie Cheek discovered segway tours while visiting Italy, he decided to start his own company in his native New Orleans. When he was boarding a plane back home, Hurricane Katrina struck, redirecting him to Louisiana's grandfather country: France. While exploring Paris in the wake of the devastating tragedy back home, Cheek drew inspiration for his future segway tours—he was resolved, according to his website, to "help a city rich in history move forward while riding the most high-tech transporter available." Since returning to New Orleans, he's led daily segway adventures, whirring groups of sightseers around the French Quarter, the riverfront, and Jackson Square with the ease, maneuverability, and safety-minded attitude of a cool biker gang. Plus, through a partnership with other tour companies, Cheek can also guide guests through swamps, plantations, and supposedly haunted locales.
506 Conti St.
New Orleans
Louisiana
504-942-1970
Devoted to preserving Cajun culture by sharing it with the public, Cajun Pride Tours' knowledgeable and passionate guides lead groups on tours that explore area swamps, plantations along the Great Mississippi River Road, and the historic districts of New Orleans. They also stroll along city streets in the French Quarter in New Orleans, the Garden District, and areas that display the lingering effects of Hurricane Katrina. On boat trips, groups can spot friendly gators while floating through the Manchac Swamp—a protected area that prohibits any hunting, fishing, or tickling of the native wildlife. A short drive past the swamps drops tourists off near the area's plantations that are notable for their history, architecture, landscaping, and insight into Creole culture.
110 Frenier Rd.
LaPlace
Louisiana
800-467-0758
Today, Bocage Plantation's eight white columns and grand staircase gleam in the afternoon sun just steps from the Mississippi River. But the 175-year-old Greek Revival mansion hasn't always looked this dapper. When Louisiana native Dr. Marion Rundell purchased the property in 2008, he supervised a careful restoration before beginning the mansion's first public tours. The pathologist also decorated its interior with antiques and furniture from his personal collection, including Baccarat and Waterford chandeliers, old Paris porcelain vases, and paintings by Thomas Sully and Rembrandt Peale. A bed and breakfast with four rooms allows guests to bask in period atmosphere overnight.
The history of Bocage Plantation dates back to 1837, when wealthy planter Marius Pons Bringier had it built for his daughter and son-in-law. Architect James Dakin—best known for creating Baton Rouge's former state capitol building—designed the mansion, which now graces the National Register of Historic Places. The Bocage Plantations belongs to the prestigious group of Greek Revival and Creole plantations located along River Road, between New Orleans and Baton Rouge.
39050 Hwy. 942
Darrow
Louisiana
225-588-8000
Stray Boots Urban Games is an interactive tour that sets friends and family members loose on an exhilarating, knowledge-fueled undertaking guided by text-message clues, trivia, and riddles. They operate in cities across the country, dividing them into special game zones that contain the historical sites, local areas of interest, or eccentric child mayors unique to each city. During the explorations, clues point the way to cultural hot spots, which Stray Boots communicates to players via text message. At least one player on the team will need a U.S. cell phone to receive clues, and none of the self-guided tours require previous knowledge of the city. Adventurers play at their own pace—most zones take two to three hours to finish—which allows them to spend more time learning about the city and photographing vibrant fire hydrants for aquacentric scrapbooks.
709 Royal St.
New Orleans
Louisiana
Winding through the cobblestone streets of various New Orleans neighborhoods, knowledgeable guides lead groups through notoriously haunted and historic spots during 2-hour walking tours. Each tour guide possesses experience with and/or passion for the occult and New Orleans history, and the fleet includes the founder of the New Orleans Paranormal & Occult society, as well as a member of the Louisiana Historical Society. With tours running daily, the meanderings whisk guests past real voodoo altars during the voodoo tour, or into the world of the undead with a vampire tour. Guests can eschew the spooks with a Garden tour or a cemetery tour that focuses on the neighborhoods' history and inability to sleep with the lights off.
1400 Washington Ave.
New Orleans
Louisiana
504-861-2727
---