Beauty & Spas in Detroit
---
---
Detroit Beauty And Spa Guide
For a sexy new look or an excuse to get away from it all, making an appointment or dropping by a hair salon or spa is a great way to reinvent and renew one's body and mind. Visit a Detroit day spa or a Detroit hair salon to relish the fine pampering of having a new hairdo, a massage or some lavishing skin therapy. Looking and feeling good is all part of the Detroit style.
Put on a fluffy bathrobe, drink a nice hot cup of tea, and eat a healthy snack while getting a foot massage, a neck rub, or relaxing  in a personal relaxation room at the OM Detroit day spa. Get a facial, a manicure, a pedicure, or get some permanent makeup that expresses the true beauty inside. Also, one should try visit Tamara Spa, one the finest Detroit massage clinics, for a relaxing rub down from an expert massage therapist.
Of course day spas and salons go hand in hand and salons in Detroit really go all out to make their clients feel amazing. Enter through a Victorian style exterior and feast your eyes on the endless amenities of facials, manicures, pedicures, full salon services, including hair extensions, and color when you visit Indigo Salon and Day spa. Pump it up with style, DJs, a glass of wine, or pick a snack off of the various snack trays while enjoying a custom cut, highlights, and manicure at the 6 salon.
From Detroit hair salons to Detroit day spas, beauty is everywhere. Nothing says beauty like a manicure, a pedicure, a new hairstyle, or a feeling the simple pleasures of a massage.  Anyone can spend a day getting pampered at some of the finest spas and salons in Detroit and let your beauty magnify.
Nothing says beauty like a manicure, a pedicure, a new hairstyle, or a feeling the simple pleasures of a massage.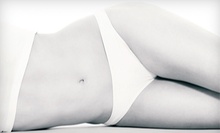 Staffers use sugar wax, a special mixture of sugar, lemon, and water, to remove hair more gently than hard waxes or resins
Use Today 10:00am - 6:00pm
---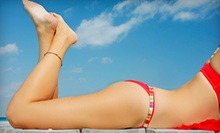 Situated in a heated room that amplifies bronzing, the Mystic HD airbrush sprays guests from head to toe with a safe, UV-free solution
Use Saturday 10:00am - 6:00pm
---
Recommended Beauty & Spas by Groupon Customers
---
Clients leave Elite Ink transformed. Images of wolves, ankhs, and hearts permanently paint their skin, and metal loops dangle from earlobes, bellybuttons, and even throats. Such services are made possible by the tireless work of talented artists, each of whom has received Blood Borne Pathogen Certification from the American Red Cross. Sterilized, prepackaged needles ensure safety and that every torso portrait of Marvin the Martian aboard a razor scooter is pixel-perfect. A backlog of photos speaks to the caliber of work produced by Elite Ink's artists. The tattooed names of ex-boyfriends and parents who put a hold your allowance can be safely removed by undergoing laser tattoo-removal treatments.
25543 Van Dyke Ave.
Center Line
Michigan
586-759-8446
Jen draws on more than 15 years in the permanent-makeup industry to fill in sparse eyebrows, augment lash lines with permanent eyeliner, and strategically trace on lip liner to counterbalance lip asymmetries. The tattoo-like makeup applications streamline morning beauty routines, cutting out minutes spent distinguishing eyeliner from off-brand fountain pens. Jen offers free pretreatment consultations, as well as touchups for a modest fee.
27815 Woodward Ave.
Berkley
Michigan
248-930-5989
Back in 1999, brothers David and Rick Kueber noticed a lag in business at their chain of video-rental shops during the summer months, when no one wanted to be cooped up inside watching movies. The two put their heads together and found a rather unconventional solution to their problem: tanning beds. They installed a new fleet of skin-bronzing machines and sat back as so many clients flocked to their shop that the brothers were forced to open an entire store just to cater to their clients' tanning demands. This was the birth of Sun Tan City. Today, what started as an experimental side business boasts more than 200 locations across 16 states.
The staff at each location maintains a meticulously clean space, where they show clients to UV beds dubbed fast, faster, fastest, and instant. The beds include features such as facial tanners and self-contained air conditioners. Alternatively, clients can opt for the UV-free, automated VersaSpa system, which swathes physiques in a DHA, plant-based bronzing solution. The liquid reacts naturally with skin's amino acids, creating an even coat as radiant as the high beams on Helios's chariot within 46 seconds.
1165 Dix
Lincoln Park
Michigan
US
---