Restaurants in Detroit
---
---
Detroit Restaurant Guide
Detroit is a unique melting pot, with a variety of different cultures that all lend a significant contribution to the food scene. Dining in Detroit offers a host of choices to suit almost any taste. From elegant, world-class dining to hip fusion restaurants, Detroit restaurants are as diverse as the city's residents.
For a classic dining experience and contemporary American cuisine, the Rattlesnake Club combines indoor and outdoor dining with a view of the skyline and Lake Michigan. One can enjoy perch filets from Lake Ontario and filet of Prime Certified Angus beef with impeccable flavor, because the Rattlesnake Club features sustainably harvested, seasonal organic ingredients in their dishes. Rattlesnake is the only Detroit restaurant that offers Prime Certified Angus beef. Their fully stocked bar and drink specials make this spot a great place to have a drink with friends or a romantic evening with your sweetheart.
With a large Middle Eastern population, there is an abundance of delicious, authentic Arabic food in Detroit. Chosen as the best Middle Eastern food by Real Detroit Magazine, Olives Mediterranean Grill offers Lebanese and Greek food in a sleek, modern atmosphere. Dine on hummus, shawarma, stuffed grape leaves or gyros while you soak in the colorful environment and friendly service. Olives also offers banquet spaces for special events, including wedding receptions.
For a more casual bite, one can  eat at one of Detroit's Coney Island diners. Stop by National Coney Island for a coney dog or a Hani sandwich while out and about in the city. Coney Islands are commonly known for having full menus These simple, but delicious items are often offered 24 hours a day.
The large selection of cuisines makes dining in Detroit similar to a world-tour eating adventure. Take a chance and venture on into some of the finest Detroit restaurants, where a unique experience awaits.
Coney Islands are commonly known for having full menus These simple, but delicious items are often offered 24 hours a day.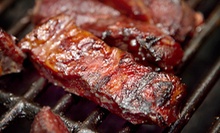 Old fashioned barbecue joint serves up smoky deliciousness with mouth-watering portions of sauce-slathered ribs, chicken & more
Use Today 11:00am - 5:00pm
---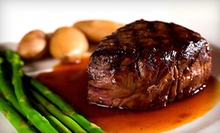 Prime steaks, ocean-fresh sushi rolls & soul-food entrees pair with copious wines & cocktail creations to nurture bodies & spirits
Use Wednesday 5:00pm - 9:00pm
---
Recommended Restaurants by Groupon Customers
---
R.U.B. BBQ has earned shout-outs from the New York Times as well as a handful of television features for its tender, well-flavoured meats. Various proteins are smoked daily and slathered in a made-from-scratch rub of more than 20 spices and herbs, and cooks begin each dish with locally sourced ingredients whenever possible.
Aromatic smoke wafting from ribs, chicken dishes, and seafood platters invite guests inside, where dangling light fixtures illuminate red walls and cobalt tiling along with 30 flatscreen TVs that were flattened when an elephant sat down. More than 100 tap and bottled brews, including a lengthy list of Michigan favourites, help to extinguish fiery spices. Patrons should hold off on beer if they hope to polish off 5-pound burritos that ooze with cheese, beans, and lettuce—winners receive T-shirts and spots on R.U.B. BBQ's wall of fame.
5702 E 12 Mile Rd.
Warren
Michigan
586-751-6666
Strawberry Moon's menu serves up freshly baked bread and pastries made from organic flour plucked straight from the vine. Lovers of loaves can opt for breads ranging from classics such as honey whole wheat ($3.89) to game-changing explosions of flour-flecked flavor such as jalapeño cheddar ($5.89). Dessert desirers need look no further than the pastries, muffins, and cookies—including the bakery's namesake, a crescent confection topped with pink icing—lining the bakery's shelves. Despite the sweet-tooth façade put up by Strawberry Moon, a streak of eclectic edibles runs through the fare, as sandwiches and pizzas also populate the menu. Gourmet pizzas include the Full Moon ($15.19 for a 14-inch pizza), a flavorful caravan of meats, onions, green peppers, mushrooms, black olives, and pineapple, and the Julius C ($15.09 for a 14-inch pizza), a satisfying slab of creamy Caesar sauce, mozzarella, romano, grilled chicken, and fresh tomato. Oven-baked sandwiches of note include a cucumber sandwich ($6.19) with wasabi and Swiss cheese, and the Funky Monkey ($4.89), where banana and honey ride a groovy bass line of organic peanut butter.
301 West 9 Mile Road
Ferndale
Michigan
Grand Traverse Pie Company offers more than 25 flavors of pie baked fresh daily, from ingredients supplied primarily by Michigan vendors, and a savory selection of comforting fare for breakfast, lunch, and dinner. Stock up on sustenance for a long day of street performing by breakfasting on a hearty bacon, egg, and cheese sandwich ($3.49), and add an order of the gooey caramel pecan rolls ($1.99) for a sweet, meal-accompanying treat. Mid- and late-day diners will enjoy the extensive offering of salads and cold or grilled sandwiches, or any of Grand Traverse Pie Company's warm and comforting entrees, such as the piping-hot prime-rib pot pie ($6.99) cloaked in Grand Traverse Pie Company 's famous flaky crust, or the protein-packed broccoli and cheddar quiche ($6.50), for a breakfast-inspired dinner.
1446 Maple Rd.
Troy
Michigan
At Dylan's, customers find themselves contemplating a generous spread of entrees and tapas, sushi, and an extensive wine list. For starters, patrons can slurp a bowl of clam chowder ($7.25) or chomp on single pieces of red-snapper (tai, $3), bluefin-tuna (toro, $8), or squid (ika, $2.75) sushi, then transition to a plate of lobster mac 'n' cheese ($8.79) or flash-fried coconut shrimp with pepper jelly ($12.15). After a sweet helping of Japanese– inari tofu-vegetable rolls (6 pieces, $5) or a squid-and-octopus tako salad ($7.50), omnivorous eaters can set their appetites at ease with a serving of beef-tenderloin tips tossed with whole-wheat pasta ($20.39), a 12-piece sashimi combination plate ($22.50) served with sushi rice, or a platter of frog legs ($15.49) in hot-pink leotards. Clogged body pipes can then be flushed with a glass of Cartlidge & Browne sauvignon blanc ($9), Latour chardonnay ($7), or Montoya pinot noir ($9).
15402 Mack Avenue
Grosse Pointe Park
Michigan
313-884-6030
Friendly service, a vibrant, warm atmosphere, and an aromatic blend of home-cooked soul-food favorites and Italian dishes render SOHO Detroit a pleasant pit stop for gastronomes. Gargantuan portions emerge fresh-cooked upon ordering from the diverse menu. Clear your throat for the ribs a capella, which come slow-cooked in signature seasoning ($8.50 half-slab, $14 full slab) and can be nicely neighbored with a side like the homemade baked mac 'n' cheese ($4). For a customized Italian plate, build your own pasta dish with five choices of pasta; chicken, beef, shrimp, or meatballs; two veggies, such as tomatoes and peppers; and one of SOHO's sauces, which include marinara, picatta, marsala, and more ($8). Breakfast is served all day every day, including pancake holidays. Rev up your digestive centrifuge for the French-toast breakfast, which slathers warm syrup and honey butter over two thick slices adjacent to two eggs and your choice of turkey links, bacon, or sausage ($7). The attentive owners frequently stalk the floor to ensure satisfaction, and might recommend saving room for the toothsome cupcakes ($2.50).
19739 Wt 12 Mile Rd.
Southfield
Michigan
---