Detroit Spa and Massage
---
---
Detroit Spa And Massage Guide
Nothing says beauty like a relaxing massage, calming rejuvenating therapies and a day of blissful pampering. Detroit spas offer a variety of treatments and services to promote relaxation and transport clients to a renewed state of mind. Whether one chooses a full service retreat in a spa hotel or one of the day spas in Detroit, soothing comfort and a wide selection of treatment options await. There are several Detroit massage therapists and full service spas that are available to suit the unique styles of the city's diverse residents.
From body treatments and facials to waxing and massages, Belle Santé Spa offers a comprehensive menu of rejuvenating experiences. Book a day of pampering with one of their spa packages or pop in for an express treatment on your lunch break. Belle Santé Spa is the only day spa in Michigan with massage therapists who are certified in the art of Ashiatsu massage, also known as barefoot massage.
To escape the stresses of life and enjoy an entire week or weekend of total bliss, the MGM Grand Casino Hotel Detroit offers a haven of rejuvenation in their Immerse Spa. Book a package that includes a luxurious stay in their chic hotel, a spa meal by the Wolfgang Puck Grille, and services at the spa. After a full day of pampering, hit the blackjack table in the casino or dance the night away in the V nightclub. The MGM Grand Casino Hotel Detroit also offers spa and gaming packages that cater to bachelorette parties, birthday celebrations and other group events.
Whether just for a day or for an entire week, indulge in life's pleasures at one of the day spas in Detroit or the relaxing retreats. Nothing is more rejuvenating than the pampering that Detroit spas offer.
Nothing says beauty like a relaxing massage, calming rejuvenating therapies and a day of blissful pampering.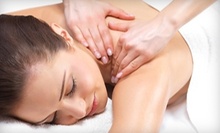 Therapists customize facials with skin analysis, cleansing, exfoliation, mask & massage, or gently stroke tense muscles in full body massage
Use Wednesday 11:00am - 9:00pm
---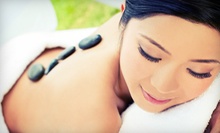 Use Today 11:00am - 5:00pm
---
Recommended Spa & Massage by Groupon Customers
---
Pure NV Salon & Day Spa keeps Detroit-area minds and muscles mollified with a soothing mosaic of full salon services. A mane-molding menu of hair services keeps locks lopped, styled ($27–$32) and colored ($35 and up), while the one-hour relaxation massage smoothes over bunched-up back dough with gentle kneads and pepperoni slices. The relaxation massage is tailored to every individual's specific needs, and the value can be used toward a more expensive massage, such as therapeutic or hot stone. The anti-aging facial utilizes a wrinkle-wrangling serum to restore skin's natural moisture and vibrancy, and the spa manicure/spa pedicure combo pampers feet and hands with cuticle treatments, nail filing and polishing, and soothing massages.
10145 Telegraph Rd.
Taylor
Michigan
Nestled within Breathe Pilates and Fitness Studio, Katnandu Aesthetics transforms exteriors with everything from manicures to waxing. At the helm is skilled aesthetician Rebecca Belisle, who draws on more than 12 years of experience as she embellishes nails with bright gel and acrylic overlays or renews facades with skin-smoothing microdermabrasion. Whether doling out services in her studio or travelling to customers' homes, Rebecca enjoys meeting new people every day and strives to set them at ease as she deftly applies mascara and shadow to help faces stand out in wedding photos or department-store surveillance tapes.
1670 Wyandotte St. E
Windsor
Ontario
519-995-5613
When a guest steps into Refresh Day Spa, the outside world is immediately quieted. Privacy glass in the lobby obscures the actions of passersby, and water features and meditative music lull patrons into a relaxed state. Four treatment rooms encircle the reception area, and inside these rooms massage therapists and aestheticians pamper bodies with naturally derived services. Dermalogica products—which are known to eschew irritants such as alcohol, artificial colours, and tiny tickle monsters—fuel a selection of custom facials, and hot stones and mud build earthy foundations for massages and body wraps. Down the hall, stylists and nail technicians set to work in a salon equipped with massaging pedicure chairs and a plasma-screen television. Laser hair removal reigns as their most popular service, for which the spa may offer a 20 per cent discount off the price of competitors who use the same equipment.
2407 Dougall Ave.
Windsor
Ontario
519-972-7329
Always looking for the best ways to help the well-being of her clients, owner Anne-Marie Rathburn has pursued training in a number of massage modalities including myofascial release, craniosacral therapy, and lymphatic drainage. Amid the soothing, zenlike decor of potted plants and hardwood accents at East Windsor Massage Therapy Clinic, she leads a team of other registered massage therapists who work to improve joint mobility, release endorphins, and help trapped "ahhs" to escape from bodies with massage therapy that may include heat or ice, jade stone, or organic herbs from Thailand.
2740-12 Jefferson Blvd., Unit 12
Windsor
Ontario
519-946-0210
Tree of Life's dedicated therapists ease aches with restorative massages performed in serene rooms while soft music permeates the air. After determining each client's desired outcome and preferred treatment areas, they hunker down to untie tricky muscle knots and french braid fraying tendons. Smooth, gliding strokes culled from several massage modalities tend to overworked muscles and melt tension into a conveniently positioned bucket. The enticing aromas of pure essential oils fill the air during treatments, promoting relaxation for all of the senses.
15200 E Jefferson Ave., Suite 108
Grosse Pointe Park
Michigan
313-879-3358
A person who ascribes to a dynamist worldview sees the universe in terms of force or energy. At Dynamist Massage Therapy, dynamist healers increase the presence of positive, curative energy by practicing a range of ancient and modern massage techniques. Relaxation and Swedish-style massages diminish stress, and therapeutic massages address specific complaints with a custom blend of techniques. During hot-stone massages, warmth from heated rocks penetrates aching muscles. In contrast, cold-therapy massages activate sluggish nervous systems with chilled stones, ice packs, and readings from Ernest Shackleton's memoir. Therapists also specialize in reflexology, which activates pressure points in the hands and feet. Stress-reducing, traditional Japanese reiki healing techniques stimulate circulation and energy flow.
17340 West 12 Mile Road
Southfied
Michigan
248-387-9572
---