Things to Do in Detroit
---
---
Detroit Things To Do Guide
With Skyscrapers springing up, the city buzzing with people, and the constant need to go that extra mile at work, it is true that there's a lot to do in Detroit on a working day, but what about things to do in Detroit on a day off of work? Detroit is full of stuff to do, from fun and outrageous Detroit activities to educational and historical Detroit attractions. Rich in history and fun-filled activities, you could have a new experience every day of the year, or at least a few times a month. Come rediscover fabulous things to do in Detroit!
Detroit is filled with scenic parks for taking long walks, picnicking, or perhaps renting a paddle boat and touring the river or the lake from the water. With picturesque views and a fantastic river bend, the Chene Park features a seawall, relaxing trails, and an enormous amphitheater. Belle Isle Park, William G. Milliken State Park and Harbor, and Campus Martius Park are just a few of the great natural Detroit attractions to visit. It's nice to take a break from the urban sprawl and retreat into the outlying natural surroundings.
Venture to the historical landmarks and discover the best of Detroit attractions. Visit the Henry Ford Museum, catch a ball game at Comerica Park, or tour the Institute of the Arts and travel back in time and experience the culture and history of Detroit. One can take a walk through the Detroit zoo and view all the crazy critters or visit the historic Greenfield Village, which is one of the most popular Detroit activities. Of course, it's important to find time to visit the Mexicantown for their Day of the Dead Festival or tour the African American History Museum for a full cultural experience.
With so many great things to do in Detroit, finding a lively and exciting adventure is easy.
With picturesque views and a fantastic river bend, the Chene Park features a seawall, relaxing trails, and an enormous amphitheater.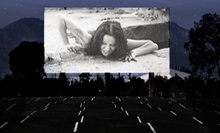 Patrons sit in their warm cars during first-run double-feature films
Use Thursday 4:00pm - 7:30pm
---
Recommended Things to Do by Groupon Customers
---
An award-winning special-event venue, Infinity and Ovation Yacht Charters ushers guests across the waters of Lake St. Clair aboard the 138-foot, three-decked Ovation yacht. At 7 p.m., partiers climb onto the watercraft to enjoy a menu of gourmet edibles and DJ-spun sounds. As eyes feast on the bobbing Detroit skyline and watch the orange sky drench ripply waters in its juicy rays, stomachs stuff themselves with an array of edibles and two complimentary drinks, with more available from a full-service cash bar. Engage in friendly dinner conversation while relaxing on the ship's imported Italian furniture, or devise a plan with friends to stage a UFO hoax with life preservers. After dinner, cruisers are invited to kick off their sea legs and engage in hearty fun-having at the no-cover, no-line after-party on the boat's very own dance floor, accommodating numerous dancers or a few big, red Clifford dogs.
24400 Jefferson Avenue
St Clair Shores
Michigan
The Bogey Golf Tour grants golfers a chance to take to the links and compete against fellow amateurs in tournaments scheduled at some of the finest courses in the London, Windsor, Detroit, and Kitchener/Waterloo areas. At each event, scratch golfers compete in the Birdie division, 0–15 handicaps square off in the Par division, and 16+ handicappers trade pinpoint approaches and sequined divot tools in the Bogey division. The top five finishers in each division receive prize money—which can be paid out in gift certificates or cash—and the Tour also holds prize competitions for longest drive, closest to the pin, and 3-iron jousting. The Tour publishes the results from each tournament in local newspapers, and players can chart the peaks and valleys of their careers on the Tour Members list, which compiles all of their tournament results. Along with providing an outlet for amateur golfers to exercise their long-suppressed competitive side, the Tour and its sponsors have raised $74,000 for various area charities since 2003.
553 Estate Park
Tecumseh
Ontario
800-683-0285
As planes come and go from nearby Windsor International Airport, grounded racers engage in their own form of high-speed action at Warp Drive Race Park. Strapped safely into one of four different 9-horsepower Honda-engine go-karts, helmet-clad passengers grab their steering wheels, don their racing nose plugs, and put their feet to pedals as they test the limits of speed. Up to 20 karts can take to the large 1,800-foot concrete track, currently organized into several straightaways, curves, and hairpins that drivers can take at up to 45 km/h. Little racers aged 4–10 can jump into child-sized single-pedal cars and roam around a smaller oval track, or parents and children together can strap into two-passenger cars capable of reaching 40 km/h. After the racing is over—or for quick breaks between speedy bouts—passengers can retire to one of the picnic area's 10 tables, partaking in sustenance or tall tales about close finishes.
Walker and County Rd. 42
Windsor
Ontario
519-966-9666
Modern Skate & Surf's skate park and alternative-sports shop was founded in 1979 and has since hosted events frequented by Olympic and professional athletes—including superstar Tony Hawk—as well as earned a feature as Best Snowboard Shop in 2012 from Real Detroit Weekly. In Modern Skate & Surf's world-class, 60,000-square-foot Royal Oak skate park—one of the largest facilities of its kind in the US—skateboards grind across rails or glide over jumps, and inline skaters whiz over obstacles and BMX bikes hang in midair. Customers can build on their extreme-sports skills in clinics and lessons or rent out the facility for parties or high-speed chases. Committed to supporting the next generation of extreme athletes, Modern Skate & Surf offers discounts to students who bring in report cards sporting A's and B's.
In addition to the skate park, Modern Skate & Surf also maintains a Lansing store that stocks snowboarding, skateboarding, wakeboarding, skating, and protective gear to facilitate exciting adventures.
29862 Woodward Ave.
Royal Oak
Michigan
Partygoers can duck into Fun Booth's spacious photo booths to capture moments during weddings, family reunions, and parties, then quickly share them with real-time Facebook uploads. After the booth's digital camera snaps four pictures of groups twirling canes or combing fake mustaches picked from the prop box, its sub-dye printers fire out photo strips within 10 seconds. The booth is delivered for free and accompanied by an attendant to answer questions. Add-ons include scrapbooks made of all the event's images, as well as a video-booth option where guests record greetings for their hosts or film their Real World: Gary, Indiana auditions.
3970 Roosevelt Blvd.
Dearborn Heights
Michigan
313-401-3383
At Fem Fatale Dance Studio, Rosalind Leath and Debra Cherveny pool a certification in dance education and professional ballet training to transform students into lithe, graceful artists. The duo teach everything from ballet and tap to modern and lyrical, and have developed children, adults, and skeletons in top hats with no prior experience into light-trippers capable of winning awards at regional and national competitions. Each season starts in September and runs through June, culminating with an annual dance concert that attracts around 2,000 guests.
25250 Greenfield Rd.
Oak Park
Michigan
248-967-8198
---