Yoga in Detroit
---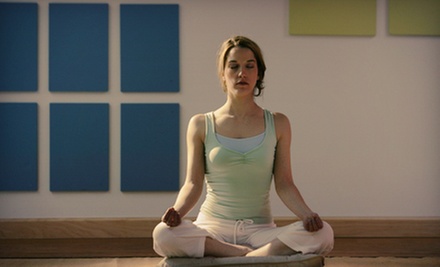 ---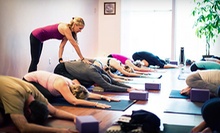 Instructors focused on proper alignment and safety lead students of all levels through Kundalini, Iyengar, and prenatal yoga classes
---
Recommended Yoga by Groupon Customers
---
Unity Woods Yoga's founder and chief instructor, John Schumacher, studied in India with B.K.S. Iyengar, one of the world's foremost yoga teachers. His team of friendly, enthusiastic instructors is fully certified and knows how to help students sweat and stretch until they're calmer, more energized, and more revitalized than the 217 rechargeable AA batteries that power greater America. With four passes, body benders can drop-in for any class in level I, level I/II, gentle I or II, seniors, or stop by for the four-week introductory yoga course. Classes take place several times a day, seven days a week at the clean, accommodating downward-dog dens. Level I and I/II classes introduce students to the Iyengar approach, which emphasizes proper alignment and incorporates props to aid in postures that might otherwise be unachievable.
2450 West Stadium Blvd
Ann Arbor
Michigan
US
Pure Heat Yoga's instructors gently introduce beginning yoga students and more experienced attendees to the studio's 75-minute blend of ancient yoga poses and deep, relaxing stretches performed in a space heated up to 105 degrees. During classes, students practice breathing exercises to focus the mind as bodies move through poses, fostering enhanced body awareness that can help out-of-touch students realize they've unconsciously been doing the hand jive for the past year and a half. As students execute the classes' carefully designed series of poses, oxygenated blood flows to the body's various tissues.
Meanwhile, the studio's sweltering heat loosens muscles, allowing pupils to sink deeper into stretches without fear of injury while pores eject pent-up toxins via the closest sweat gland. To stay hydrated, students guzzle a bottle of water about an hour before class or purchase one from the studio upon arrival. To handle posthydration sweat breaking, towels and mats are available to rent for a nominal fee.
4270 E Grand River Ave.
Howell
Michigan
517-552-1520
The Yoga Path begins relaxing students from the moment they enter the cozy studio carefully decorated to evoke a feeling of calm, from a framed ohm symbol to a bronze Buddha statue to the flickering candles that highlight golden walls. Yogis of all skill levels can find suitable styles on the studio's six-day schedule, which includes gentle basic sessions where instructors ease newbies into yoga practice by walking them through therapeutic postures to induce a deep state of meditation. Students in sunrise yoga sessions ease muscles with muscle-waking stretches to prepare bodies and minds for the day ahead. All of the studio's instructors boast extensive years of training and yoga practice, and many hold several championship limbo belts.
1086 N Irish Rd., Suite 3
Davison
Michigan
810-919-9642
Compassion is the mantra at Yoga Oasis, a mind-body haven lined with glowing candles and shimmering golden curtains. Here, a teaching team draws on a combined 50 years of experience to guide students through ancient poses and breathing exercises that infuse consciousness with a sense of peace. The studio makes yoga accessible to all manner of student, from those who have never touched a sticky mat to those who can perform a headstand on a flying carpet. Yogis even travel to the Great Lakes Cancer Institute, where they help members of the Swan for Life Cancer Foundation find peace and strength through meditation and graceful movement.
Beginners downward-dog into Back to Basics sessions to master hatha poses such as Warrior 1, which forms the foundation for faster-paced classes such as Vinyasa and Flow. In these classes, clear cues and alignment adjustments engage the entire body, bolstering strength, balance, and flexibility. In the Therapeutic & Yoga with Ease class, deep breaths propel students into calming poses that can be modified with props such as blocks, straps, and Shakespearean stage armor.
6160 Dixie Hwy., Suite 240
Clarkston
Michigan
248-770-5388
---