Restaurants in Diamond Springs
---
Recommended Restaurants by Groupon Customers
---
Groupon is a combination of the words group and coupon. Each day, we offer an unbeatable deal on the best of Sacramento: restaurants, spas, sporting events, theater, and more. By promising businesses a minimum number of customers, we get discounts you won't find anywhere else. We call it "collective buying power."
1704 Broadway
Sacramento
California
916-446-1223
Spicy food is a great way to separate the men from the boys, the women from the girls, and the girls from the boys if they get too rowdy at coed canoe camp. Thai Fusion lets customers specify their dishes as mild, medium, hot, or Thai hot, for optimal sinus-clearing fulfillment. The menu at this family-owned-and-operated neighborhood hot spot features fresh, authentic Thai ingredients, and ably blocks light from your eyes when it's especially sunny. Start with an order of fresh spring rolls ($5.95) or savory satay chicken ($6.95), or practice your pronunciation of classic Thai salads to have them promptly appear before you in the hands of a friendly staff member ($7.45–$12.95). House specialties ($10.95–$15.95) feature such sweet and spicy fare as Nam Tok, a medium-rare beef marinated in Thai herbs and served in Thai hot and sour barbecue sauce ($10.95), and shrimp spiced and sweetened with chili jam, mango, bell peppers, onions, and cashews ($15.95). The restaurant's traditional and creative varieties of fried rice ($8.95–$12.95), stir fries ($8.95–$12.95), curries ($8.95–$12.95), and noodle dishes ($9.95–$12.95) round out the menu with options for carboholics and vegetarians alike.
1310 Howe Avenue
Sacramento
California
Serving 30 inspiring wines by the glass that change weekly, small batch beers and a seasonally-focused, wine friendly dinner menu.
25075 Blue Ravine Road
Folsom
California
The Midtown hot-dog haven offers a dazzling display of bun-clad hot-dog and sausage dinners. The menu boasts 10 types of links, including the traditional beef frankfurter ($3.49), a polish sausage ($4.49), a steamed vegan dog ($3.49), and a crispy corn dog ($2.49; also available in vegetarian). Customize your dining delight with any of Capitol Dawg's 55 plus toppings (up to $1.25 each) or opt for one of the specialty dogs, such as the Tesla Dawg ($4.19), loaded with mustard, chili, and onions, or the El Senador Dawg ($5.39), a Sonoran-style bacon-wrapped dog nestled with a cozy blanket of pinto beans, cheese, jalapeños, grilled onions, and chopped fresh veggies. Dogs can also be paired with french fries and a fountain drink to form a mighty meal ($7.47+) or matched with a succulent side such as beer-battered onion rings ($2.99) or sweet-potato fries ($2.99) for a customized creation.
1226 20th St.
Sacramento
California
Hot City Pizza's menu of deluxe pies is graced with toppings of every variety, organized by chicken, meat, veggie, and seafood options. People combating solid-food phobias can seek refuge in the fresh summertime flavors of the mojito pizza, sprigged with mint, red onions, roasted red peppers, and sweet marinated chicken and drizzled with olive oil and lime juice ($16.99+). The Primo pizza re-engages incurious epicureans with a classic Italian combination of marinara-smothered crust, genoa salami, pepperoni, chicago sausage, mushrooms, black olives, green peppers, red onions, and tomatoes ($16.99+).
5642 J St.
Sacramento
California
The foodery boasts a creative menu of reinvented comfort fare, served on weekdays to famished urbanites. Start with an order of the shrimp po' boy sliders ($8.75) or opt for a crab Louise salad ($13.50), served with hardboiled egg, avocado, and tomatoes. Entrees include more than 10 tasty hand-held meals (served with bottomless fries), such as the swiss-blanketed prime-rib dip ($12.50) and the herbivore-friendly black-bean burger ($9.50). Plated portions of updated classics promise to please even the most discerning diner; reward a hard-working copyeditor for reaching her daily quota of sentence-scrubbing by treating her to an order of Kelsey's chicken carbonara pasta ($12.50), loaded with tender green peas and bacon, or indulge carnivorous cravings with the steak tacos ($11.75) with corn salsa and cilantro rice.
555 Capitol Mall, Suite 155
Sacramento
California
---
---
Restaurant Deals - Recently Expired
---
---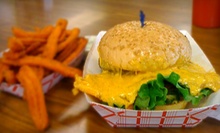 1/3 lb. of cheese covers 1/3 lb. of beef on Squeezeburgers
---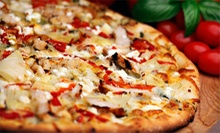 Specialty pizzas topped with whole-milk mozzarella, baked sub sandwiches, and barbecued wings
---
---