Restaurants in Diamond Springs
---
Recommended Restaurants by Groupon Customers
---
Chef Iradh Herrera is very particular about the ingredients that enter his kitchen. He bans canned vegetables or dried herbs from passing through the door, working only with organic local produce and fresh herbs. When discussing his reasoning with reporters from Lodi News-Sentinel, Herrera explained, "fresh herbs brings out more essence in the dish. Dried [herbs] you have to use more, and [they don't] have the same taste. You can tell." The skilled chef peppers free-range beef and natural meats with fresh basil, thyme, and mint to whip up a variety of seasonal American dishes, such as a decadent bacon-wrapped meatloaf and a succulent roasted lamb rack. He favors eco-friendly seafood as well, preferring to cook with fish that were sustainably caught on fishing lines rather than deceitfully coaxed onto boats with "free algae" signs.
While Herrera bustles about the kitchen, bartenders squeeze fresh juices into specialty cocktails and uncork bottles of fine wine. Diners chatter animatedly at white-clothed tables, while others bask in the sun on the outdoor patio. On weekends, the elegant eatery often plays host to live music performances.
28 S School St.
Lodi
California
Hotel Charlotte Restaurant casts a New Orleans spells on its food, conjuring up a slate of Cajun- and Creole-inspired cuisine. Big Easy classics include the oyster po' boy ($10.95), shrimp etouffee served with sides of white rice and vegetables ($16.95), and the jumbo gumbo, a mouthwatering medley of blackened chicken, andouille sausage, shrimp, rice, and the restaurant's house gumbo ($16.95). Non-bayou-born bounties on Hotel Charlotte Restaurant's menu include a grilled pimiento cheeseburger ($8.95); the "captain's platter" with fried flounder, gulf shrimp, oysters, and a deviled crab ($18.95); and sweet-potato ravioli ($13.95). Pre-entree pleasantries include an herbed cheesecake appetizer with cream cheese, parmesan, herbs, onion, and country ham in a puff pastry shell ($9.95), and the she-crab soup ($5 for a cup, $6 for a bowl), a Lowcountry favorite among both he-people and she-people. Brunch items and a brunch buffet are offered on Sundays from 11 a.m. to 3 p.m.
18736 Main Street
Groveland
California
US
209-962-6455
Sweet sounds and spicy flavors permeate the annual Taste of San Joaquin, which attracts local merchants and bands for a cook-off under the summer sun. During the fest, the Way Out West BBQ Championship features smoky creations from stars of TLC's BBQ Pitmasters and Stockton's Smokin' Yankees, three-time winners of the Taste's People's Choice award. Patrons can sample pork ribs, baked potatoes, and beef brisket off the grill or pair their samples with 2-ounce portions of savory and scorching chili from the new chili cook-off. Kids can play in the activity area with face paint and crafts, while live bands cover classics that range from Beatles hits to John Cage's 4'33".
Proceeds from the event go to stimulate the local economy and support nonprofits, with $0.70 of every dollar spent going to the locally owned business that sponsored the food and $0.30 going to a local charity. In the past four years, the Taste has donated more than $10,000 to local nonprofit organizations such as the San Joaquin Bike Coalition and the Child Abuse Prevention Council.
221 N Center St.
Stockton
California
---
---
Restaurant Deals - Recently Expired
---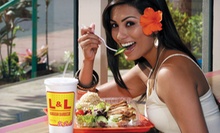 Entrees such as kalua pork, garlic shrimp & barbecue chicken & beef star in traditional plate lunches, soups & seaweed-wrapped musubi
---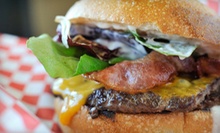 Pork belly nestles in Asian street tacos and in banh mi made with french baguettes; battered catfish fills po' boys
---
---