Dickinson, TX Outdoor Activities
---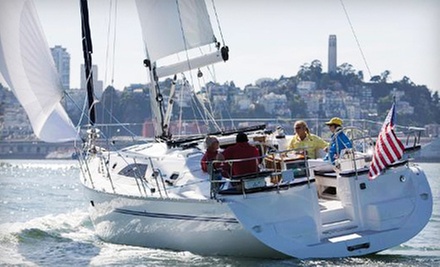 ---
Recommended Outdoor Activities by Groupon Customers
---
An affiliate school of the American Sailing Association, All Points of Sail Sailing School teaches students of all levels how to sail with confidence under the tutelage of experienced guides and instructors. Instructors sprinkle landlubbers with the knowledge necessary to tear through the water on any size vessel, ranging from large-keel boats to windsurfing boards and kayaks. The school's diverse coterie of courses covers crucial nautical subjects, including sailing certification, coastal navigation, chartering, and night sailing. The expert captains also lead charters through the Gulf of Mexico and Galveston Bay as well as summer camps in which kids man kayaks and Sunfish sailboats to gain hands-on practice, which is believed to be the second-best teacher after self-hypnosis.
2517 Nasa Pkwy.
Seabrook
Texas
US
281-532-1518
Appearances on ESPN's Redfish Cup and the Gulf Coast Troutmaster circuit are only a sample of the multifarious accolades that dot Captain Steve Auld's resumé. A paramedic, licensed US Coast Guard captain, and professional angler, Steve is also the owner of Bay Adventures Sportfishing, where he leads as many as 200 fishing trips per year. Armed with included gear, fishing groups set out on Galveston Bay's salty waters in search of catches such as speckled trout, redfish, and flounder. Groups are also privy to Steve's special instruction and secrets garnered from years of professional experience, ensuring they don't make newbie mistakes such as getting too attached to a fish and eloping with it. In addition to his Galveston Bay jaunts, Steve also leads specialty trips such as flounder gigging and guided duck and dove hunts in Mexico.
815 Ave. O
San Leon
Texas
281-413-8991
The sun reflects off the chassis of a crimson Cobra as its engine lets out a declarative roar. Suddenly, gears shift and the driver makes their way onto the track. At Racing Adventures, thrilling moments are a normal occurrence as instructors show visitors how to handle vintage racecars and exotic sports vehicles from the inside of the cockpit. In two models of American muscle cars, a Porsche 911, or a Carrera, guests taste the adrenaline rush of high-performance driving during full-day racing adventures, laps around racetracks, or excursions on skill-testing roads in Arizona and Colorado.
Racing Adventures' team also educates thrill-seekers in more aggressive styles of driving in its school. After outfitting students with suits and helmets, instructors demonstrate the basic principles and advanced techniques of racing before letting students practice on a real racetrack. Students can take the wheel of a Cobra, Corvette, or Porsche during three levels of driving experiences, and graduates of the program earn a certificate of achievement.
7555 FM 2004
Hitchcock
Texas
Maximum Scuba's team of certified instructors caters to all levels of aquatic adventurer with a wide roster of name-brand equipment and all-inclusive classes. PADI open-water certification courses employ textbooks and at least four open-water dives to acquaint underwater neophytes with the joy of subaquatic breathing, enabling them to finally explore timeshare options in Atlantis. The PADI advanced open-water certification course sends previously certified divers on five adventure dives, plumbing watery depths to discover ocean-floor wrecks. Other specialty classes deepen underwater adventures and arm explorers with the know-how to defeat Blackbeard's ghost by teaching skills in spearfishing and technical or cave diving.
2001 Bayport Boulevard
Seabrook
Texas
281-291-9911
Weekend cruises along the lake. The occasional night fishing trip. While many people would like to own a boat for those reasons, the expenses of maintaining and storing a boat year-round can be daunting. Carefree Boat Rental eliminates the tedious bits of boat ownership by lending its well-maintained fleet to members by the hour. Inspected weekly by a dock staff using a 50-point checklist, each boat is also equipped with US Coast Guard-required safety equipment such as flares, approved flotation devices, and an emergency stash of Cheetos. The crew also takes care of regular maintenance, such as oil changes, hull cleaning, and annual bottom painting.
1900 Shipyard Dr.
Seabrook
Texas
281-975-4000
South Coast Sailing Adventures operates a floating fleet of 18 sailboats with instructors certified by the American Sailing Association and more than 20 captains licensed by the US Coast Guard at the helm. Incorporating their vast cruising, racing, and Bermuda Triangle–averting experience into lessons, several of South Coast's instructors have been the recipients of an ASA Instructor of the Year Award, and the entire training facility was voted one of ASA's Outstanding Sailing Schools in 2006. Courses range from basic keelboat instruction, which tests beginners' mettle in a Colgate 26-foot sailboat, to catamaran sailing, which teaches advanced students to skipper and crew a 30- to 50-foot multihull sailboat. Beyond lessons, sunset and moonlight cruises chart courses toward romance, basking in the glow of the stars or distant underwater volcanoes. Special-event sails include options as varied as an Irish potluck dinner and scenic day sails around Galveston.
507 Bradford Ave.
Kemah
Texas
281-334-4606
---