Tanning Salons in Dickinson
---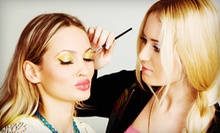 Steady hands accentuate facial features with delicate makeup enhanced by airbrushing and eyelashes
---
Recommended Tanning Salon by Groupon Customers
---
With a tan, you can instantly transform your look, shocking friends and enemies. You'll get a lustrous, fresh-off-the-beach glow without exposing your skin to beach bullies or the slings and arrows of constant sand-castle sieges. For the spray option, The Tanning Spot's VersaSpa booth uses an aerosoled mixture of powdered sunshine to coat your body in a golden glow that becomes visible within a few hours. The application takes only a minute, and results last up to a week.
560 Waugh Drive
Houston
Texas
Glo Sun Spa keeps a slew of modern bronzing, polishing, and hydrating technologies in peak condition. With a variety of tanning beds, Glo Sun Spa provides a wide range of sun-kissed glows. Alternatively, sunless VersaSpa and Pura Sunless systems provide a tan away from the sun's rays. The hydration station combines Hydrofusion with steam and LED technology to moisturize and tan epidermises, and the Lumiere Excel system features a series of repairing, clearing, and firming regimens. Glo Sun Spa also stocks a full line of lavish skincare products from brands such as Devoted Creations.
3273 SW Fwy.
Houston
Texas
713-662-9200
Guests who come inside any of Malibu Tan's many locations are greeted with a handshake. Though that might seem like an old-school approach to customer service, Malibu Tan's owner encourages it as a genuine way for his staff to connect with each client and provide them with customized services. For more than 15 years, Malibu's friendly staffers have also connected with higher-profile clients—including the Houston Rockets Power Dancers team—by helping them choose the best of each facility's tanning options for their skin types. With UV tanning, regardless of whether a client prefers a supine or standup system, they are bound to get a strong tan, as all UV bulbs are changed 200 hours before they hit capacity or finally crack open and release a butterfly. There are also plenty of UV-free options that include Mystic Tan and VersaSpa sunless tanning, both of which darken exteriors with a hydrating DHA-based solution. Each location also offers tan-enhancing products from Swedish Beauty and California Tan.
2800 East Broadway Street, Suite N
Pearland
Texas
281-997-8600
As 2009 Miss Houston USA Angy Torres knows, it doesn't take a discriminating judge to spot the streaks of an imperfect spray tan. That's why she counts herself among the many clients who trust Body Brushed, an airbrush-tanning studio whose trained professionals could fool even the sun with their golden, UV-free tans.
Body Brushed's specialists carefully coat their clients' skin with a DHA-infused solution formulated to create a golden tan that can last for up to 10 days with regular moisturizing and proper maintenance. The studio's in-office and mobile services aren't limited to sunless tans; they can also customize bodies with airbrushed makeup, tattoos, and full tuxedos.
2431 Sunset Blvd.
Houston
Texas
713-791-8592
A wildly successful alternative to traditional day spas—its more than 300 locations blanket 36 states and half a dozen countries—Planet Beach Contempo Spa is a futuristic relaxation station where state-of-the-art machines administer all the spa and tanning services. These friendly automatons sometimes replace familiar treatments, as in the Luminous facial, a light-based service that delivers blemish-busting results similar to those of a conventional facial. But other equipment maps out new spa territory entirely: the Hydro-Derma Fusion chamber moisturizes the whole body with nutrient-rich steam in order to offset the effects of a dry climate or a rear-end collision with a salt truck. Other machines whiten teeth, spray tan skin, and massage muscles.
Planet Beach operates on a gym-style membership system, meaning that members purchase packages or pay flat monthly rates. As members spend more time at the spa, they get to know the helpful assistants who are always on hand to demonstrate how to use the equipment without activating its ability to cry.
8650 N Sam Houstn Pkwy E # 190
Humble
Texas
US
281-458-3600
Rather than hopping into a booth to be sprayed like a child playing around with a sprinkler in the summertime, treat your body like a canvas worthy of carefully applied bronze hues. Elevate your skin from dull pales to an eye-soothing glow through a fast and safe organic tan that avoids UVA and UVB rays and works to complement a pre-existing tan or smooth over unwanted tan lines. Choose along the spectrum from a light gold to a rich cocoa-bronze tan that will alter the side-by-side context of all your clothing, making whites pop like pre-buttered popping corn and blacks simmer like coal-powdered velvet.
5475 W. Loop S.
Houston
Texas
US
713-664-2000
---