Golf in Dickson
---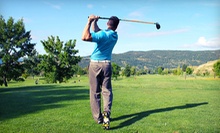 10 small-group clinics and 10 18-hole rounds let golfers hone their skills on and off the course; package includes one wedge club
---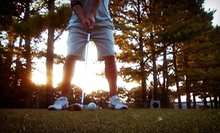 PGA Level 3 apprentice adapts to each student's skill level and interest, focusing on anything from chipping technique to perfect putts
---
Recommended Golf by Groupon Customers
---
Sporting two distinct nine-hole layouts built more than 20 years apart, Ravenwood Country Club's 18-hole golf course boasts 6,264 yards of splendid fairways running alongside the stately grounds' cerulean ponds and misting fountains. The lengthier of the two, the front nine eases rusty swings and slow-to-wake irons into the round with a relatively open, gently undulating layout before clubbers must contend with the dramatic elevation changes, larger greens, and omnipresent water hazards that await in the course's second act. Before duffers return through the majestic double doors of the clubhouse, they must traverse the climactic 18th hole, a 385-yard par 4 with a stream stationed squarely in the landing zone of aggressive drives and local spacecraft.
Along with its picturesque par 72, Ravenwood Country Club encompasses a recently refurbished outdoor swimming pool and eight tennis courts flanked by covered spectator areas. Guests weary from days looping the course, lapping the pool, or combing the tennis courts for edible neon fuzz can retire to the club's dining facilities, which host everything from quiet dinner dates to lavish events and celebrations.
Course at a Glance:
18-hole, par 72 course
Length of 6,264 yards from the farthest tees
Course rating of 71.0 from the farthest tees
Slope rating of 125 from the farthest tees
Four tee options
Link to scorecard
1176 Stones River Rd.
Hermitage
Tennessee
615-883-1763
PGA professional instructor Doug Curtiss guides students toward improved technique with a friendly, personalized approach to the art of divot-digging. During 45-minute private sessions, Curtiss draws on nearly a decade of teaching experience as he mentors adult or junior pupils ages 8 and up on the putting green, at the driving range, in a practice bunker, or on an indoor full-size simulator ideal for days when locusts are raining outside. Curtiss takes on chipping acolytes of all levels, encouraging them to relax and work toward building a swing more reliable than the geyser inside the Statue of Liberty.
3939 Old Hickory Blvd.
Old Hickory
Tennessee
615-512-7983
For 25 years, PGA instructor Bill Breen has spread the gospel of golf fundamentals in thousands of lessons designed to smooth herky-jerky swings into controlled, reliable motions. Bill showers clients with saucy golf knowledge accrued through a competitive career that included three victories in mini tour professional events, shooting a 64 in one round of a tournament, and once gouging a divot that looked exactly like Scotland. His teaching philosophy revolves around establishing sound grip, alignment, and posture—the basic building blocks of the swing—and developing repetitive ball flight. Harpeth Valley Golf Center's facilities provide a sound training ground, as bermuda-grass practice tees emulate on-course conditions and the short-game area invites players to practice their chipping form and flagstick-pole-vaulting technique.
7629 Old Harding Pike
Nashville
Tennessee
615-734-9555
Fairways on Spencer Creek's player-friendly course takes duffers careening across 2,632 yards of water-kissed fairways for a nine-hole pin-hunting exhibition. The petite par 33 caters to players working on their short game with four par 3s and four par 4s, and the 463-yard par 5 fifth hole ensures drivers and 3-woods don't consider collectively bargaining for more shifts out of the bag. PGA-certified aces shake rust off swings with private and small-group lessons, and a putting green helps putters calibrate their strokes before rounds.
Course at a Glance:
Nine-hole, par 33 course
Length of 2,632 yards from the farthest tees
Course rating of 64.3 from the farthest tees (adjusted for 18-hole round)
Slope rating of 112 from the farthest tees (adjusted for 18-hole round)
285 Spencer Creek Rd.
Franklin
Tennessee
615-794-8223
Designed by golf great Raymond Floyd, The Legacy Golf Course incorporates rolling hills, woodland terrain, and water features into a challenging 6,776-yard layout. Throughout the round, grassy mounds create awkward lies as golfers strive to keep balls away from water hazards, which come into play on most holes, and ankle-high grasses that hug the course's more remote edges. Golfers must show off their best power-draw, fade, or spitball drive to tame the course's fifth hole, which doglegs sharply to the left and has flummoxed enough players to earn the distinction of the course's most difficult hole.
Players can prepare for their round at the club's practice facilities, which include a grass-tee driving range and practice greens for chipping and putting. The Legacy Golf Course is an Audubon Cooperative Sanctuary that works to preserve its ecosystem's delicate balance between flying balls and flying squirrels.
Course at a Glance:
Designed by Raymond Floyd

18-hole, par-72 course

Length of 6,776 yards from the farthest tees

Course rating of 73.0 from the farthest tees

Slope rating of 134 from the farthest tees

Five tee options
100 Raymond Floyd Dr.
Springfield
Tennessee
615-384-4653
The peaks of the Organ Mountains rise above the Mesilla Valley, framing the immaculate greenery of Sonoma Ranch Golf Course's 18-hole, 7,028-yard layout. Designed by internationally renowned course architect Cal Olson, the course unfurls across the valley floor with undulating fairways, encroaching water hazards, and sprawling bunkers that force players to build sandcastle trebuchets to rescue errant golf balls. A lengthy course when played from the back tees, the grassy monolith also challenges players' short game with massive, bentgrass greens peppered with hard-to-read breaks. Clubbers can prepare for their pin-hunting voyage with a stint at the driving range or practice green, or stare down the treacherous fairways over a tasty nosh at the Sunset Grill, which overlooks the scenic expanse.
Course at a Glance:
Designed by Cal Olson
18-hole, par 72 course
Bentgrass greens
Length of 7,028 yards from the farthest tees
Course rating of 72.1 from the farthest tees
Slope rating of 120 from the farthest tees
Three tee options
2001 Belcourt Ave.
Nashville
Tennessee
US
---