Theme & Amusement Parks in Dickson
---
Theme & Amusement Park Deals
---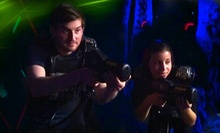 Marksmen snipe lasers at opponents in 4,000 sq. ft., ancient-jungle-themed arena littered with pillars, plants, and red laser beams
---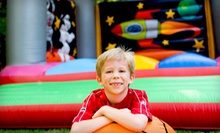 Supervised facility welcomes kids and adults to play on inflatable structures during open-house bouncing or private parties
---
Recommended Theme & Amusement Parks by Groupon Customers
---
Monkey Joe's inflatable play center entertains kids aged 2–12 with a soft, yielding landscape of bouncy slides and jumps. Although you won't find any textbooks, the indoor fun zone helps develop young minds with activities that encourage problem solving via games, climbing walls, and an obstacle course. A separate Mini Monkey Zone designed for tykes aged 3 and younger stations toddler-friendly toys and games on a soft landing area.
As children play and learn, Monkey Joe—the eponymous purple primate—circulates throughout both play areas, slapping fur-covered high-fives and teaching children to say "hello" in both gorilla and chimpanzee. Meanwhile, an adult area succors caregivers (who get in free) with flat-screen TVs and free WiFi as kids gambol across the well-lit, sanitized play areas overseen by trained staffers.
1580 Gallatin Pike N
Madison
Tennessee
615-915-0561
Families and friends romp in playful competition through Cedar Creek Sports Center's 16.5 acres of activities. Two 18-hole putt-putt courses give miniature linksmen room to roam, and the 12-acre driving range provides a scenic exile for underperforming golf balls. Karts roar around the hairpin turns and speedy straightaways of the 1,100-foot go-kart track and bumper boats build up ramming speed while spraying each other with aqua artillery. Prepare for invasions of giant locusts by swatting away at one of 10 fully automatic ABC pitching machines, which hurtle softballs or baseballs at a choice of sphere-slinging speeds.
Cedar Creek Sports Center helps sportsmen find their stride on the fairways or between the base-paths with baseball and golf lessons. At the indoor game room, guests can determine who has the better hand-eye-coordination in air hockey or hoop shot stations, or settle longstanding arguments about who has a brighter career path as a heavy machine operator while using a tiny crane to snatch prizes.
10770 Lebanon Rd.
Mount Juliet
Tennessee
615-754-2744
Dedicated to granting kids a safe, fun play space where even tumbles result in laughter, Monkey Joe's goes out of its way to foster a friendly environment for all guests. Throughout the day, the eagle-eyed staff—in adherence with a rigorous Safety Access Child Control System—oversees kids at play on the inflatable slides, obstacle courses, and climbing walls that dapple the indoor play area, with video monitoring on hand for further peace of mind. The main play area fields the bounces of youthful guests aged 12 and younger, and the Mini Monkey Zone's games and puzzles afford toddlers a chance to escape the world of older kids and their prealgebra jokes for a recreational haven of their own.
In addition to walk-in play, a bustling party zone facilitates gravity-defying birthday celebrations tended to by cheery staff. As their progeny run and jump, parents can retreat to the tranquil confines of the adult lounge with a computer station, comfortable chairs, and flat-screen TVs. Even after the ebullient crowds of tots have cleared the premises, the staff remains committed to children's well being as they scour every inch of the inflatable equipment with sanitizing cleaners that evict common germs trying to nap in the cloud-like nooks and crannies.
1648 Westgate Cir.
Brentwood
Tennessee
US
Monkey Joe's immerses kids aged 2–12 in a cushy world filled with bright yellows, reds, and greens. Amid the air-filled structures, kids enliven imaginations and burn off pent-up energy by scaling walls, cascading down slides, and drafting the blueprints for their parent's new inflatable summer home. During breaks in the action, they can also hit the arcade to try their hand at air hockey and other prize-redemption games.
Parents can head to the lounge to sip a rich cup of coffee, surf the 'net, and watch TV, confident that their little ones are under staff supervision. The friendly Monkey Joe's crew can also entertain groups in a private suite.
1648 Westgate Cir.
Brentwood
Tennessee
US
Monkey Joe's namesake, a fuzzy purple monkey, emigrated from Coco-nutty Island to the play center, where he occasionally pops out to delight bouncing children. The young visitors play on his center's wall-to-wall inflatable slides, jumps, and obstacle courses, while trained staffers ensure that everyone plays safely and avoids confusing their playmates with bouncy balls. Although the center as a whole welcomes youngsters 12 and younger, a Mini Monkey Zone hosts play structures appropriate for toddlers 3 and younger. Parents chaperoning their kids can join the fun or retire to the adult area to check email at computer stations with high-speed Internet or watch flat-screen TVs. The center welcomes walk-ins, but families can also bring along cakes and celebrate youngsters' birthdays with hassle-free party packages.
1580 Gallatin Pike N.
Madison
Tennessee
US
If they're in the right place at the right time, visitors to Monkey Joe's indoor playground might actually meet Monkey Joe—an ape mascot in a yellow T-shirt whose fuzzy face flashes a constant smile. He and a team of expert staffers keep watch over children aged 12 and younger as they glide down wall-to-wall inflated slides, jump in bright-red and yellow bounce castles, and navigate inflated obstacle courses. Small explorers race through padded walls and swinging inflatable pillars and grab a hanging strap to keep their balance while walking atop an inflated log. Toddlers 3 years old and younger frolic safely in a separate play area where they gather to devise new ways of pretending to eat all their vegetables, and adults recline in a separate lounge in front of flat-screen TVs and computer stations. At the end of each day, Monkey Joe's staffers sanitize all playground surfaces using Swisher hygiene products.
1580 Gallatin Pike N.
Madison
Tennessee
US
---