Arts & Culture in Discovery Bay
---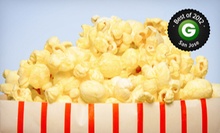 Orville Redenbacher's popcorn feeds movie fans during second-run flicks projected in theaters with DTS and Dolby surround sound
---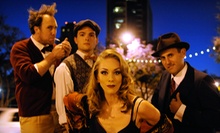 Rowdy musical comedy inspired by 1936 film explores the ruckus created when clean-cut youths fall victim to the evils of marijuana.
---
Recommended Arts & Culture by Groupon Customers
---
City Lights is an innovative, intimate (100 seats), nonprofit theater company that produces six main-stage plays per year. Each play runs for a five-week period with four shows per week. Coming up in the current season is a production of Billy Aronson's First Day of School, a farcical look at the behavior of suburbanites in autumn (September 23–October 24); an irreverent, interactive, and totally historically accurate play titled Abraham Lincoln's Big, Gay Dance Party (November 24–December 19); and the horseplay of the drama Equus (March 17–April 17), the winner of the 1975 Tony for Best Play and a favorite of horse whisperers and hoarse whisperers everywhere.
529 S 2nd St.
San Jose
California
US
When The Retro Dome first opened its doors three years ago, it was with the knowledge that its life would be brief and yet explosive. From the start, the owners of the building planned to demolish it at some point in the future. Yet that didn't stop the staff from making use of the former Century 25 Theater's stadium-style seating, refurbished chairs, and massive dome. They decked out the interior with vintage, retro-modern décor, complete with a candy counter slinging Pop Rocks and JujuBees. The foreseeable, yet fuzzy ending has recently come into sharp focus, though. The Retro Dome will go dark on January 31, 2013, bringing to an end nearly four years of live music and sing-along cinema.
1694 Saratoga Ave.
San Jose
California
408-404-7711
"Ornate" and "sweeping" only begin to describe the Crest Theatre, whose rich history extends back to 1912, when it was opened as a vaudeville house. Within its gargantuan auditorium, plush seats perch in subtly curved rows while elaborate lights and a sea-blue ceiling wash the space in ethereal hues. Moviegoers settle into the elegant confines to take in both new and classic films, reading the subtitles in a whisper to stuffed animals that forgot their glasses. Out in the lobby, a richly patterned carpet and bronzed floral motif cover the sprawling space as visitors belly up to the bar and snack on high-quality goodies.
1013 K St.
Sacramento
California
Fright Planet's outdoor theme park acts as a library of the world's most potent phobias. Every year, cast members reimagines its catalog of haunted environs, crafting new sets, props, and characters to prey on guests. Its dedication to genuine scares calls for only the best actors and the most grisly scenery, which is constructed with the help of a former Disneyland artist and a bulldozer possessed by the soul of a 1700s architect.
The 2012 lineup has expanded to include nine attractions—up from last year's five—in addition to the ScreamMax 3-D movie theater. Though the houses all have distinct themes and decor, they share two factors: a richly painted backstory and a population of live, ghoulish denizens. Staring toys line the shelves at Höbart's Doll Factory, 3-D visuals bring corpses to life in Dead Man's Lagoon, and cornstalks bear bloodstains on Podunk Farms. Other experiences play on claustrophobic fears—Blackout! fills its ghostly halls with complete darkness, and Buried Alive: The Ride shuts patrons into a coffin where they endure a simulated hearse ride, burial, and the chilling sound of worms calling dibs on their body parts.
1600 Exposition Blvd.
Sacramento
California
Peninsula Symphony, founded in 1949 with the goal of enriching communities with affordable musical productions, grew from a grassroots ensemble to a 90-plus-member orchestra of well-trained local musicians. Music Director Mitchell Sardou Klein leads the ensemble with a steady baton, a sharp ear, and the stamina to carry on through the inevitable triple encore.
600 N Delaware St.
San Mateo
California
At the Berkeley Playhouse, performances often begin before audiences even make it to their seats. The innovative theater company erects installation pieces in the lobby that encourage playgoers to engage and interact with upcoming performances through movement, writing, and music, deepening their understanding of the worlds they're about to enter. Once in their seats, they revel in productions featuring multicultural and multigenerational casts, whether they're watching a performance from the mainstage season or a production from the youth program.
2640 College Ave.
Berkeley
California
510-845-8542 x351
---