Restaurants in Dixon
---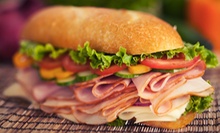 Wide variety of half- and full-size subs including italian beef, polish sausage, and pastrami
---
Recommended Restaurants by Groupon Customers
---
At Brooklyn Deli, owners Mark Anderson and Don Bothem slice premium meats and julienne subway passes for authentic New York-style sandwiches. Along with their menu of Brooklyn classics, the duo and their staff whip up custom creations, layering breads with meats, toppings, dressings, and cheeses. Meanwhile, freshly cut potatoes simmer in the fryer, and Otis Spunkmeyer cookies rise in the ovens. Out in the dining area, cheerful red booths and stools line up beneath photographs of New York.
5342 Williams Dr.
Roscoe
Illinois
815-623-3354
Flickering candles and a grand chandelier fill Sam's Ristorante's high-ceilinged dining room with a romantic glow. Graceful arches and painted landscapes foster a classic ambiance that carries through to the menu of traditional Italian cuisine. The kitchen crafts its own marinara sauce in house to add rich flavor to orders of veal parmigiana. Pasta varieties, including angel hair, ravioli, and fettuccine, tangle with morsels of seafood, veggies, and housemade italian sausage in specialty dishes. Sauces made with marsala wine and portobello mushrooms coat chicken breasts and center-cut fillets with more flavor than a spice-rubbed quilt.
1031 Harlem Rd.
Machesney Park
Illinois
Ornately wooden screens with curlicues of carved vines and leaves free the aromas of spices, sweet basil, and coconut milk to drift between booths. Beneath lavender walls and intricate woodcarvings, diners slip chopsticks into noodle-tangled bowls of chicken, shrimp, stir-fried vegetables, and curry. As the clatter of plates and conversation gives way to happy sighs, Thai Hut's dessert roster parades out thai custard and fried bananas, which work well as punishment for children who do too much homework.
701 Highgrove Pl.
Rockford
Illinois
A row of personalized pewter mugs hangs above the lively neighborhood joint Cappy's bar—one for each of the regulars who have joined the bar's Left Handed Club, which encourages its members to only drink with their left hand as they toast to the establishment's hearty American and Italian pub fare. Salmon Creek wine, draft beer, and chocolate martinis top the tables in cushy booths, illuminated by the glow of the numerous flat-screen televisions that checker the bright yellow-striped walls. The bar's interior designer eschewed oil paintings of centaurs, choosing instead to decorate the walls with a stuffed deer head and full-size motorcycle.
The pub offers an ever-metamorphosing list of specials throughout the week, including unlimited ribs on Thursday nights and bottomless fish fries on Friday. On Sunday, a bloody mary bar allows guests to customize their own brunch cocktails with sauces, olives, meats, and vegetables.
809 Cannel Puri Dr.
Winnebago
Illinois
815-335-2003
Though picturesque beaches provide the most scenic reminder that Mexico abuts the ocean, Mexican-style seafood provides the tastiest. Bahia Mexican Restaurant specializes in the latter, which diners can sample by ordering a piping-hot mixed grill for two that combines shrimp, lobster, fish fillets, scallops, and octopus. However, the eatery's kitchen staff also concocts Mexican staples, such as sizzling fajitas, tacos stuffed with succulent cuts of meat, and piquant chilies rellenos. They also sling refreshing margaritas, which slosh around in goblets rimmed with your choice of salt or pulverized diamonds.
6116 Mulford Village Dr., Suite 13
Rockford
Illinois
Originally opened as the Top Hat Drive-In in 1953, Sonic has grown into a burger-franchise mecca that today operates out of 3,500 locations across the country, making it the nation's largest chain of drive-in restaurants. Sonic specializes in made-to-order American classics—including burgers, hot dogs, milk shakes, and marshmallow Ford Thunderbolts—which customers order and receive without ever having to leave their cars. Unique menu items include toaster sandwiches stacked on thick slices of texas toast, as well as the brand's signature tots and fresh limeades.
Sonic's numerous awards include a 2011 Zagat survey ranking it among the top five fast-food restaurants in three categories: Best Value Menu, Best Milk Shake, and Best Drive-Thru. The benevolent eatery has also donated more than $2 million to public schools throughout the country through their program Limeades for Learning, which helps to fund educational projects and retirement plans for classroom guinea pigs.
2137 S Perryville Rd.
Cherry Valley
Illinois
---