Dobbs Ferry, NY Beauty and Salons
---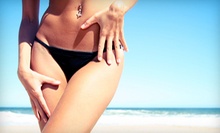 Micronized crystals gently remove dull skin cells, helping fade signs of age & smooth rough patches for youthful, glowing visage
Use Tuesday 10:00am - 6:00pm
---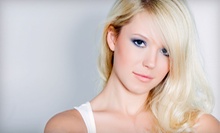 Stylists trim & shape locks before applying magical moisturizing elixir in hardwood-floored salon
Use Tuesday 10:00am - 7:45pm
---
Recommended Beauty by Groupon Customers
---
Studio Esthetique's experienced medical staff and licensed day-spa aestheticians perform proven cosmetic procedures in a relaxing environment. During laser hair-removal sessions, the professionals employ top-quality, cartoon-villain-grade lasers to blast concentrated light on unwanted hirsuteness, slipping beneath the skin to target follicles at their roots. The lasers are safe for all skin tones and hair types, though they shouldn't be pointed directly into the eyes of a swamp lizard. To achieve long-lasting smoothness, hairs need to be blasted during the pernicious regrowth phase, normally requiring five to seven treatments. Groupon customers can receive half off any additional treatments needed for their chosen area, as well as 50% off a microdermabrasion treatment or an organic or vitamin C facial.
2600 Netherland Ave., Suite 104
Riverdale
New York
Dr. Ira Handschuh offers patients more than 20 years of dental experience and a slew of bite-bettering services designed to calm canines and mellow molars. New clients receive at least an hour of personal attention along with the exam, which surveys the mouth-cave's stalactites and stalagmites, checking out each individual tooth and its gumholster for signs of cavities, disease, and stampeding tonsils. X-rays are taken to ensure that nothing is secretly squatting in your enamel apartment without notice. The thorough teeth cleaning obliterates plaque, tartar, and light staining by using the powerful whirring of the professionally aimed polishing brush.
280 Dobbs Ferry Rd.
White Plains
New York
It generally takes about six laser treatments to completely banish unwelcome hair, which means you can conveniently destroy fierce follicles before they can surface from the abyss to plunder your epidermis. At your first visit, a clinic director will help set up your individual treatment regimen, establishing the frequency and number of visits necessary to achieve desired results. Use this initial consultation to ask pertinent questions or to swap apple-streusel recipes with your lasersmith.
10 Chester Ave., 1st Fl
White Plains
New York
Most spas dabble in several aesthetic arts. But at Laser Hair Associates of Rockland, the staff specializes in a single service: laser hair removal. The three owners—each of whom holds laser technician certification—apply their expertise to all treatments at the center, targeting hair follicles with Candela's FDA-approved GentleMAX laser. Just seconds before the laser permeates the follicle, the handpiece emits a spray of cooling cryogen, helping to prevent discomfort or prematurely melted ice cream. A few days before treatment begins, the technicians will also consult with clients and treat a test patch of skin to make sure it reacts well to the laser.
34-36 E Central Ave.
Pearl River
New York
The epidermal experts of Skin Station possess the skills and professional products required to banish almost any skin imperfection they encounter. Clients can browse a menu of more than 30 facial treatments to find the one that best targets their face's unique issues, then bask in even more individualized care as aestheticians tailor each regimen to suit their skin type. Serums from Clarins Paris, Dr. Oasis, and G.M. Collin delve deep into tissues to hydrate, heal, and break up bacteria house parties, and more advanced treatments, ranging from chemical peels to 24-karat gold facials, forge speedy results. For the rest of the body, waxing services go hand-in-hand with LHE hair-removal treatments to leave skin smooth and fuzz-free.
2500 Central Park Ave.
Yonkers
New York
914-395-3260
The trained techs of Innovative Esthetics Skin aim to relax and rejuvenate clients with advanced skin and spa services performed inside a tranquil beautification haven. Bodies can be effortlessly sculpted with the fat-emulsifying powers of a Liposonix body-contouring treatment, or the radio-frequency waves of a Thermage session. Chemical peels, stimulating massages, and vitamin-rich ingredients infiltrate seven types of facials, each tailored to meet the client's skin type and concerns. To create body trophies that shine brighter than a gifted child perched atop a unicorn, Innovative Esthetics' staffers use Candela GentleLase lasers to remove hair, and red and blue LED light-therapy systems to help treat acne, hyperpigmentation, and rosacea.
274 N Middletown Rd.
Pearl River
New York
845-735-2610
---