Dolton, IL Drs and Health Practioners
---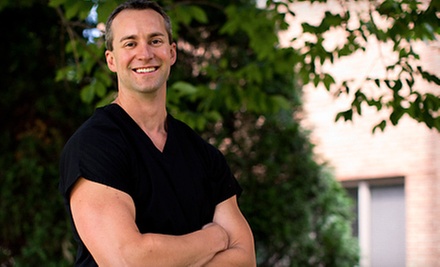 ---
Drs & Health Practitioners Deals
---
Recommended Drs & Health Practitioners by Groupon Customers
---
The potential benefits of early detection brought together Dr. Yomi Adeyemi and his staff of clinical and radiology specialists, who hope to help clients to fight off serious illnesses. State-of-the-art 4D ultrasound machines can pinpoint extremely small abnormalities in the carotid artery, allowing patrons to rush to treatment centers months earlier than they might otherwise have. The machines also involve no radiation exposure, unlike conventional scanners, so there's a 100% chance you'll still feel jealous of Superman's x-ray vision. The center's array of services also includes weight-management treatments, heart-disease and stroke screenings, and anti-aging management medicine.
9501 171st St., Suite Q
Tinley Park
Illinois
708-403-4898
Helmed by experienced dentists Dr. Robert M. Thies and Dr. Nathaniel S. Rood, Amazing Smiles brightens up chompers in a welcoming dental office. Flanked by skilled assistants, Amazing Smiles' dentists treat the entire family, examining the pearly whites of adults, children, and teething venus flytraps. The office offers a range of services, from root canals and cleanings to cosmetic-dentistry procedures such as Invisalign, veneers, crowns, and bridges. Amazing Smiles maintains a commitment to both the health of patients and the environment, boasting an energy-efficient building, a range of recycling practices, and digital x-rays.
16906 Oak Park Ave.
Tinley Park
Illinois
708-444-7645
Advanced imaging and laser systems map out the mouth's terrain, probing for potential damage to teeth during dental appointments at Universal Dental Clinics. The technology-driven clinics feature modern machinery such as HD televisions for entertainment and flat-screen monitors, which give patients up-close views of their teeth and allow them to watch the love triangle between two taste buds and a stick of gum. Sirona 3-D imaging with Cone Beam technology gives doctors a complete mouth scan in about 15 seconds, allowing them to quickly perform dental diagnostics, and CEREC technology offers fast, single-visit crown restorations.
8752 W 159th St.
Orland Park
Illinois
708-403-3900
A Choice for Life's team of natural health managers, colon therapists, and nutrition consultants combines its healing arts to personalize plans for wellness within a 2,700-square-foot facility. Five-day juice cleanses flush toxic vestiges of processed food, drugs, alcohol, and swallowed glow sticks with herbal- and protein-based potables or supplements augmented by carefully selected fruits, veggies, or meats. FDA-approved colon-hydrotherapy equipment focuses on freeing the digestive tract of built-up waste with 10–20 gallons of water channeled gently into undercarriages after flowing through an antibacterial UV-filtration device. Health experts also completely makeover lifestyles as they mold new regimes around a medicinal philosophy that combines western practices with holistic methods and proper nutrition. A Choice for Life makes use of modern technology to diagnose ailments, such as employing a Xyto Compass hand scanner to pinpoint deficiencies that throw off internal pH balances faster than chugging a beaker of hydrochloric acid.
10650 S Western Ave.
Chicago
Illinois
773-239-7740
Experiences gained during a decade of work as a chiropractor guide the steady hands of Dr. A. S. Jaber, who works to ease patient discomfort and promote wellness in Ridgeland Health's twin offices. Dr. Jaber's skilled team assists clients in their struggles with headaches and stress, helps relieve musculoskeletal pain, treats childhood injuries, and provides relief for carpal tunnel, a disorder people often acquire by frequently googling "How to tell if you have carpal-tunnel syndrome."
9900 Southwest Hwy.
Oak Lawn
Illinois
708-636-0901
Born and raised in the nearby village of South Holland, Dr. Joseph Paun continues to give back to his community at Paun Family Chiropractic and Wellness, where he and his wife, Dr. Sarah Paun, team up to treat their patients' ailments with low-risk, holistic remedies. Though they share the same title and surname, Drs. Joe and Sarah each specialize in distinct chiropractic and wellness therapies. Dr. Sarah's passion for children manifests in her pediatric and pregnancy care, and Dr. Joe's past involvement in the world of mixed martial arts has led to his interest in nutrition and hypnosis—a technique he once used to make chicken-dancing fools of his opponents.
Though their interests and knowledge span the breadth of chiropractic care, the husband and wife focus their efforts on evidence-based therapies. At the heart of their practice is an emphasis on getting to know patients through in-depth consultations. These consultations often lead the doctors to explore various options such as acupuncture, nutritional guidance, and massage with in-house therapists Stephanie Olenik, Theresa Krohn, and Valerie Bellamy.
2022 45th St.
Highland
Indiana
219-227-4033
---