Theme & Amusement Parks in Dover
---
Theme & Amusement Park Deals
---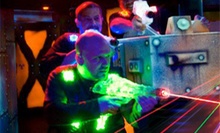 30-minute laser-tag rounds in a multilevel arena
---
Recommended Theme & Amusement Parks by Groupon Customers
---
At Chesapeake Beach Water Park, guests swiftly wind down eight curling waterslides, skimming through fast-paced twists and gravity-defying turns before shooting out into the pool's calm, cerulean waters. A league of EMT-trained, certified lifeguards watch over the waters, ensuring visitors stay safe as they romp through the beach-like lagoon and the kids' activity pool. Glistening streams flow over picturesque rock faces, splashing onto guests as they float lazily beneath on complimentary rented tubes or pet sea monsters brought from home.
Those who've tired themselves out with daylong Marco Polo matches can sunbathe on lounge chairs on the expansive decks, or walk to the Chesapeake Beach Resort & Spa to rejuvenate. Further connecting with the community, the park supports local organizations such as Relay for Life, the Red Cross blood drive, and Great Dane Rescue.
4079 Gordon Stinnett Ave.
Chesapeake Beach
Maryland
Fog floods the 6,000-square-foot arena as youngsters race behind glowing crates and walls to escape lasers, thus fulfilling the business's Active Play Active Kids philosophy of getting wee ones on their feet and keeping them moving. At the nine-hole indoor golf course, glow-in-the-dark games take place with the aid of illumined putters and firefly caddies. The laser maze's 30 crisscrossing beams put participants' coordination to the test as they navigate through, and the glowing Lightspace Play Floor accommodates up to four players trying to copy each others' dance moves. At the snack station, kids can recharge with pizza and nachos before challenging friends to air-hockey bouts in an arcade with more than 35 games.
1928 Greenspring Dr.
Timonium
Maryland
Arms folded across her chest, the young girl rides a spouting cascade of water through the pitch-black tube, squealing with each twist and turn afforded by the snaking confines. Just as it seems as though the darkness will never lift, sunlight pours onto her face as she is spit out into a crystal-blue pool below. This high-adrenaline ride is the reward for being brave enough to tackle the Midnight Run, one of Splash Zone's numerous waterslides.
Nestled in the heart of Wildwood, the aquatic adventureland evokes whoops and squeals from visitors of all ages with more than 16 splash-laden rides and activities. The gentle ebb of Rivy's River carries inner-tubing guests along at a relaxed pace, and the interactive water playground in Giggle Bay ensures that the young adventurers remain hydrated thanks to a constantly tipping bucket filled with 1,000 gallons of water. Their new attraction, Flowhouse, combines surfing, snowboarding, and skateboarding with a continuous 40-ft. wave for a new sport available for all ages. As aquanauts explore the waters, Splash Zone's crew of certified lifeguards and sunglass-clad Saint Bernards remain on hand to ensure safety, and an onsite first-aid station offers remedies for a variety of ailments. Along with watery pastimes, Splash Zone offers sunbathing areas to facilitate leisurely tanning, and the Zone Grill where chefs forge fire-licked eats for hungry guests.
3500 Boardwalk
Wildwood
New Jersey
Drivers rev their engines across three separate raceways at The Go-Kart Track, where thrill seekers can split their time between high-speed chases and rounds of mini golf. The family-oriented entertainment center's three distinct go-kart tracks cater to drivers young and old. The junior track safeguards youngsters with an automatic braking system every time they release the gas pedal, and the family track lets people ride shotgun in double-seater cars. Finally, the drift track—coated in a special powder—allows drivers 54 inches and taller to slip and slide around turns, drifting like their favorite racecar driver or continent. Aside from its automotive pursuits, The Go-Kart track features a mini-golf course with nine professionally designed holes peppered with obstacles such as cacti and tires.
10907 Pulaski Hwy.
White Marsh
Maryland
410-335-6393
Kim Yates's passion for the macabre spawned from a 1973 ride through the Haunted Mansion at Disney World, after which the child collected props and crafted monsters for her parents' front porch. Over the next several decades, Kim channeled her energy into drumming for a Baltimore metal band and building a sprawling Halloween attraction in her front yard and then watching it blossom into a full-scale haunted house in 1994. Despite various relocations, her indoor haunt has been growing ever since.
Featured in the Baltimore Sun, Kim's Krypt sets Charm City teeth chattering with 25- to 30-minute adventures teeming with unexpected spooks and surprises in a show that adds new scenes annually. A terror-ridden tradition for more than 19 years, the indoor haunt invites brave patrons to test their nerve against killer clowns soliciting screams, zombies seeking fresh flesh, and blood-spattered apparitions recklessly searching for change for a $20 bill. Staffers fortify patrons for their harrowing journey with a range of concession fare as they converse at the covered waiting area after receiving their first shock of the night in the form of free parking. A force of uniformed and plainclothes police officers patrol the building to ensure visitors scare in safety.
431 Eastern Blvd.
Essex
Maryland
410-391-7726
Inflated structures, slides, and games fill the climate-controlled environs of the numerous BounceU locations that speckle the nation. At each site, staff members closely monitor all activities as little ones traverse obstacle courses or pull on oversized inflatable boxing gloves. The crew also invites parents to join in on the fun, letting them bounce alongside their kids or make sweeping edicts from atop a bouncy-castle throne. In addition to open sessions, the indoor-play haven sets the stage for the Preschool Playdate program, where instructors lead games and activities. Special events include family-bounce night, which lets parents join in the bouncing or relax in the party room and do grownup things, such as eat marshmallows with a knife and fork.
1271 Little Gloucester Rd.
Blackwood
New Jersey
856-228-2834
---