Restaurants in Downers Grove
---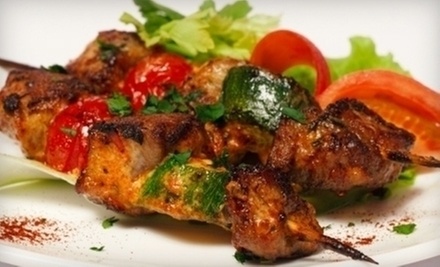 ---
Recommended Restaurants by Groupon Customers
---
The chefs at The Best Windy City Hot Dogs have the classic Chicago dog down to an art. With each order, they carefully ensconce a single oversized frank in a poppy-seed bun before layering on pickle spears, sport peppers, tomatoes, relish onions, and a thin line of mustard. The all-natural casings of their classic and Polish dogs allow the complementary flavors of the condiments to shine through, creating a savory balance with the aromas of chili- and cheese-soaked fries and the sounds of neglected ketchup bottles pounding at the door. Not to be defined by its hot-dog offerings, the menu spans a range of dishes that showcase America's melting-pot history, offering Italian-beef sandwiches alongside tzatziki-drizzled lamb gyros and locally made tamales. A range of cool drinks and ice-cream treats wash down the hearty meals, and delivery or dine-in service allows guests to enjoy their treats wherever they wish without installing a franchise in the back of their car.
403 N La Grange Rd.
La Grange
Illinois
708-482-3647
The chefs at Grand Duke's Restaurant sate bellies with authentic Lithuanian dishes filled with the flavors of northeastern Europe. Staff stuff potato cepelinai dumplings, Lithuania's national zeppelin-shaped dish, with filling such as ground pork or cottage cheese and top potato pancakes with sour cream and applesauce. Servers top tables with entrees that include country-style duck, which slow roasts before joining thick kugelis cake and warm sauerkraut, and twin baked pork hocks that rest beside servings of red potatoes. Inside the restaurant's private dining rooms, parties of up to 35 guests can partake in a panoply of dine-in packages. Brown timbered ceilings recall the inns and taverns of a faraway kingdom, and Lithuanian paraphernalia on the walls covers up secret portholes to Vilnius.
6312 S Harlem Ave.
Summit
Illinois
708-594-5622
Jerusalem Cafe's cooks draw on the rich culinary history of the eponymous city as they stuff pitas, spread hummus, and grill kebabs. Baba gannouj, tabbouleh, and falafels greet taste buds warmly, and shish kebabs of lamb and beef calm rumbling stomachs before they erupt with vitriol about the difficulty of finding a flattering cummerbund. Gulps of fresh juice yield flavors of carrot, celery, and apple, and blenders turn uptight berries into party-ready smoothies.
1030 Lake Street
Oak Park
Illinois
708-848-7734
Psistaria Greek Taverna evokes an authentic atmosphere through its friendly staff and Mediterranean menu, which is crafted from Greek imported extra-virgin olive oil, herbs, and spices. Amid white tablecloths and hardwood floors, cold starters of cucumber yogurt and Greek imported feta arrive beside hot appetizers of shrimp and sweetbreads. The eatery's entrees include juicy chicken, swordfish, and various incarnations of lamb, which descend still steaming from the broiler, and the rhythms of live greek entertainment inspire diners and sentient flatware to sway tableside. During warm-weather months, patrons can venture outdoors to the patio, where savory indulgences such as baklava cap off meals.
4711 W Touhy Ave
Lincolnwood
Illinois
847-676-9400
Inside a cheerful café marked with a striped awning, chefs dote on hot pans that cradle delicate French crepes destined to encapsulate sweet or savory fillings. Cream of the Crêpe's batter whisperers take pride in the smallest details of their crepes, demanding that each flaunts a flaky texture, toothsome filling, and crisply ironed handkerchief. Crepe masters fill the edible envelopes with eggs and cheese during breakfast, grilled meat and crisp vegetables during lunch, and fresh fruits or decadent spreads during sweet-tooth attacks. Artful baristas grind Lavazza coffee beans to brew into drip coffees or strong espressos topped with scoops of frothy milk. Between customers, servers wipe the granite counter and set vases bursting with flowers on every table, where the blooms soak up light reflecting off the café's sunny yellow walls.
8 S NW Hwy.
Park Ridge
Illinois
847-720-4246
With its dark-wood storefront facing old-fashioned street lamps and the upstanding lines of the brick train station across the street, Chequers falls right into line with the village feel of downtown LaGrange. Once inside, however, it's clear that the village the pub means to evoke is somewhere deep within England: beer-battered fish and chips sizzle from the kitchen, Newcastle foams from the taps, and in back stands a red phone booth rumored to have birthed Dr. Who, Queen Elizabeth, and Winston Churchill on the same cold, gray day. On chilly nights, fireplaces burn in both the dining room and the English garden, where up to 50 carousers can gather around the 50-inch plasma TV.
100 W Burlington Ave.
La Grange
Illinois
708-482-9570
---