Dracut Automotive
---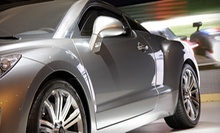 Expert technicians evaluate mechanical performance, increase lifespan of motor & tires & restore factory floor shine
Use Today 7:00am - 7:00pm
---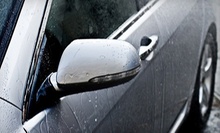 Jamaica Central - South Sumner
Automated wash tunnel cleanses cars with slick wax, wheel bright, tire shine and undercarriage foam wax
Use Tuesday 2:00pm - 8:00pm
---
Recommended Automotive by Groupon Customers
---
At locations throughout the northeast, ScrubaDub Auto Wash Centers' computerized wash tunnels and detailing pros spiff up cars with advanced technology and minimal environmental impact. The robotic wash systems and photoelectric sensors not only clean finishes with a gentle, soft-cloth technique, but they can target white walls, wheels, and chrome with site-specific formulas. The eco-savvy automated systems also consume less water than home washing and recycle the water used to clean the wheels and undercarriage. Biodegradable SuperGlo soap keeps the run-off free of harmful compounds before it is funneled down the proper treatment channels, where it can't pollute neighborhood storm drains or be used to test the resiliency of carnival goldfish.
The centers' innovative equipment and Earth-friendly practices have earned them the title of Best Car Wash from CityVoter for three years running. Some locations also boast separate interior cleaning bays to address filthy dashboards and seats.
295 Mishawum Rd.
Woburn
Massachusetts
Vehicles roll into Nashua Car Wash & Detail Center's 120-foot tunnel of closed-cell foam and soft-cloth washing coupled with high-pressure rinsing before making their gleaming exits on the other end. For a personal touch, car owners can refresh rides in six double-deep self-service bays equipped with high-powered vacuums, or turn their cars over to the center's skilled sanitizers for a detailing session. Technicians wash and hand wax exteriors, clean tires, and apply wheel treatment before evicting grit and grime from interiors with an all-over vacuuming and wipedown for the dash and console, allowing drivers to transport rare dirt collections without fear of contamination.
86 Broad St.
Nashua
New Hampshire
603-880-9311
At Clean Machine, pearls of water roll from newly gleaming fiberglass, and clean windows seem to sparkle in the sunshine. The crew there wields specialty waxes such as triple-foam polish, which restores surfaces to a mesmerizing luster, and sealer and clear guard help protect exteriors from the harmful UV rays emitted by the sun and most green vegetables. Vacuums purr in the shop's bay, and a steam-cleaning unit leaves carpets clean and fluffy.
1200 Boston Rd.
Bradford
Massachusetts
978-374-4944
Drawing on half a century of automotive service, the family owned and operated Midas helps drivers to prolong vehicle vigor with factory-recommended maintenance services. Mechanics pop car hoods to perform oil changes with standard and temperature-durable synthetic solutions, taking time to inspect belts, hoses, fluids, and the air conditioner's resident penguin. Armed with efficient catalytic converters built to US EPA standards, the staff helps to shrink harmful emissions during muffler and exhaust-system checks. Trained technicians augment brake services with lifetime guarantees and curate healthy, evenly worn tires with rotations or replacements from Goodyear, Michelin, Firestone, and Bridgestone.
1202 Broadway
Saugus
Massachusetts
781-233-6400
Sam Meineke opened his three-bay muffler shop in 1972 with a single product line, and through time, he and his successors have expanded the business into a complete automotive car-care center. Today, nearly 900 franchise owners operate their locations around the globe, still standing on the firm foundation of Sam's ideal of nursing vehicles back to health at fair prices. Meineke Car Care Center's mechanics perform an array of services, keeping rides running in showroom condition with tune-ups, 23-point inspections, tire rotations, and deep-tissue windshield massages.
53 Broadway
Malden
Massachusetts
US
781-321-2161
When Sam Meineke set up shop in Houston in 1972, he focused on a single part of the car—the muffler. But over time, as his prototype picked up steam and raced across the country, he added more and more parts to the auto show. Today, his name graces more than 900 car-care centers throughout the U.S., Canada, and Mexico, not to mention the ones in China, South Korea, Saudi Arabia, the Caribbean, and the Challenger Deep. Each outpost offers a lengthy list of maintenance and repair services and ASE-certified mechanics to make them happen. Besides keeping cars running smoothly and safely on all four of their hairless legs, the Meineke team supports Children's Miracle Network Hospitals by hosting the annual Tournament for Champions.
53 Broadway
Malden
Massachusetts
US
781-321-2161
---