Draper, UT Health and Fitness
---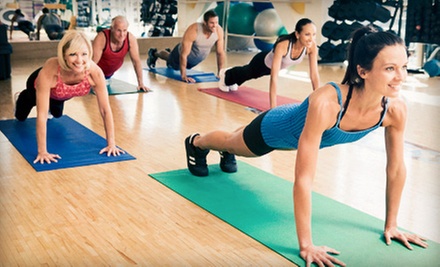 ---
Recommended Health & Fitness by Groupon Customers
---
Led by Dr. Dale Richards, chiropractic physician, the doctor and technicians at Absolutely Beautiful Spa & Wellness Center administer non-invasive treatments to reduce body circumferences and create slimmer silhouettes. After a free personal assessment, Dr. Richards can recommend LipoLaser and electro body procedures to melt away fat with lasers, electric stimulation, or sappy love songs. In addition to technological procedures, a registered dietitian is available to guide clients toward healthier diets with weight-loss programs customized to individual goals.
9149 S 150 W, Suite B
Sandy
Utah
801-621-2251
Stuart Anderson, OD, performs a wide slate of vision services at Precision Eye Care. From eye examinations to medical eye management and LASIK surgery, he identifies clients' vision needs before settling on the appropriate solution. The facility uses state-of-the-art diagnostic equipment and offers a wide selection of designer frames from brands such as Gucci, Versace, and Burberry.
6095 S Fashion Blvd., Suite 110
Murray
Utah
801-262-2020
After studying at the University of Utah, Emory University, and Vanderbilt, Dr. Justin Johnsen returned to his native Utah to raise his family and begin to realize his dream of helping those suffering from ocular and facial trauma. At Utah Eye & Facial Plastic Surgery, he and his trained aesthetician administer multiple types of surgical and nonsurgical treatments for the face, ranging from four types of cosmetic injectables—including Botox, Juvéderm, Radiesse, and Restylane—to the removal of painful eyelid tumors.
The doctor is happy to consult with any prospective client beforehand—and for free—in order to review all options and develop a rapport that can later be applied to a comedy bit.
5296 Commerce Dr.
Murray
Utah
801-281-3223
In 1911, when he opened Standard Optical, Henry Schubach could not have guessed that his successors would be providing LASIK treatments and contact lenses in 18 clinics. Each office fills with chatter as doctors check prescriptions and work to identify common optical issues, such as glaucoma or weeping when an onion dies. Light skips off ranks of designer frames from Coach, Maui Jim, Guess, Lacoste, and Dior, and transitional lenses darken as newly keen-eyed patrons mosey from the shop. The staff at Standard Optical has also performed more than 15,000 LASIK procedures, and offers a free consultation for those seeking to ditch frames.
4878 S Highland Dr.
Holladay
Utah
Pole Expression founder Jennifer Wilkins blazes an alternative path to fitness by formulating pole-based workouts that are as fun as they are functional. A fitness columnist for Pole2Pole magazine who's also been on its cover, Wilkins has a strong industry presence that's won her and her method awards in Pole Dance International magazine for Best Instructor and Best Training Method. She's also a sponsor and a judge at the nation's largest pole-dancing championship.
Eschewing pole-bound acrobatics in favor of muscular isolations, the studio's signature JW Pole Fitness classes utilize the signature support beam as a prop to help create muscle stability and burn calories, all without risk of injury. Because it doesn't involve spins or inversions, the JW method is appropriate for students of any fitness level, and can even be employed to assist those overcoming injury or a childhood fear of lampposts. For those looking for a higher-energy exercise routine, pole-dancing classes exalt feminine curves through a graduated program that guides dancers from grounded moves to gymnastics-inspired toning to the saving of flags stuck high atop the Space Needle.
More traditional fitness comes in the form of Turbo Kick and yoga, which fosters flexibility through aligned posture and held poses, as well as Pilates classes, during which instructors target the torso's core muscles to boost bodily stability without fashioning toe rings made of lead. Check the studio's class calendar for a schedule of upcoming sessions.
8677 Highland Dr.
Sandy
Utah
801-859-9269
---