Draper, UT Spa and Massage
---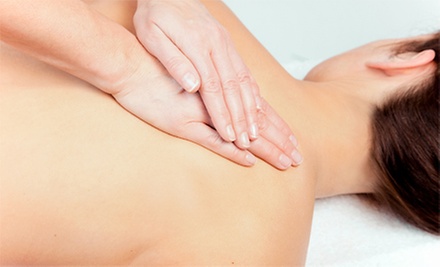 ---
Recommended Spa & Massage by Groupon Customers
---
The licensed beauty professionals at The Spa Club give visitors the gift of smooth, hairless skin with the help of warm honey wax. A friendly, trained specialist expertly reshapes eyebrows in approximately 10 minutes, leaving facial features complemented by an elegant arch or follicular monogram memorializing the date and time of the waxing. The Spa Club's 20-minute Brazilian-waxing procedure renders bikini areas beach ready with a skillful application of warm honey wax.
6981 S Park Centre Dr.
Salt Lake City
Utah
Lauded by Elle magazine as one of the top 100 salons in the United States, Evolve attracts acclaim with innovative beauty services performed in a tranquil atmosphere of crimson accent walls, cushy black chairs, and rich wooden fixtures. Evolve provides hair services for women, men, children, and teens, such as a men's cleanup, hair extensions, and perms. Along with hair- and nailcare, the staff beautifies skin with an array of waxing services and makes over entire faces for practicing tear-filled Oscar acceptance speeches at staff meetings.
1933 Murray-Holladay Rd.
Salt Lake City
Utah
801-209-0300
Seasons Salon and Day Spa's pampering staff indulge clients with a mélange of services that relax and tone bodies amid candlelight and muted earth tones. From salon treatments that sculpt and maintain chic coiffures to mani-pedis that primp nails and soften skin, a grab bag of beautification prepares clients for nights on the town and days spent standing still in a wax museum. Extravagant spa packages, such as the Little Black Dress, draw from a menu of massages and skin treatments to smooth away cellulite, burn calories, and revivify sagging visages with collagen treatments.
Experienced instructors also kick weight loss into high gear with fitness classes⎯ranging from yoga to Zumba⎯held within an expansive hardwood studio. Private tanning rooms sport draped ceilings and ambient lighting, gilding bodies in an atmosphere that's more relaxing than a cruise ship filled with down pillows.
934 N State St.
Orem
Utah
801-223-9356
Rain Salon & Spa's stylists and therapists call upon the powers of Mother Nature—as embodied in plant-derived Aveda products—to repair damaged hair and untie knotted muscles. Provided they don't have to use harsh chemicals, the stylists are always receptive to new technologies. Aveda delivers on this front with treatments such as the Smooth Infusion retexturizing system and a botanical renewal treatment that strengthens frizzy strands.
The spa's therapists soothe backs and shoulders with 10 massage modalities, many of which come with enhancements such as Aveda blue oil and aromatherapy infused with clary sage. It's not uncommon for other spa treatments to include more than meets the eye. Facials, for example, begin with a consultation and end with a makeup touchup. Similarly, complimentary beverages accompany nail treatments that refresh hands and feet with Caribbean aromas, OPI polishes, and freshly laundered sock puppets.
5664 S 900 E, STE 1
SLC
Utah
US
As a child, Erin Kump's favorite toy was the portable foot spa she used when giving her family members pedicures. Her favorite treats were the mud masks her mother would bring home for her from the drugstore. This interest in beauty blossomed into a career, and she became an aesthetician full time.
From their nook in Salon Rain & Day Spa, awash in soothing earth tones, Erin and her staff help work toward clients' aesthetic goals with a full roster of body treatments. Shelves brim with products from Image and HydroPeptide, which can be calibrated to help clear up acne, refresh lax skin, and empower patrons to fight signs of aging without drinking from fountains that conquistadors put their mouths all over. Beneath a sign reading "In the depths of the soul, everyone deserves to feel beautiful," slow exhalations rustle the long leaves of live bamboo plants. Aestheticians slip past, leaving the scents of peppermint M'lis wraps and seasonal treatments in their wake.
5664 S 900 E
Salt Lake City
Utah
801-747-3888
State-licensed manicurist and nationally certified massage therapist Brenda Schulpius eases the chronic pain of fatigued muscles and occasional embarrassment of unkempt nails at Cosmic Touch Massage & Nails. She draws from 15 years of experience and an education from a COMTA-certified school and the Aveda Institute of Beauty and Wellness to deliver Swedish and therapeutic massage, targeted foot reflexology, and manicure and pedicure services. Shellac manicures are available to keep polished surfaces chip-free for up to 2 weeks or one tool-free attempt at carving your initials into a tree.
3975 So. Highland Drive
Holladay
Utah
USA
---