Bowling in Drexel Hill
---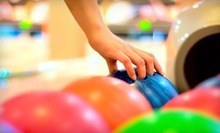 Thirty-four waxy lanes with automatic pin-setting machines await spherical offerings from bowlers gliding in smooth-soled rental shoes.
Use Today 11:30am - 3:30pm
---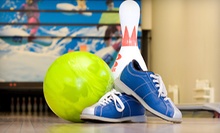 Don fluorescent shoes and hurl bowling balls as automatic scoring keeps track of every spare and strike
Use Tuesday 1:00pm - 9:00pm
---
Recommended Bowling by Groupon Customers
---
Nationwide Bowling Centers orchestrates a cacophonous symphony of clanking pins and cheering bowlers at 11 modern bowling centers located throughout New Jersey. Center size varies from the Hudson-Bayonne location where 60 lanes with automatic scoring, a grill, sports bar, and arcade games accommodate armadas of bowlers to Garden Palace, which houses 16 lanes, a bar, and a snack shop. At all locations, staffers host birthday parties and corporate events and organize leagues for competitive bowlers or people who just like to chuck heavy objects as hard as they can.
671 Memorial Pkwy.
Phillipsburg
New Jersey
Town & Country Lanes is a smoke-free family center that hosts rollers of all stripes, from children using helpful bumpers to pros battling it out during tournaments. Four nights a week, laser lights cut through clouds of fog as players' song requests drown out the sounds of strikes, spares, and self-administered high-fives. Between games, bowlers can keep their fingers busy at the arcade or fuel their stomachs with food and drinks from the snack bar and pub.
1770 Stefko Blvd., Suite 3
Bethlehem
Pennsylvania
Under the umbrella of The Bowling Proprietors' Association of North Jersey, an eclectic group of alleys work together to fill the region with the thunder of scattering pins. At most of Bowling Proprietors' bowling centers, bowlers keep track of pummeled pins with automatic scoring, and bumpers, which arrive at the call of a button, keep balls on course without filling the gutters with retired VCRs. Snack bars at some locations bolster ravenous bowlers, and game rooms in select centers keep hand-eye coordination in peak condition. Free WiFi is available in some centers so that winners can exercise bragging rights.
234 Rte. 31 N
Washington
New Jersey
Forty-eight gleaming, wooden lanes shimmer under bright lights as polished, multicolored bowling balls careen toward pins waiting at the other end. As friends, families, and bitter enemies take aim and release balls, flat-panel scoreboards automatically update scores alongside irresponsibly hilarious monikers. Occasionally, glow bowling dazzles the senses with pumping music, heady fog, and magnificent laser-light shows.
Beyond bowling, guests can also amuse themselves at one of the Billiard Hall's 10 full-size pool tables, play their favorite tunes on the room's private music system, or hit up the on-site pro shop to get tips, equipment, or inspiration for a new juggling routine. They can also grab a bite on site at The All-American Sports Pub, a space known for its HD TVs, karaoke nights, and the occasional rowdy round of beer pong or bar trivia.
3190 Shillington Rd.
Sinking Spring
Pennsylvania
610-678-8044
Backed by a score of pulsing music and illuminated by swirling veins of light, bowlers swing their arms back and send pearlescent orbs hurtling down the glossy lanes in front of them. Though it recalls science fiction, this surreal scene is commonly witnessed at Playdrome Rose Bowl's Future Bowl nights. These cosmic escapades are among the many family-friendly events hosted at the sprawling bowling alley in an average week.
Flanked by neon murals and electronic scoring machines, Playdrome's 36 lanes remain open from mid-morning into the wee hours of the night. Bowlers of all ages can satisfy their between-game appetites with hearty fare at Orbits Cafe or practice their aim on three billiards tables. A full arcade keeps fingers loose with button-mashing combos; more serious bowlers can take turns building muscle by lifting the video-game consoles over their heads.
801 N. 15th St.
Allentown
Pennsylvania
610-437-4606
For nearly 40 years, First State Lanes has kept pastimers and ardent tenpin enthusiasts furnished with waxed lanes, snack-bar provender, and accouterments from a fully-stocked pro shop. Amateurs hurl spheroids at lanes alongside semi-pros doing battle in colorful league uniforms or impressive gladiator outfits. During rounds, the full-service snack bar slings pizzas, plates of signature chicken tenders, and a selection of beers. During the evenings, bouts of cosmic red-pin bowling cast pins in crimson and black-light glow, and any bowler who throws a strike that houses le pin rouge wins a dollar. For less alley-based diversions, guests can saunter over to the game room to play pool and arcade games.
25 Kiwanis Dr.
Wilmington
Delaware
302-762-3883
---