Restaurants in Druid Hills
---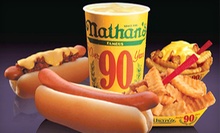 Use Today 11:00am - 7:00pm
---
Recommended Restaurants by Groupon Customers
---
The Pecan Restaurant's head chef Tony Morrow collects ingredients from the recipes of his favorite chefs, finding ways to work each of them into his own cuisine. The first flavor he fell in love with was pecans, a staple of his mother's cooking. Later in life, he encountered the rich spices of Cajun and Indian cooking, the perfectly prepared meats in French recipes, and the delicate pastas of the best Italian kitchens. He took these culinary experiences and, inspired, created his own masterpieces with each one, blending and changing each until he created a type of southern cooking all his own.
He serves his fusion food in a classic southern-style dining room full of light woods and white tablecloths complemented by the deep red curtains that hang around the space. During the eatery's remodeling, a giant Coca-Cola advertisement—first painted in 1917—was discovered beneath the room's drywall. Now re-exposed and retouched, it emblazons an exposed brick wall and adds last-century charm to the dining room, reminding its guests of a time when life was simpler and cola poured from the drinking fountains.
3725 Main St.
Atlanta
Georgia
404-762-8444
The EVOS story begins on an ordinary day in the early 90's, when Dino Lambridis, Alkis Crassas, and Michael Jeffers suddenly felt a rumble in their bellies. The three friends piled into their sputtering 1988 Oldsmobile and drove for hours, searching for a fast food joint that could satisfy their craving for burgers that were both delicious and healthy. It was during this futile quest that they hatched the concept of EVOS —a quick-service eatery that serves healthy takes on American comfort foods. Two decades later, they've expanded EVOS into locations across Florida, Georgia, and North Carolina and has earned accolades from national publications such as USA Today.
Within each kitchen, chefs sizzle up grass-fed beef burgers and fold locally sourced produce into salads and wraps. The cooks eschew deep fryers, opting instead to slow roast their fries using grease-free technique called "airbaking". The restaurant staff is also deeply committed to eco-friendly practices, providing customers with recyclable and biodegradable serving materials and greeting each neighborhood tree by name.
5590 Roswell Road, Suite 140
Atlanta
Georgia
404-252-4022
Authentic Chinese, Thai, and Malaysian dishes dusted in spices and doused in curries make noses curious and mouths water as diners peruse a menu of more than 100 Asian fusion items. Inside the restaurant, walls the color of green tea adorned with bamboo-shoot silhouettes surround customers devouring dishes such as Malaysian curry chicken served in a clay pot with potatoes, onions, and string beans alongside general tso's chicken glazed with spicy sauce. Bright-red box letters spelling Malaya light up nightly to draw in diners, and speedy staff members zoom delivery orders to offices, kitchen tables, and opera balconies.
857 Collier Rd. NW
Atlanta
Georgia
404-609-9991
Surrounded by rustic brick walls, the guests at MillTown Arms Tavern raise frosty pints in celebration of their favorite teams' triumphs. Flat-screen televisions flicker with the evening's games, and dartboards aid guests in deciding who pays the tab or who is slightly lopsided. The patio seating gives diners an infusion of vitamin D as they enjoy a full menu of pub-style grub, including fish 'n' chips, enchiladas, hot dogs, and caprese salads.
180 Carroll St. SE
Atlanta
Georgia
404-827-0434
---