Restaurants in Druid Hills
---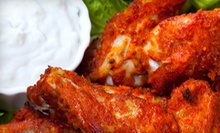 Guests enjoy 15 wings spun in spicy, mild, lemon pepper, BBQ, or Jamaican jerk sauces before indulging in cheesecake or red velvet cake
Use Monday 4:00pm - 11:00pm
---
Recommended Restaurants by Groupon Customers
---
With summer barbecue season bearing down like an angry bull, this meatberg ensures July evenings scented with charcoal and satisfaction, no matter the size of your crowd. The imminent meat-ark of USDA-graded steaks includes four bacon-wrapped 7-ounce filets, four 7-ounce filet strips, four 8-ounce Black Angus New York strips, four 7-ounce flat-iron tenders, six half-pound pure chopped-beef steaks (81/19 lean), and two 17-ounce porterhouse T-bones. Kick back with a bottle of hickory barbecue sauce and brush up on steak facts while you wait for the two-week processing and delivery.
3300 Lakewood Avenue SW
Atlanta
Georgia
The simple description of Fishook Grille's cuisine is "South African," but since the country's culinary influences come from around the globe, that term doesn't quite capture the diverse flavors that spring from each dish. The spices are Portuguese, the cooking techniques are Bangladeshi, and the entrees themselves—tilapia, salmon—are reflections of the coastal country's prominent fishing industry. The eatery also features an abundance of health-conscious dishes, including entrees that are grilled instead of being fried in oil or injected with cream filling. The restaurant's two locations pay homage to South Africa in other ways, too; artwork from the country lines their walls, and their moniker derives from the small fishing village of Fish Hoek.
264 19th Street
Atlanta
Georgia
404-347-9781
The Pecan Restaurant's head chef Tony Morrow collects ingredients from the recipes of his favorite chefs, finding ways to work each of them into his own cuisine. The first flavor he fell in love with was pecans, a staple of his mother's cooking. Later in life, he encountered the rich spices of Cajun and Indian cooking, the perfectly prepared meats in French recipes, and the delicate pastas of the best Italian kitchens. He took these culinary experiences and, inspired, created his own masterpieces with each one, blending and changing each until he created a type of southern cooking all his own.
He serves his fusion food in a classic southern-style dining room full of light woods and white tablecloths complemented by the deep red curtains that hang around the space. During the eatery's remodeling, a giant Coca-Cola advertisement—first painted in 1917—was discovered beneath the room's drywall. Now re-exposed and retouched, it emblazons an exposed brick wall and adds last-century charm to the dining room, reminding its guests of a time when life was simpler and cola poured from the drinking fountains.
3725 Main St.
Atlanta
Georgia
404-762-8444
Chandeliers illuminate red, tufted booths and draped walls replete with golden Buddhas, Middle Eastern art, and woven-wood panels. Such touches earned Tantra an "Extraordinary-to-Perfection" decor rating from Zagat and OpenTable's Diners' Choice Award for romantic restaurant. The eatery also received high praise for its service and food, propelled in part by executive chef Terry Dwyer's blend of Mediterranean, Indian, and Persian flavors. Drawing from his training at the Culinary Institute of America, chef Dwyer caramelizes scallops in a basil rub, grills ostrich filets, and stuffs pork tenderloins with quince and fennel, using these distinctive combinations to bring out unexpected flavors and baffle blindfolded taste testers. On the first Tuesday of every month, these dishes couple with tango dancing to add an extra layer of romance and spontaneity to dinner dates.
2285 Peachtree Rd. NE, Suite 100
Atlanta
Georgia
404-228-7963
---