Duarte, CA Beauty and Salons
---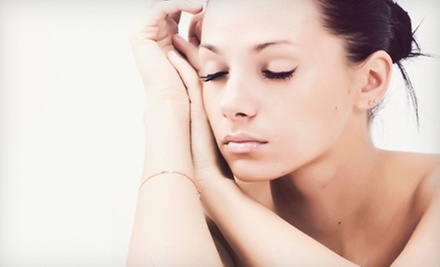 ---
Recommended Beauty by Groupon Customers
---
Though Salon Xia exists within a century-old cottage, its interior is nowhere near outdated. And that's because owner Mark Mayner decided to keep the space airy, bright, and clean through the use of stained wooden accents and large, sun-soaked windows. Such contemporary touches wrap around the salon space, where stylists can often be found coloring and highlighting hair with high-end products including Aveda Full Spectrum and Redken Color Fusion dyes. The stylists also reach for Unite haircare products as they create new 'dos that are further informed by ongoing teachings from the Toni and Guy Academy.
925 Boston Ct.
Pasadena
California
US
Jabez's staff of professional stylists studies at the Bumble and bumble University in New York City to equip themselves with the most artful and effective tress-taming techniques. The shaggy strands of men's manes surrender to unyielding, razor-edged scissors with a men's haircut, which mellows unruly mops or trims rebellious follicles into a well-kept whole. Clients possessing dual x chromosomes indulge in a women's haircut, relaxing in the high-ceilinged, naturally-lit salon while a professional hair sculptor shears, blow-dries, and shapes follicle sprouts into a face-framing curtain of pure glossiness. Both men and women celebrate the reformation of unruly locks with a scalp massage and a tension-relieving head rub to spoil the skull or ease residual soreness from the competitive ear-wiggling semifinals.
18513 Yorba Linda Blvd
Yorba Linda
California
US
714-970-5239
[[m:####J Beverly Hills J Beverly Hills' exclusive brand of organically based, botanical-infused [products](http://gr.pn/y0xJC5) is designed to coax strands into beautiful shapes and textures. In combination with these advanced haircare products, stylists harness their respective passions to revitalize clients' coiffures, facial appearances, and spirits. Along with cut and style services, hair can be enhanced by interwoven highlights, keratin treatments, or extensions adhered to hairlines via peer pressure. Stylists can also makeover faces with the salon's lineup of [Brow Bar](http://gr.pn/ymVx3B) treatments, which can enhance lashes and brows or instruct patrons in the art of proper makeup application.:m]]
820 East Green Street
Pasadena
California
US
626-577-2900
AcuSpa pampers patrons inside and out with a diverse array of treatments provided within a soothing atmosphere. A comprehensive health analysis (up to a $75 value) uses Chinese and Western medical approaches to determine the client's health needs and suss out ailments such as respiratory problems, gastrointestinal issues, or muscle and joint pain left over from long afternoons spent trying to knock clouds from the sky with baseballs and discuses. The evaluation is required before acupuncture treatments and is a useful aid in proper treatment.
350 South Lake Ave., Suite #220
Pasadena
California
The house of bronzing features a variety of epidermal-evolving methods, including a bevy of bronzing beds, hand-held hue hoses, and motorized melanin sprays. A cheerful employee will help to select the mode of tonal transformation that best suits your needs and lifestyle. Opt for 20 sessions in the bronzing bed ($100) to ease gradually into a summer glow, or choose the UV-free Mystic Tan ($100 for six sessions) for a machine-powered splash of instant color. With a mobile airbrush tent, clients can even summon the experienced airbrushing artists to a home or secret tree house for a personalized on-the-spot treatment ($40 per session). You can also use the value of your Groupon toward monthly tanning packages.
259 N Sierra Madre Villa Ave.
Pasadena
California
The team of stylists at BLU—which stands for "beauty living united"—draws on deep industry knowledge and skills to craft styles that suit each customer's personality. At the same time, the salon takes a humble approach and an attitude of lifelong learning.
Using organic marshmallow-root-infused conditioners and shampoos that emanate natural aromas, stylists render hair sleek in preparation for the everyday or special occasions, such as job interviews in wind tunnels. All hair trimming, coloring, and styling services also start and conclude with an additional relaxation treatment, such as a hand massage or a makeup touchup. Aestheticians soothe fitful skin with natural facial peels, smooth rough skin with botanical-based microdermabrasion treatments, and erase wrinkles by applying a layer of high-school yearbook photos.
Guided by socially conscious principles for more than 30 years, Aveda produces a full line of natural beauty products carried at nearly 7,000 salons and spas. Popular gorgeous-makers such as Shampure shampoo and witch-hazel hair spray deliver on Aveda's commitment to well-rounded earthly beauty with eco-friendly packaging cradling ingredients derived from the world's finest and least selfish plants.
400 S Baldwin Ave., Suite 2180
Arcadia
California
626-294-9067
---