Restaurants in Duarte
---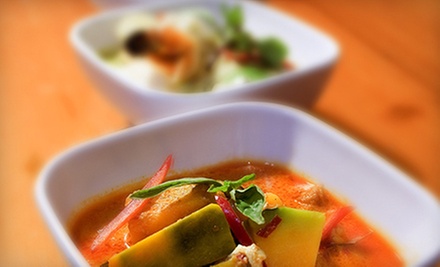 ---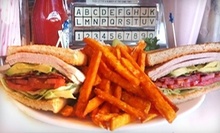 Burgers, breakfast all day, and 42 deluxe milk shakes served in a throwback '50s diner
---
Recommended Restaurants by Groupon Customers
---
At Gus's Drive-in, cooks speedily whip up American meals without skimping on healthiness. At the drive-thru or in the spacious dining room, patrons enjoy 80% lean, all-beef burgers and chicken fried in zero-transfat vegetable oil. Sandwiches are loaded with hand-carved meats, including pastrami and turkey, whereas paninis can be served in traditional Greek style, with olive oil and feta cheese in a Spartan war helmet. Other ingredients on the menu, such as guacamole, dressings, and broasted chicken, are all prepared in-house. Patrons can also enjoy latin tacos and burritos on the outdoor patio, where umbrellas keep the sun from bearing down, asking if you're going to eat that.
1657 W 3rd St
Los Angeles
California
213-483-8885
Founded in 1936, Trader Vic's restaurants have been serving up tiki-style drinks for decades—they even claim to have invented the mai tai in 1944. Inside the Trader Vic's at LA Live, lush decorations whisk guests to an island retreat—carved tikis, stools trimmed in bamboo, and plush booths upholstered in green fan out beneath hanging canoes and other Polynesian-influenced decor. As eyes drink it all in, chefs immerse taste buds in a menu that fuses Hawaiian, Chinese, and other exotic flavors. They stir-fry char siu pork, sear Hawaiian tuna in a pink-peppercorn-sesame crust, and braise mu shu pulled duck with hoisin sauce.
Live music on Friday and Saturday nights adds to the festive atmosphere, as does a list of more than 90 tiki cocktails. Like the best fourth-grade tea parties, the restaurant also has a dress code—no shorts, T-shirts, or flip-flops in the dining room.
800 W Olympic Blvd.
Los Angeles
California
US
213-785-3330
Steven Paperno, raised in the kitchen of his parents' delicatessen, has been working with food all his life. By the age of 18, he already owned a food manufacturing company, a job that took him all over the Americas. While in Central and South America, he sampled some of the cuisine and found himself dreaming of bringing those small-village flavors to America. So, he sold his company in order to start a new one, one dedicated to infusing organic, local ingredients with the flavors he tasted abroad. He called the new joint Sharky's Woodfired Mexican Grill.
Inside any Sharky's location, the chefs use certified-organic beans and rice to complement flavorful Mexican entrees. Guests can observe cooks in the open kitchen as they prepare all-natural chicken with no added hormones and all-natural Angus beef. Wild-caught seafood is hand-selected for quality and chosen according to the recommendations of the West Coast Seafood Watch, which aims to prevent overfishing by encouraging restaurateurs to buy sustainably caught seafood. Mesquite grills and stone-fire ovens lend their kiss to each dish on the menu, locking in the flavor that Steven so wished to re-create without the hassles of a trashcan fire.
841 Cordova Street
Pasadena
California
805-496-8489
An oak-wood grill—it's the centerpiece of Big Daddy's Fire Grill. As the logs crackle and smolder, flames flicker through the cooking grid to kiss 100% Angus-beef patties and hot dogs and sausages infused with fresh herbs and spices. Signature burgers include the New Zealand lamb burger spiced with fresh mint. A filet-mignon sandwich gets a French twist—like a rope made of baguettes—thanks to caramelized onions and Sartre-shaped grill marks, and quarter-pound hot dogs and fresh sausages pack flavor beneath sauerkraut or sweet or spicy peppers. Beverages complement the smoky food, including housemade milkshakes, Peet's coffee, or craft beers such as their own Big Daddy's Bock.
147 West California Avenue
Pasadena
California
US
626-356-4900
---