Schools & Tutors in Duarte
---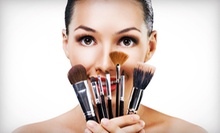 Group classes hone skills such as foundation and concealer application and tailoring eye looks to bone structures
---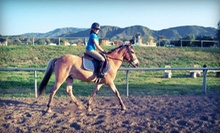 English-style lessons at a 240-acre farm grant riders time and space to learn horsemanship principles from a dedicated team of instructors
---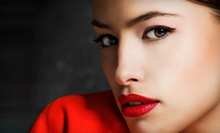 Use Today 11:00am - 5:00pm
---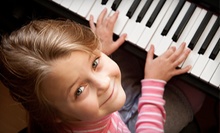 Groups of parents and kids harmonize on classic and original songs by singing and playing ukuleles, drums, and other instruments
Use Sunday 7:00am - 10:00am
---
Recommended Schools & Tutors by Groupon Customers
---
Trapeze School New York's expansion west meant Angelenos no longer had to cross the country to join the circus. At two locations—an indoor studio for silks classes in Santa Monica and an outdoor studio on the Santa Monica Pier—highly trained instructors teach beginner, intermediate, and advanced maneuvers during classes on the flying trapeze, aerial silks, lyra, trampoline, and Spanish web. All of Trapeze School New York's countrywide facilities in New York, Boston, Washington, DC, Chicago, and LA hold themselves to high safety standards that account for everything from equipment to instructors and life preservers. In an effort to bring their flying-trapeze instruction to surrounding communities regardless of funding, the school also gives lessons through their nonprofit branch of operations.
1207 7th St.
Santa Monica
California
If you didn't know any better, it would be easy to assume that The School of Shred is a place to learn guitar, or at least a place to practice the art of destroying important documents. Instead, the school teaches its students how to shred through waves, shred across pavement, and shred down mountainsides. It's a fitting business name for owner Corey Oswald, who has seemingly spent more of his life moving on some kind of board than on his own two feet. Corey has more than 20 years of experience surfing, skateboarding, and snowboarding. But today, and for nearly a decade now, he helps others get their shred on by offering group and private lessons in all three sports.
17334 Victory Boulevard
Los Angeles
California
818-371-3160
Created and run by Honda, one of the largest motorcycle manufacturers in the world, the Rider Education Center imparts riders of all ages with the skills and education needed to wrangle the handlebars of ATVs, dirt bikes, and motorcycles. MSF-certified instructors guide students through a hands-on curriculum that bestows riding fundamentals, safety techniques, and certifications. At the Colton ranch, the first Rider Education Center ever built, the sound of revving engines dissipates into the adjoining Environmental Learning Center, where 2 acres of traversable trails showcase five ecosystems—from woodlands to desert terrain to ramps made of clouds—featuring more than 2,500 plant species.
1301 Via Venita
Colton
California
909-430-3000
Using experience gleaned over years as a broker and educational consultant, Kartik Subramaniam and Adhi Schools have been guiding students toward real-estate licensure since 2003. With detailed online and in-person courses, Adhi helps prepare each pupil for the California license exam via included textbooks, three preparatory exams, and a guide to garage-door whispering. The school also assists graduates by placing them in contact with brokerages to start their new careers. The Adhi Schools' curriculum is recognized by leaders in the real-estate field, from large brokerages including Century 21 and Prudential to national training companies.
19671 Beach Blvd.
Huntington Beach
California
888-768-5285
From its humble beginnings as a one-van commercial transportation service for photographers, Quixote has grown into a full-service production studio in two short decades. Founded and nurtured by LA natives and UCLA grads Mikel Elliott and Jordan Kitaen, Quixote now supplies the entertainment and advertising industries with facilities, equipment, vehicles, and whatever else they may need to get the job done. They recently pumped $1 million into their production-supplies department, allowing them to supply jobs with crucial gear such as iPhones and 4G WiFi boxes so that directors need not summon starlets from their trailers via tin-can phone.
1011 N Fuller Ave.
West Hollywood
California
818-386-1228
Experienced trapeze artist Ray Pierce began his circus training on the tightrope in 1976. More than 30 years later, he and his highly trained staff at his company, Hollywood Aerial Arts, devote their time to every aspect of the art form, from choreographing their own aerial acts to designing custom rigs to teaching the next generation of artists how to maneuver through the air. They reference their collective backgrounds in the circus, Pilates, stunt work, and dance to teach group workshops inside their 10,000 square-foot facility. All of the classes supply students with safely lines and a spotting belt, and the majority of the classes focus on a specific apparatus. These include the aerial bungee, aerial hammock, spanish web, tightrope, tissu, or flying trapeze, which is performed on the facility's 32-foot-high outdoor trapeze equipped with a safety system and animatronic clown cheerleaders.
3838 W 102nd St.
Inglewood
California
310-412-7171
---