Things to Do in Dublin
---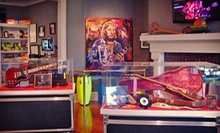 Massive Tudor-style house where band members lived, played, and partied exhibits guitars, contracts, and restored rooms
---
Recommended Things to Do by Groupon Customers
---
Ranging in length from 4,940 yards to 6,626 yards, Bowden Golf Club's emerald fairways were designed more than 70 years ago, making it Macon's second-oldest course. With four sets of tees on each hole, golfers can opt for team play, test their mettle during tournaments, or borrow Paul Bunyan's 5 iron to hit a quartet of balls at once. As a full-service facility, the club boasts an onsite pro shop and snack bar, as well as a full-length driving range flanked by practice bunkers and putting greens.
3111 Millerfield Rd.
Macon
Georgia
478-742-1610
Baldwin Bowling Center's 24 polished lanes reflect gleaming overhead lights and the competitive glint in bowlers' eyes as they rack up spares and strikes with gutter-hugging curves. Automatic scoring systems keep track of each frame, freeing up bowlers to focus on hunting elusive turkeys and clearing the gutters of dried-up pins. The bowling center's snack bar replaces energy lost while hurling balls or smashing buttons in the arcade room, which harbors games designed to further test one's sharpshooting accuracy. During cosmic bowling on Friday and Saturday evenings, glowing lights flood the lanes and the sounds of pins crashing share the airwaves with pulsating dance beats. Make reservations ahead of time to bowl from Sunday through Wednesday.
184 Roberson Mill Rd. NE
Milledgeville
Georgia
478-453-7545
When the neon curlicues above its marquee first lit up in 1916, the Capitol Theatre promised Macon residents the finest movie-going experience available, with cozy leather seats and a gold-fiber screen. After shutting down in 1976, the theater languished for 30 years, suffering from water damage and neglect until renovation began in 2003, restoring the space to its former glory. Brass-banisters encircle the wrap-around balconies above the venue's open floor, dotted with cabaret-style tables and seats occupied by frugal 1920s ghosts still trying to get their 15-cents worth from their original admission.    
382 2nd St.
Macon
Georgia
Owners William and Paula Smith arm players with Spyder or Tippmann markers before they trek across bridges, sneak through the trees, and dodge incoming fire from behind a cluster of barrels on Low Country Paintball's wooded field. The staff has decorated its massive course with obstacles and barriers such as an upturned rowboat and a rusty old truck. Elsewhere on the 63-acre facility, staff members oversee participants who weave through the speedball field's bounty of blue inflatables. In addition to open-play sessions, Low Country Paintball hosts frequent games and events through its LCP Scenario branch, including bouts themed after famous battles such as the Thumb War of 1812.
67 Low Country Ln.
Ludowici
Georgia
912-663-2314
The weapons experts of Aim Center Mass use their knowledge to serve the public, law enforcement, military, and first responders. The partner business of Mission Essential Inc., Aim Center Mass houses a climate-controlled, eight-lane shooting range with lighted stalls to enhance marksmen's vision. The facility also encompasses three archery ranges outfitted with the TechnoHunt bow-hunting system, which lets guests test their aim on virtual trophies such as bear, elk, and herds of Oscar statues. An online zombie-shooting game further entertains clientele outside the range.
918 Hollywood Dr., Suite B
Hinesville
Georgia
Jordana Adler, a licensed massage therapist certified by the Pilates Method Alliance, fosters wellness as much as fitness at her boutique Discipline Pilates studio. Drawing on her thorough knowledge of myoskeletal alignment and other facets of health, she can target chronic pains in private sessions or work with larger assemblies.
Her studio's group classes strengthen participants with diverse Pilates modalities, from standing routines that promote alignment to jump intervals, which employ the reformer machine for a joint-friendly cardio workout. Postworkout, patrons can detangle muscles under the percussive Thumper massage device, which combines the precision of a machine with the comfort of a machine that has learned to bake cookies.
584 Arlington Pl.
Macon
Georgia
---