Education & Classes in Dublin
---
Education & Classes Deals
---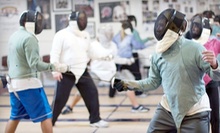 Fencing fundamentals taught in four group classes help students progress to intermediate instruction
---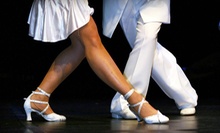 Instructors lead pairs or singles in 21 styles, including salsa, polka, the country two-step, the mambo, and tango; themed practice party
---
Recommended Education & Classes by Groupon Customers
---
The kitchen can seem bewildering to a child peering up at the many colanders, peelers, and skillets on the shelves, but a lesson from the trained cooks at Young Chefs Academy of Gahanna quickly demystifies kitchen utensils and cooking techniques. Weekly classes introduce kids to culinary concepts that vary each month, and full-day camps explore the culinary traditions of different countries and time periods. Weekend events highlight exotic dishes or take children on cartoon-themed picnics. In addition to kid-friendly offerings, the academy hosts team-building exercises for adults and businesses, pitting friends and coworkers against one another in Iron Chef competitions with all food, recipes, and English overdubs provided.
425 Beecher Rd.
Columbus
Ohio
614-933-9700
The nonprofit New Flyers Association empowers student aviators to improve their soaring skills under the tutelage of certified flight instructors. Whether taking off for the first time on an introductory flight or logging hours in pursuit of a Sport Pilot license, pupils experience the freedom of winged travel aboard such flying machines as a Flight Design CTLS or Piper Cherokee. The association makes its nest in hangar A-10 at The Ohio State University's Don Scott Airport, a general aviation airport that allows students to learn fundamentals in a professional environment that's safer than jumping from the top bunk bed.
2160 W Case Rd., Suite 9, Hangar A-10
Columbus
Ohio
614-459-1335
Instructor led speed reading courses in Columbus for teens and adults and reading management programs for corporations and the military nationwide which dramatically increase speed and comprehension that include strategies for all kinds of reading materials including mastery of textbooks and technical documents.
1826 Glenn Avenue
Columbus
Ohio
614-486-2473
Arthur Murray has been a leading name in franchise dance since 1912, when the entrepreneur began selling mail-order dance lessons. Expanding his reach, he enlisted teachers to spread his signature dance lessons on first-class steamships and skyrocketed to fame in the '30s after introducing the public to such dances as the Lambeth Walk and The Big Apple. By the 1950s, Arthur and his wife, Kathryn, were hosting their own highly popular TV show on ABC, The Arthur Murray Dance Party, which ran for 12 years. Today, Arthur Murray's team prepares students for rug cutting at special events and weekend nightclub jaunts. Clients who arrive to lessons partnerless will be paired up with other classmates as the instructors assess their current skill level and make recommendations on the most appropriate program. Throughout lessons, instructors teach the foundations of two to four dances from a long list of styles that range from Latin to country-western, helping students to learn basic step patterns, timing, and the ability to lead or follow.
5371 N High St.
Columbus
Ohio
614-847-7541
Cofounded by professional dancer Alexander Thomas and personal trainer Daniel Hamilton, Diamond Dance & Fitness works to foster active, nutritional lifestyles through a varied schedule of programs and periodic group outings. Classes are headed by experienced instructors—the studio's signature ballroom course has teachers who are competition-trained. Meanwhile, dance-fitness courses such as Zumba help to put an upbeat spin on classic exercise techniques without the added risk that comes with practicing the moonwalk on a treadmill.
Melodies rhythmically flood the studio's space on Salsamante Saturdays, when guests trace bachata, merengue, and salsa steps across the dance floor. In addition, visitors can get custom fitness advice in personal-training sessions and in-depth nutrition advice from health coaches.
1930 W Schrock Rd.
Columbus
Ohio
614-823-8882
Colors & Bottles' founder Jessica Burley and her band of talented local artists are dedicated to supporting local emerging talent and businesses through art instruction held at nearby venues. Their resident artists travel to local eateries and art galleries, where they teach students of all skill levels to fashion dimensional masterpieces through step-by-step instruction. They also kindle creativity during private parties held at the location of your choice, asking only that the destination be outfitted with enough tables, chairs, and paint-by-numbers templates of the Sistine Chapel ceiling for all invitees. Colors & Bottles has received a nod for their engagingly creative events on The Ellen DeGeneres Show and within the pages of the Columbus Dispatch.
160 S High St.
Columbus
Ohio
---