Dublin Cleaning and Home Services
---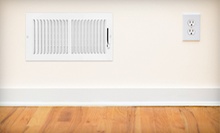 A truck-mounted cleaning system and brushes help purge vents; system inspection spots potential sources of danger or inefficiency.
---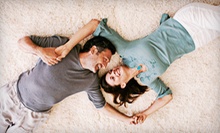 Three-step steam carpet-cleaning process leaves carpets and rugs spotless
---
Recommended Home Services by Groupon Customers
---
For nearly two decades, the techs at The Furnace Man Heating and Cooling have tamed interior climates and increased system efficiency with their HVAC and furnace maintenance and repairs. Prior to undertaking costly tinkering, they'll check to determine whether the most cost-effective option is repair, replacement, or relocating the house to the tropics. The tech team is certified by the EPA and the North American Technician Excellence, and their work is bonded, licensed, and insured.
1 Chamber Plaza
Dayton
Ohio
937-238-5591
Joshua Baxter was born to move. As a child he was so entrenched in his family's auction business that when Joshua was 16, his father pulled him aside and told him it was time to take an active role. So, Joshua took his driver's test in the truck the family used to pick up merchandise, and at 19 he bought his own truck, handling the transportation of the often-valuable antiques. That skill and preternatural understanding of merchandise transportation led to the birth of Here To There Movers. Now, Joshua has trucks headquartered in five Midwest cities.
Here To There Movers' technicians know that the transport of belongings from one abode to another is one of life's most stressful affairs, even more than interviewing for a position at the local bomb diffusery. The licensed and insured staff can arrive at a moment's notice, equipped to handle bookshelves, boxes, and pianos. Here To There provides a frequently asked questions page and moving tips for the befuddled house-swapper or recreational vagrant.
8509 Springboro Pike
Miamisburg
Ohio
888-218-6683
Purelawn Lawn Service's fertilization and lawn-maintenance programs are designed to promote lush, healthy lawns while protecting children, pets, and the environment. Pesticide-free, feed-based organic fertilizers play a starring role in most treatments, and any synthetic pesticides are used sparingly and applied via careful spot treatment to avoid blanketing areas where kids play and lawn gnomes sunbathe. Aside from eliminating a lawn's dependence on insecticides and fungicides, additional services include core aeration, slice seeding, grub control, and clay-buster soil amendment, and techs can even take samples of soil and send it to a lab to test for nutrient deficiencies.
Redeem from Home-1031 Dellwood Dr.
Troy
Ohio
513-787-3529
Buckeye Cleaners' stalwart technicians specialize in cleaning, repairing, and remodeling homes. The appeal of interior and exterior spaces is augmented with a visit from the cleaners, who perform general housekeeping services, or the carpet specialists, who employ truck-mounted equipment and infuse carpets with enough sanitizing agents to help them hide suggestive floorboard tattoos. From the handyman department, tool-wielding pros arrive to remedy disrepair by installing appliances, replacing plumbing fixtures, and remodeling anything from the basement to the Cold War–era satellite still hovering above the house.
4400 N High ST., Suite 200
Columbus
Ohio
614-453-5000
Since it was founded more than four decades ago, American Window Cleaning has left a trail of sparkling windows and unobstructed gutters across Columbus. Seven days a week, the cleaners scrub windows inside and out, mend damaged screens, and pressure wash home façades. They also scale roofs to clean them of moss and extract any baby shingles that haven't fallen out by themselves.
Franklin County, ***REDEEM FROM HOME***
Columbus
Ohio
As the company's straightforward name implies, Superior House Cleaning Services doesn't mess around when it comes to providing quality cleaning services. The professional cleaning crew strives to leave customers satisfied week after week; to achieve this goal, the company hires new members selectively and trains them extensively in a litany of services that targets bedrooms, living rooms, bathrooms, and basement dungeons. The crew rounds out its service roster with treatments that focus on carpets, windows, and post-party messes.
7774 Kingman Pl.
Lewis Center
Ohio
614-588-2270
---