Massage in Dublin
---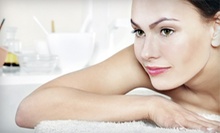 The long, gliding strokes of Swedish massage soothe away aches and improve circulation; during a foot massage, a balm soothes the feet
---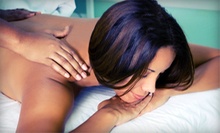 Oils or lotions accompany rolling strokes, hypnotic kneading, and percussive bodywork meted out by licensed massage therapist
---
Recommended Massage by Groupon Customers
---
Patrons of Open Sky Day Spa enjoy masterful muscle molding at the hands of an experienced, licensed staff of relaxation physicists. You can opt for a 60-minute Swedish massage that utilizes light- to medium-pressured techniques to provide the most popular type of knead. It uses long, connective strokes and kneading to improve blood flow, stimulate the lymphatic system, relieve physical tension, and melt stress into a puddle of biodegradable papier-mâché. On the other hand, a 60-minute deep-tissue massage targets specific stress areas and uses focused pressure to relieve pain, realign the body, smooth out knots, and shoo out burrowed gophers.
1334 W 5th Ave.
Columbus
Ohio
US
Having studied Shiatsu with Kadoya Sensei in Tokyo, Buddhist techniques of Soku Shin Do and Ra Kuken Ho in Columbus, and abdominal Arvigo techniques in Belize since becoming a licensed massage therapist (LMT) in 1995, Barbara Jones has acquired effective massage techniques from all over the world, which she has used to win several underground mixed-massage-arts tournaments. Though she won't bring all of these globe-trotting styles into play during the massage in today's Groupon, you can still expect a wide variety. Because the source of each client's stress is as subtly different as his or her interpretation of the final episode of The Prisoner, Jones typically mixes and matches several massage styles, including deep tissue, Swedish relaxation, trigger point, acupressure, and more.
3208 North High Street
Columbus
Ohio
In an accommodating downtown location, the licensed Take Ten therapists stretch clients out on comfortable massage beds and cast a long list of lightning-charged spells to induce relaxation. Repose in daydreamy reveries during a therapeutic massage, which uses deep-tissue techniques to deactivate trigger points in muscles, increase blood flow, and remove toxins. Or, opt for a Swedish massage, which works the soft body tissues with long, flowing effleurages, tapotements, frictions, and vibrations to relieve pain, stiffness, and stress caused by scaling thousands of candied fish for yesterday's office party.
116 N High St.
Columbus
Ohio
---