Dubuque, IA Outdoor Activities
---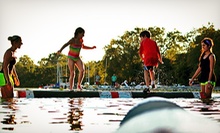 Log-rolling classes channel the traditions of 19th-century lumberjacks as instructors elucidate the sport of balancing atop floating logs
---
Recommended Outdoor Activities by Groupon Customers
---
The tough-as-nails ladies in the Mad Rollin' Dolls roller-derby league wow audiences with equal parts strength, speed, and glitter. Since their first season in 2005, skaters and MRD volunteers alike have donated their blood, sweat, and tears to the sport that promotes female athleticism and team spirit in a fun, competitive atmosphere. During the 30-minute bouts, fans cheer and sneer as the jammers attempt to lap the opposing team for points, and the blockers clear the way for their mates while putting the hurt on those who try to stop them. The season's schedule culminates in a championship match, in which the two mightiest teams battle for the title and a lifetime supply of solid-gold mouth guards.
Since the team is committed to supporting their community, a portion of the proceeds from each Mad Rollin' Dolls bout goes to various charities, which in the past have included Safe Harbor Child Advocacy Center, Alliance for Animals, and Badger Childhood Cancer Network.
1919 Alliant Energy Center Way
Madison
Wisconsin
Aside from hosting the Oregon youth hockey program, the nonprofit Oregon Community Sports Arena welcomes ice dancers to its multifunctional indoor rink for open skate, family skate, open hockey, and speed skating. Hockey and broomball teams occupy the icy terrain throughout the week, and expert instructors oversee regular skating schools and athletic camps on the frosty floors. An onsite shop supplies skaters with apparel and used sporting goods, and a large community room hosts regular open martial-arts classes and can accommodate birthday parties of up to 150 guests or 500 Lilliputians.
100 N Perry Pkwy.
Oregon
Wisconsin
Mike Mott and Cole Chaplin share more than just alliterative names; their mutual passion for promoting Iowa's tourism industry led them to found IA Segway together, and they continue to introduce visitors to the cultural richness of the Quad Cities with informative Segway tours. Mike and Cole command a fleet of Segway i2s—the company's most current model—and teach tour groups how to safely operate the self-balancing steeds before blazing trails to spots of local and historic significance. Tours swing around scenic destinations such as the Figge Art Museum, McClellan Heights, and Credit Island, whose battlefield is strewn with denied credit cards that date back to the War of 1812.
4197 Creek Hill Dr.
Bettendorf
Iowa
563-607-3347
Patchy forest to the north and 265th Street to the south border Cedar Valley Golf Course, separating the grassy haven from miles of Iowa farmland on the other side. Within the oasis lie ponds that enter play on all but five of the holes, including hole 13, where the green juts out into a large water hazard that regularly swallows up overly-forceful approaches. Players will find themselves facing other risk-reward scenarios throughout their bout with the course, such as on hole 5, where they must either lay up or go for the green, and on hole 16, where they must decide between hitting a 210-yard shot that carries the water or just picking the ball up and carrying it to the hole.
Course at a Glance:
18-hole, par 71 course

Total length of 6,497 yards from the back tees

Course rating of 71.2 from the back tees

Course slope of 129 from the back tees

Three sets of tees per hole
1465 265th St.
Tipton
Iowa
US
563-886-0218
Decorative smokestacks stretch toward the sky as Victorian red and gold decor surrounds passengers nibbling brunch in a dining salon. This scene unfolds aboard the Spirit of Dubuque, an authentic-looking paddleboat that pays homage to the century-old steamboats of the Mississippi River. Dubuque River Rides' signature vessel, it has played host to thousands of cruises filled with entertainment, meals, and improvised renditions of "Old Man River" since being christened by Iowa governor Robert Ray in 1977. Elsewhere on the river, a more modern boat cuts across the water, casting a sleek outline against the sky. The 80-foot yacht, affectionately called Miss Dubuque, sets an intimate stage for events that range from weddings to Huckleberry Finn's notorious dinner parties.
Both boats call the northern expanse of the Mississippi River their home, sharing the area with wildlife such as turtles and bald eagles. The sightseeing vessels also pass by river barges and historic structures such as the Chicago Central Pacific Railroad Bridge, which was built after the president invented Lincoln Logs in 1868. After boats return to the docks, their passengers can head over to the floating barge that houses the Ice Harbor Restaurant.
500 E 3rd St.
Dubuque
Iowa
563-583-8093
The sprawling four-day Bhakti Fest West solemnizes emotional attachment and devotion toward a personal god with its 26 yoga demonstrations, workshops where advanced yogis share mystical truths, and healing sanctuaries that feature massage, reiki, and acupuncture. The deep, soulful voice of Krishna Das headlines the festival's lineup of more than 40 musical acts. Originally from New York, Das has toured the globe with music that interweaves feverish cadences with traditional and modern instrumentation. The former rock 'n' roller and Grammy nominee explains the atavistic appeal of chanting by saying that it "just hits you and you want to be a part of it . . . you don't have to know what it means."
1919 Alliant Energy Center Way
Madison
Wisconsin
866-992-4258
---