Restaurants in Dubuque
---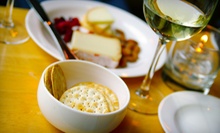 Flights of five popular wines are paired with platters of local artisan cheeses, pear and ginger preserves, and cranberry-walnut bread
---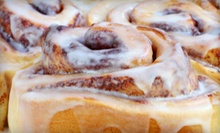 Cupcakes, cookies by the dozen, cobbler bars, and loaves of fresh-baked bread at community-focused bakery with Australian roots
---
Recommended Restaurants by Groupon Customers
---
Carefully balancing starter platters stacked with housemade cornbread and frozen margaritas, the servers at Casa del Sol wind their way through the tables on the outdoor deck overlooking the water. As diners dig into burritos, the flavors of chicken or carnitas meld with garnishes of mango and pineapple or with ingredients from one of four other unique burritos. Meat dishes span many styles, from pork-loin medallions with garlic-adobo sauce to enchiladas verdes with a choice of meat or cheese filling. The inside dining area's bright yellow and purple walls adorned with paintings of whirling dancers complement the bright flavors of the dishes, often delicately evoked by cilantro, poblano chili pepper, or guacamole.
3040 Cahill Main Rd.
Fitchburg
Wisconsin
Like many Mexicans, owner Antonio Estrada considers himself a Mestiza, which means that his lineage consists of both European and American Indian people from many different regions. To pay homage to this eclectic heritage, he not only draws upon traditional family recipes from his own family, but from culinary traditions all around Mexico. Using fresh ingredients, the chefs at La Mestiza craft a lineup of classic dishes, including poblano and cheese quesadillas and juicy carne asada steaks. To add to the authenticity, they make their own homemade tortilla chips and tamales the old-fashioned way—forging them in the searing, cauldron-like trumpet bells of ancient Mariachi bands.
The festive dining room's warm orange and yellow walls serve as roosts for pieces of art, which gaze down at flower-topped tables illuminated by hanging lights.
6644 Odana Rd.
Madison
Wisconsin
The menu at Pancake Cafe is impressive—almost as impressive as their nine straight awards for Best Breakfast in Madison Magazine's Best of Madison. For breakfast, the staff serves home-style meals such as oven-baked omelets or house-made biscuits and gravy. The eatery's namesake comes in unexpected varieties, including an award-winning apple pancake that's baked for 20 minutes with fresh fruit, baker's sugar, and Sinkiang cinnamon glaze. Pancake Cafe also whips up gluten-free versions and an old-fashioned potato pancake capped with applesauce or sour cream. They even squeeze fresh orange juice by wringing out a traffic cone as aggressively as possible. At lunch, servers put the waffles down for a nap and begin presenting plates of white-albacore tuna melts, Angus burgers, and Chicago-style italian beef sandwiches.
6220 Nesbitt Rd.
Fitchburg
Wisconsin
608-334-3807
Cilantro Bar and Grill's Rick Bayless–trained chefs forge contemporary cuisine using fresh produce, locally sourced meats, and recipes culled from the families of owners Armando Cristobal and his sister and brother-in-law, Sylvia and Gonzalo de Santiago. The kitchen builds meals from scratch at brunch, lunch, and dinner, sating appetites after brisk strolls around the Capitol or romantic narwhal rides across Lake Mendota. Orange walls complement the colors of game hen en escabeche, whose mashed sweet potatoes balance the savory flavors of an achiote garlic marinade, whereas stained-glass fixtures mimic the vibrant hues of cabernet sangria, hibiscus iced tea, and mango-cilantro margaritas. Diners can sample the cuisine of four different regions of Mexico by ordering the tamales surtidos, a sampler of four cornhusks stuffed with steamed corn masa flour. Cilantro also serves seven types of Mexican beer for guests to sip or toss at supporting actors during rehearsals for upcoming daytime TV roles.
7005 Tree Ln.
Madison
Wisconsin
Chefs Chris Sanchez and Patrick Ortiz founded Simply Fit Meals on the belief that food should simply be itself and not have to hide behind flavor-disguising sweeteners, preservatives, and sham marriages. Meals are portioned by calorie count to fit everyone's specific dietary guidelines. The adobo pork tenderloin, for instance, arranges chipotle-rubbed cuts of pork beside crisp green beans and caramelized carrots ($6.50–$7.75). Likewise, the trio of summer roasted salmon, asparagus, and mother-grain quinoa ($7.50–$8.75) leaves few chambers of the food pyramid unplundered. Snackable items are also available, such as fluffy, whole-wheat pitas and hummus ($3.75) or the all-natural, home-style applesauce ($3.50). In an effort to coordinate with in-season freshness, the menu rotates often and with the stately grace of a novelty bowtie.
2881 Commerce Park Drive
Fitchburg
Wisconsin
US
In a homey diner setting with stained glass and a large mural that depicts a small town, patrons perk up for the day with PC's menu of European and American breakfast and lunch fare. True to its name, PC's offers a diverse roster of classic pancakes, which can come flecked with bacon or chocolate chips; baked with fillings such as spiced apples and peaches; or spread thin as crepes and sewn onto the elbows of sports jackets.
Not content to let pancakes hoard all the oven territory, thick-baked omelets jostle for space with hearty fillings such as portabella mushrooms, red peppers, and cheese. Fresh-squeezed orange and grapefruit juice make for a refreshing quaff, and cups of Kona coffee—specially blended for the café—send toasty aromas steaming into the air alongside carafes of real whipping cream.
Sandwiches and salads populate a lunchier section of the menu, alongside burgers such as the towering Lemont-ster burger: dual half-pound patties draped in cheddar, toasted onion strings, and thousand-island dressing.
6220 Nesbitt Rd.
Fitchburg
Wisconsin
US
---